Friday 10th of April 2009 and it's nice to be off the ship.
We were soon on the jetty and there
was a bus waiting for us.
Our Agent was on the jetty waiting for us as well.
The bus will take us to the hotel and the bus will be back at 04:30 tomorrow morning to take us to the airport.


It was a 3 minutes bus ride from the port to our hotel. The hotel was situated smack in the city next to Parque de Santa Catalina or whatever the name is. I went to the hotel bar first thing and I got a diet drink. I had no cash and it was not enough to pay with my card. I checked in and I was back in the bar
and I took the diet drink on my room. And when I was in the bar I took 3 more bottles and I left for my room.

Our Bosun is from The Canaries but he has not been here
for many many years. But he wanted to buy some Canary delicatessen home. Good Friday and everything is closed in Las Palmas except a convenient store around the corner from the hotel.

I needed wine so our Bosun and I made an appointment to meet in the reception after 30 minutes. We took the 45 seconds walk to the store and there was cheese and sausages for our Bosun to choose from. I bought 8 bottles of white wine, 44 €. Very cheap to buy wine in Spain.

When we came back to the hotel most of the crew was enjoying the nice afternoon. I had a
diet drink before we left to look for cigars for our Motorman. No one spoke a word of Spanish, well, except my Scooby Doo Spanish. And of course, our Bosun speaks the language.

So whenever we needed information our Bosun asked the guy working in the bar and he gave Bosun an address in Parque de Santa Catalina when he asked if there was something open were we could by cigars.

We walked down to the park and we didn't found any cigars but at least we have been in the Parque de Santa Catalina. And it wasn't anything special. If you ask me it was not even a park.
Playa de las Canteras. View from our hotel restaurant

When we came back it was 7 o'clock and we started to get hungry. Our Engine Apprentice, AB and I went to the restaurant on the 6th floor.
- We will soon join you, the rest of the crew told us when we left.
We came up in the restaurant and we found a beautiful view over Playa de las Canteras. We also
found our 4 off signers from Philippines having their dinner. They will stay for a few days. They are on waiting list to get home on Monday.

We had a nice view over Playa de las Canteras and
the beach walk from the restaurant and when it got dark we could see plenty lights from what we believed to be discos
and clubs along the beach walk.

As long as you stayed in the lee side it was a very
comfortable temperature outside. But as soon as we came out in the wind it became ice cold. And it was a strong wind blowing over Gran Canaria.

It was freezing walking down the beach walk and all the lights turned out to be nothing but Pizza
restaurants and bistros. And guess what? I was so happy that the flights were full on Monday and that I leave tomorrow morning.

I left the boys after 5 minutes and I returned to my hotel room. But firs I made a stop in the hotel bar to get 3 bottles of diet drinks to my room. Strange, there is always plenty drinks in the mini bar, but never any diet drinks. I stopped in the reception with my 3 drinks and I asked for a 4 o'clock wake up call.
I was back in my room just after 9 and at 11 I went to bed. I called the reception from my bed.

- Can I please change my wakeup call from 4 to quarter to?

- No problem, we call you at 03:45.
I was hoping for a few hours of sleep. Yeah, fat chance.

Saturday 11th of April 2009 and I received my wake up call just when I stepped out of the
shower. 45 minutes and we're out of here. As you already have guessed I managed to get no sleep. But I could hear music so obviously there must have been a club close to the hotel.

I thought I should be the first coming to the reception at 04:20. Our Bosun and Electrician was already in the reception. Well, I tried to be early to settle my bar
bill. I have had some 10 diet drinks and wise from previous experience it should take some time to settle the bill. I really don't want to miss the bus. But they didn't let me pay my bill.
- Already paid for.

The bus arrived a few minutes late and it was almost 5 when we left the hotel. One stop at the immigration and we arrived to the airport around 5 thirty. I and one of the ABs were flying KLM and the rest of the guys were on Lufthansa.

Las Palmas airport, really not very much to do. We killed time drinking water and a diet drink on
the terrace overlooking the airplanes and the tarmac. Well, we also had a coffin nail
while enjoying the diet drink.

Our flight left at 07:10 and we had our seats at the
emergency exit. I could not come down in my seat. What the hell is this? And after my long and hard diet. I could not use my belt. Well, anyway, we were asleep before take off and we woke up when we
descended to Barcellona.

That's when I discovered that my seat was only half the size of the other seats. What the...??!! I moved over to the seat next to me and I could buckle up and I felt a little safer. But what does the belt help id we have a sudden impact in
700km/h?

We will wait in Barcellona for a few hours. Our AB's flight is 2 hours after my flight so he won't have much time in Amsterdam. I suggested that he should buy his gifts here in Barcellona instead of in Amsterdam.

He wanted to change his flight so he could fly with me but at
KLM's ticket office they were not very helpful. There is plenty seats available on my flight but our AB had to wait for 2 extra hours.


Security check after check in and you think they would discover needles and syringes. The have special containers for used syringes and it would be a real dream come through. Ending up next to a drug addict starting to shoot H on the airplane.

We had our lunch at Barcellona airport and this restaurant must have been one of the worst restaurants we have experienced. I was halfway through my order when the waiter turned to travel mate.
- What the hell! I'm not ready.
He could not speak English and I asked him how he could work on an airport if he could not speak English.
- We're in Spain.
- Yes, but it is an International Airport.
When he brought my tea the spoon was so disgusting so we lost our appetite. I ordered lamb and my
Travel Mate ordered sausages and we got the food in less than 45 seconds. So I guess they keep the stuff ready somewhere in the kitchen.

I left Barcellona without any backward glances hopping never to come back. I managed to sleep most of the way to Amsterdam and we arrived around 17:30 and I had to kill a little more than 3 hours on the airport.

I stopped at a KLM ticket office and I wanted to upgrade to
business class.
- That will be 40000 points and 300 EURO.
I got furious, why the hell do I have to pay 300 EURO when I pay 40000 miles? Well, as mentioned several times before, KLM & Air France Flying Blue is not an impressive Frequent Flyer Program.

Schiphol was empty, almost no passengers and I was hopping for our flight to be empty. But no chance. KLM, I asked the company NOT to send me with KLM. This cargo planes are always full and the gate to KL877 was full of passengers boarding. All the other gates was almost empty. But the FUNKY TOWN/ Taipei flight is always full. No exceptions and I prefer Lufthansa. Our AB arrived from Barcellona 15 minutes before departure time.

Sunday 12th of April 2009 and it was very very nice to arrive to FUNKY TOWN international. We
arrived on time and after a few minutes I was in the
terminal waiting for the AB. He had been in row 30 and I was in row 24.

I had to walk for a bit before we found a luggage cart and we could roll the wine and my computer to the immigration. Luckily enough they have luggage carts on the airport. I asked our AB if he had been on Brussels airport. He had had the same experience as I from Brussels
airport.
- Trotting kilometre after kilometre carrying your luggage.
- Please! Don't get me started, I said.

We made a quick stop so our AB could visit the restroom.
We passed the immigration and the immigration business only took a few minutes.

When we came out from the immigration I stopped at the tax free shop and I bought 2 bottles of vodka and 2 bottles of white wine before we claimed our checked luggage.

We were soon in a taxi on the way to my apartment.
Our AB's wife was on the way to the airport to pick him up. But he expected her to be there in a few hours so he joined me. It was very nice to get home, 22 bottles of wine and 2 bottles of vodka.

We left our luggage in my apartment and we took off for Villa market on Soi 12. Fruit, tuna, milk (0% fat) and red bull. On the way home I stopped at the German bakery to get some pumpernickel. I was in got a shock, they are not making their own pumpernickel anymore. DARN! I'm away for 4 months and they stop making pumpernickel. Luckily enough they had imported pumpernickel.

Back home we had to test the wine. We opened a bottle
from Las Palmas and it was delicious and it was a very good choice of our Bosun.

Monday 13th of April 2009 and seriously. I was happy to wake up at home and not in a hotel bed

Songkran Thai New Year

The World's Biggest Water Fight!

On 13-15 April Thailand virtually comes to a standstill for this three-day event. Songkran literally means to 'move into' in Sanskrit, referring to the start of the Thai new year.

Thai New Year or Songkran is an ancient festival of blessing. Originally, the festival had bathing and water at its heart. People would bathe the hands of their older relatives and of monks as a mark of respect. In recent times, this bathing tradition has developed into spectacular mass-soakings on the streets where everyone sprays everyone else with water guns and even garden hoses.

Water is definitely at the heart of the Songkran festival. The enthusiastic water-throwing that fills the streets is known as 'Len-Nam' ('len' means play and 'nam' is water). It is normal to see people soaked with water, which is welcome relief from the April heat in Thailand. Water is symbolic of washing away sins and bad luck at this time.

in Las Palmas, and that's even though I had a hangover force 9,6. I pooped open a jar of B-12 vitamins and I dropped
a fist full of B-12 vitamins.

FUNKY TOWN is under the state of emergency and army and police is shooting at the red shirts. Yeah, we remember the
drama last December when the yellow shirts closed the airport. I don't remember seeing anything of the turmoil yesterday. But I'm not sure if they started the Songkran early or if I got in the way for a water canon.

- Hmm, can it be that I pissed my self?

Arriving to FUNKY TOWN international yesterday and there were 1 million SMS when I turned on
my phone. "Your LIFE COACH tried to call you at 08:45", "Your LIFE COACH tried to call you at 08:46", "Your LIFE COACH tried to call you at 08:47" and, well, you get the picture.

So I called him when I got out of bed at 5 o'clock in the afternoon. Dinner at Marriott at 6 o'clock and I had to go take a shower.

Coming out to get a taxi I remembered that it was
Songkran. The street was full of people throwing water and I gave the security guard the internationally recognised sign "Taxi please". No way I'm going out on the street. I would have been soaked in less than a second and I wanted to
arrive to Marriott with dry clothes.

The buffet at Marriott was as good as I remember it. And I have not been here for a very long time now. It could have been a very nice evening and it started very good. But suddenly the hangover came over me.
- Are you dying? My Life Coach asked,
- For sure feels like it.

Tuesday 14th of April 2009 and I didn't get out of bed until after 1 o'clock in the afternoon. I'm
still in the European time zone and I didn't manage to fall asleep until 6 o'clock in the morning.

It was almost 5 before I got out of bed. New Year Holiday and no school until Thursday and now they want me on a ship in May. Seems to be impossible to get some holiday around here. Well, I can't go in May. I have
my fire fighting course 1 to 2 of June.

But it's worrying and I decided to skip school until next week and I will celebrate the New Year on the beach trying to get as much as possible out of my holiday.

I left FUNKY TOWN around 6 o'clock (With my school books in my bag) and I checked in at the hotel around 19:30 and 10 minutes later I was sitting with a Vodka in front of me.

Wednesday 15th of April 2009 and I didn't get out of bed until after 1 o'clock in the afternoon. I'm still in the European time zone and I didn't manage to fall asleep until 6 o'clock in the morning.
OK, me not going to bed until the wee hours in the morning can have something to do with it as well. My friend called around 2 o'clock in the afternoon, he was in the reception.

- I will be down in 15 minutes.

- The water fight is in full swing!

When I came down the reception was empty and I had to go to the
bar outside the hotel to find him. PONG LANG on full blast and everyone was throwing water at each other. DARN! I should have bought the camera in Amsterdam before flying to FUNKY TOWN.

I had Songkran in mind when waiting for my flight at Schiphol and I was looking at an Olympus. But, well, I
almost bought it but when trying the camera the quality of the pictures was not even close to the quality I have grown
used to with my CANON.

I needed a water resistant camera in order to get pictures of the water fight for my web page. I took a taxi to a camera shop to see if I could find a water resistant camera. Impossible to get anywhere without getting soaked and I was worried about my snus. When I had my new camera I bought a watertight bag to wear around my neck so I could have a dry can of snus with me. I also had a 2nd can of snus wrapped in a plastic bag in my front pocket.
| | |
| --- | --- |
| I'm about to get a bucket of water over me | I'm about to get a bucket of water over me |
So I was soaked when I came back to the hotel with my new camera. I gave the battery a quick
boost before taking the camera to the streets.

I found my friend in the very same bar that I left him in and, well, I suffered a raving hangover and I could not
stand all the people and noise. Did I go back to my hotel room?
- NO WAY! I just spent money on a camera and I wanted to use it.
- What did you do?
- I ordered a Bacardi Breezer (Orange)

After 2 Bacardi Breezers I was ready to take on the streets. We were soaked so never mind the water. It was actually nice when they throw water on you. Except when they throw ice water at you. And the iceman was busy bringing ice to all the bars. Big blocks of ice and drums of water and it was just to load the water guns with freezing water.

Bringing ice to the party
| | |
| --- | --- |
| I'm already soaked | I'm already soaked |
It's a shitty camera but its water resistant

The roads were full of tankers delivering water for the fight. I even saw tankers spraying water over the people. Well, no one seemed to mind. And if you need to go to the rest room after drinking too much beer. Don't bother, piss your pants. No one will notice.

Beach road

After several Bacardi Breezer stops I felt like a million dollars again and the water fight became more and more fun. Strange, with in the hour it went from "I spent money on the camera and I must have a few pictures" to "This is fun"

It's never boring in Thailand

One thing is for sure, it's never boring in Thailand. One day its curfew and the next day the town
has turned in to a big water fight. And the holiday is extended by 2 days due to the red shirt revolution and the turmoil at the end of last
week. But I never noticed any of the turmoil. OK, when going home one of the streets was closed but the shooting and crashing of buses was something I only saw on the news.


I was in a bar dead drunk and a few blocks away they are shooting at each other and
throwing Molotov cocktails. OK, as mentioned before, my clothes were wet when I woke up so I might have come in front of a water canon. But I bet my money on an early start of Songkran or that I pissed my self.

Well, the water fight pretty much came
to a full stop at 6 o'clock. Very good, day time water fight and after 6 o'clock you can sit in the bars without risking being soaked with water. Of course, you can't but expect a few buckets of water coming your way after 6 o'clock. But at least it was almost dry.

It's never boring in Thailand

Well, fun or not. It will be nice when it's all over on Monday and I can go back to school. And for Songkran next year, I have a Songkran camera. That's pretty much the only thing the camera is good for and I will stick to my CANON between Songkran.

It's never boring in Thailand

A stray bucket of water or not. At 6 o'clock I returned to my hotel to change clothes. The only problem I overlooked was my shoes. Shoes are nothing you dry in a few minutes.

Thursday 16th of April 2009 and yeah, well, I should have started the day by study my school
books. But I was late out of bed and after breakfast I could hear the music from the streets.
- Let's check it out, I thought.
I was even coming up with this master plan trying to keep me dry. - Coming out of the hotel I will turn right instead of left.

Stay dry, FAT CHANCE!
I managed to get about 15 meters from the hotel before I was sprayed. While walking up the Second Road, soaked after 20 meters I could not help thinking about all those buying fake ROLEX. Songkran is the Benchmark for any watch claiming to be water resistant. And my camera has survived 2 days of Songkran so I'm pretty sure it's waterproof.
Here we go again

Well, expect to be sprayed when walking down the street with a camera

OK, soaking wet and I had, well, I pretty much gave up the idea of trying to stay dry when I
decided to leave the hotel. But exactly how fun is the water fight when you're sober. I guess not very funny.

I started with 2 quick Bacardi Breezers before moving down towards Beach Road. I was looking for a water gun. OK, you really don't have
to look at all, they sell them everywhere. But if you can't have the biggest I wanted the smallest. I was walking the Beach Road when I heard someone screaming.
- ALADDIN!
It was the Italian guys I meet on Schiphol last Saturday, they were the ones telling me about the turmoil in Thailand and they looked happy that it's all over now.

I failed to get a water gun, but I bought a case of baby powder. We remember Songkran in FUNKY TOWN 1997. Of course it was more fun with baby powder when there were no water canons around back then. A little hard to get the baby powder of your clothes and hair with no water.

Beach Road

My mood improved with every stop for a Breezer and. OK, my plan was stick to soda water but where ever I went they asked if wanted a Bacardi Breezer Orange.

Water fight

I really wanted to say that I wanted a soda water. But I must admit it's more convenient just to have to say "YES" and I have a Breezer within a few seconds. That's the cons of sticking out, everyone knows you and you favourite drink.
Walking down the streets and every one is screaming ALADDIN! This is nothing I wish for, at least with a hangover force 9,6 and then I'm better off staying in my room.

Water fight

After 10 Bacardi Breezers Charisma Man was back and everything was much more fun. There is a convenient store next to the hotel and I went to buy a bag of baby powder.
| | |
| --- | --- |
| Of course, when Charisma Man passing by you have to spray him | Party time |
The first bag of baby powder was empty in a jiff and I returned to buy a yet another bag with baby powder. 12 big jars of baby powder and the bag were full.

Expect to be covered in baby power when passing Aladdin

I was soon back in the convenient store for more baby powder and soon there were out of baby powder. Only small jars left and what's the use with a small jar. JUMBO size or I don't bother.

Soi 8 turned in to a river

The spirit was high even though there weren't many tourists around. I can't remember ever being at the beach with so few tourists around. But of course, curfew and Molotov cocktails don't help.

She really wanted me wet

At 6 o'clock and after 25 Bacardi Breezers the water fight stopped and I returned to my room for a shower and a change of clothes.

- Hmm, a 5 minutes power nap before taking on the night.
Yeah, I felt asleep and I didn't wake up until almost midnight. At midnight I was in no mood to
continue any party.

Friday 17th of April 2009 and today I became the KING OF SONGKRAN. But more about this
later. First I had a hangover force 9,8 to tend to, and it's just midnight.

I went to Walking Street for a dinner and I tried two drug stores for
sleeping pills and B-12 vitamins. Yeah, I was all excited last Tuesday when I left for the beach and I forgot my B-12 vitamins.
Well, no luck and sleeping pills I had to get from
a Doctor. So I took a taxi to Bangkok hospital to see a Doctor at the Emergency ward.

I arrived just before 3 o'clock in the morning and I got 10 Xanax. OK, Xanax is not my choice but it's the only thing they got. I was back in my room at 03:30 and I woke up at 12 o'clock. I was still suffering from my hangover, but it was nothing comparing to when I woke up yesterday night.

After my breakfast I went out to look for a water gun. They have millions of the big one for sale along the streets, but it seems to be impossible to find a matchbox sized gun. I gave up, and I stopped for a Bacardi Breezer (Orange) and after 2 Bacardi Breezers I was ready to join the water fight. But instead of water I bought baby powder.

Baby powder man on Soi 7

I had baby powder in all my pockets and I was empty jar after jar over people and when I was
walking down Soi 7 everyone was screaming "BABY POWDER
MAN" and they were all aiming all the water on me.

And of course, after 12 Bacardi Breezers the water fight had turned me in to Charisma Man and the water fight had became something of the most fun
I ever had experienced. I think I spent more money on baby powder than on the Bacardi Breezers. OK, a bottle of Bacardi Breezer disappears like an aspirin, but 400
gram baby powder disappears even quicker.

So I kept myself busy running between the bars and the convenient store buying baby powder. Well, I was standing in the bar drinking my 17th Bacardi Breezer when a small tanker passed. I could not
believe my eyes. How stupid can you be? Driving down Soi 8 on Songkran with an open window. I asked the guy next to me to discharge his water canon in to the car. You don't want to miss an oppertunity like this but he didn't had the guts to do it.

- No, but you can do it, he said.
- OK, I said and I took his water canon.
I discharged the canon, 3 inch by 1,5m so its plenty water in one squirt. Well, Happy New Year.

No one can get angry at Songkran and if you don't like to get wet you're better off staying home. And if someone is walking down the street with a dry shirt you can be sure that everyone gives it the best try to soak the person.
Better off bringing plenty water when in a water fight

I was walking up the street when I girl came out from a shop. She was dry and I approached her with my baby powder. Well, I'm a nice guy and I didn't had the heart to pour the baby powder over her. That's how nice I am.

Covered in baby powder

Well, it was soon 6 o'clock and time to stop the water fight. We were in the middle of a water exchange with the people in the bar next to us.

Last water exchange

We were down to the last water when I discharge my water canon in the neck on a guy sitting in the bar next door. It was all laugh and I loaded my canon a
second time and I discharged it the second time on the same guy. This time on his head and this is how I became the king of Songkran.

Half way through the discharge the guy lost his toupee. The toupee just flew off and it went from very noisy to
quiet in a second. From hundreds of db of music, laughter and screams it turned silent. No one could really believe what they saw.

OK, you're thinking about getting a toupee and you have seen the commercials with handsome men swimming in their toupee. But don't bring the toupee to Songkran and if you do make sure it's glued. The guy turned read as a tomato and he was very quick to pay his bill and when he left he didn't looked very happy. Actually he gave me the "I want to kill you" look when he left.

Well, after the toupee incident it could not get any better and I returned to FUNKY TOWN in the evening. I stepped in on GLOW at midnight and I was soon sitting with a glass of white wine in front of me. It became a few, well, maybe more than a few glasses and Charisma Man was back in FUNKY TOWN after a few days on the beach.


Saturday 18th of April 2009 and I was really happy that I woke up in my own bed in FUNKY
TOWN. After 5 days of drinking you can imagine how I felt. I have not been able to drink 5 days since I was a teenager. The hangover
reached a full force 10 and I didn't get out of bed until Sunday morning.

So Saturday 19th of April 2009 will make it to the history books as a totally useless day and it would have been better if I had managed to sleep through the whole day.

But the week started with action. I spent the Monday arranging for my schools and I did some bank business. I had a full day waking up at nine o'clock. Tuesday morning I was out of bed at 8
o'clock and I was in my first school at 10 o'clock. In my class there was a girl from Japan and China and 2 girls from the Philippines. One of the Pilipino girls was very
beautiful and I found it a wee bit hard to concentrate on my school books.

There were guys from Portugal, Singapore, England, USA and of course me from
Skåne. We finished class at 12:50 and I left for my next school. At 15:30 I finished my second school and I went to my travel agent to buy a ticket to Sweden for the 27th of May.


WEEKEND AGAIN
The week turned out pretty much the same every day. After school I went home for tea and some
tuna, Mango and tea and some homework before going to the gym. School and gym and I are only eating tuna and Mango so I felt very good. Seriously, I haven't felt this good with my life in a long time.

So Friday afternoon and I was on my way to the gym. I had planned for a Friday evening doing homework drinking tea, but plans were changed rapidly. My friend called.

- YO! We're on Soi 7 and we're coming over!

- Oh! Gym....Home work...
Nothing I said helped and 20 minutes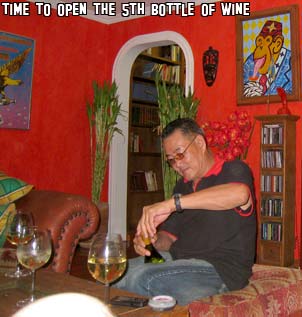 later they stepped inside my living room. Well, it's Friday and it's socially accepted to be drunk, at least a little drunk.

If I can manage to keep it to a little drunk. But the wine
disappeared
like cold water on a hot day.

The music was soon on full blast. Well, one of the good
things with starting in the afternoon is that the neighbours is still at work and no one is home to complain about the music. But it's strange how it's socially accepted to be drunk 2 o'clock in the morning when the neighbours wants to sleep. But it's not socially accepted to be a little tipsy at 2 o'clock in the afternoon when no one is home to complain.

One of the girls passed out. Obviously the wine was a wee bit too high on the alcohol content

One of the girls was soon passed out. She obviously thought the wine had the same alcohol content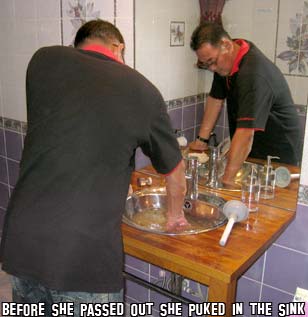 like beer. And my wine glass is not the small kind. So after
one glass she was down and out in the sofa.


She also puked in the sink at the guest restroom.
I thought she was in the restroom putting on makeup when my friend came and asked for one of those rubber thing. Yeah, you know what I mean, the one you use when you have a blocked drain pipe. It's also one of those things I don't know the name off, neither in English nor in Swedish, so I just call it a rubber thing. And yes, I had one of those and now I found out the girls business in the restroom.
She was not there to put on make up. She was puking in the sink and I asked if it wouldn't be better to throw up in the toilet.

When she was finished I put her in the bedroom and she was sleeping
for a few hours. Time turns quick when it's fun and it was soon time to leave.

We stopped at Glow a few minutes down the road from me. Well, it didn't take long
before the shit hit the fan. I don't know what happened because I was busy at the other end of the bar. But my friend had to call in our bodyguard and he arrived on the scene with smoking and screaming tyres.
Well, I knew nothing about this until the bartender came over to me and asked who this guy was pointing at our bodyguard.
- It's our bodyguard, I said.
- Aladdin, you're always welcome back but we don't want to see your friends again. EVER!!

Well, waking up Saturday morning was not a nice experience. I popped a fistful of B-12s and I
was going to try something new, a mango smootie. I have my fridge
full of mangoes and this is the best fruit I ever tasted.

It's like eating candy and it's hard to stop eating them. And the girl in charge over the mango department at Villa Market just gapes at me when I buy 3 kg mangoes everyday.
Well, I will try to see if the mango smootie will do me and my hangover any good. OK, the mango smootie was a set back, really didn't tasted that good and no improvement on my hangover. And for sure, my LIFE COACH calling didn't do anything to make me feel better. I told him that my EX future wife refused to talk with me. I told him the story and he was laughing.
- You must put that one on your web page, he said.

Well, I meet this girl and she told me that she liked me very much and that's reason enough for getting suspicious. So the other day when I was on my way home from the gym I stopped to have a chat with her friend. So I asked if she was a prostitute, I mean, it's not very normal for the girls to run around saying that they like Aladdin.

I found out that she was a Kindergarten Teacher and not a prostitute.
- She talks a lot about you. She thinks you are funny and charming.
And now? Obviously she must have heard about my enquiries because she's not talking to me anymore.
- How stupid can you be? You ask if she is a prostitute and you expect her to talk with you after that, my LIFE COACH pepped me.
- I only did an unobtrusive inquiry. I hope I never see her again, I said.
- What do you expect? It was the same with the girl on California WOW that you asked if she was high on speed.

At 10 o'clock I could hear someone jerking on my door.
- God! I hope it's not my neighbours.
I was really happy that I remembered locking my door coming home yesterday. Seems to be normal around here just to open the door and get in. (Jaja, Björn, nu vet du varför jag alltid låser dörren. Inte på grund av tjuvar utan för att jag inte vill ha in oväntade gäster) I looked throught he spyhole and it was one of the girls from yesterday.

Yeah, she came back to get her computer. She asked if she could leave her computer in my
apartment when we left yesterday.
- OK, no problem.
Well, as I suspected she wanted to come home to get her computer when I left for home. But I'm too old to fall for stuff like this, and I was still stupid enough to be under the impression that my EX future wife could be my future wife.

I felt like shit when my friend called and suggested lunch.
- I have not been at Tony Romas in a few years, I said.
We decided to meet at Tony Romas in the afternoon. I was still suffering a force 9,5 hangover but I expected the hangover to be a little better in the after noon when I had finished my mango smootie and the B-12s has kicked in.


Sorry to say, my hangover was still ragging at Tony Romas and after Tony Romas we went to have a few drinks. I left for my bed after 3 drinks.

- I will call you in a few hours if I feel better, I said when I left.

At 7 my friends were in Din Daeng and I took a taxi to go see them. A hangover is no reason for sitting home wasting a Saturday night. Our bodyguard has a restaurant in Din Daeng and they were all sitting there when I arrived.

I didn't had time to take out my valet before our friend opened the driver's door and handed the driver the fare.
- HEY! I can pay myself!

Hangover, smooties and B12 vitamins. A few Heineken did wonders for my hangover. I had to force myself to drink the beer. Not only because of my diet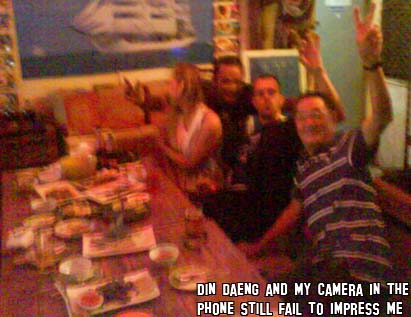 but I can't even think about alcohol when I'm having a hangover. But after a few glasses I was in an upbeat mood. And our Bodyguard, well, it's always nice to have the local
HEAVY GUY as your friend


I remember some 15-20 years ago when I had another local HEAVY GUY looking over me.
- I kill for Aladdin!
Very good, he and his sister kept their eyes on my and when I passed out they came to pick me up and I always woke up in my hotel room. Everyone knew that he watched my back so it was like having a "Get out of trouble" card in my pocket. And his sister, she introduced me to the 1000 bath note for the first time.

- Hmm, maybe the Kindergarten Teacher was right. Aladdin is funny and charming.

Back then there was 10, 20, 50, 100 and 500 bath bills. They also had a 5 bath bill, but this was a rarely sight. They were brown, green, blue, red and purple. Well, I never brought any money because I wanted to stay away from drinking. Smart move!
I had unlimited credit and we were moving on to a disco and I needed cash. She handed me a fistful of silver coloured bills.
- What the hell is this? I thought and I throw the bills on the street
- WHAT ARE YOU DOING?
- From what country is this Scooby Doo money?
- It's new 1000 bath bills!
OK, you learn something new every day. Those were the days, a young and handsome Aladdin. But it's not too bad in the year of our Lord 2009 and after a few Heinekens I was back in a good mood. The hangover was forgotten and it was a beautiful Saturday evening.
We decided to go to Ram Intra to listen to live music. We were 7 but we fitted in the Range
Rover. I and the driver was up front so we had no problem but the guys in the back were happy when we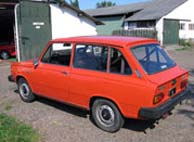 arrived after some 30 minutes.
But I have experienced worse. We were 12 people in a DAF going from Mölle to Puben i Viken. That was not a very nice ride. Or once when we drove from Helsingborg to Båstad to continue the
party at my place. We had to put a guy in the trunk and when we arrived we forgot him in the trunk.

At Ram Intra we got a table and it looked like we had
ended up at a place with family entertainment. The audience was ranging from 7 to 80 years old but we we're lucky. No children at the tables around us. I mean, how fun is it to go for a drink when there are children around.

We were soon having beer, whiskey and food on the table. The waiters filled up our beer glass as soon as we had sipped on the
beer. We had, I think they call it a beer tower on the table and our glasses never ran empty.

They closed around 1 o'clock and we decided to go to Scratch dog on Soi 20. A place to be seen at for the young and handsome crowd and we're definitely belongs to that crowd. But we need more snus so we decided to make a quick stop at my apartment to pick up some snus.
I wanted to get my camera as well, the camera in the phone keeps on failing to impress me.

When we arrived I got out of the car.
- I'll be back in 1 minute.
Well, my friend suggested some good music and a glass of wine before movin' on to Scratch Dog. Well, at 03:30 they felt asleep in my sofa and I had to kick them out and I was off to bed.

Sunday and the hangover was far less sever than expected. A pleasant surprise on Sunday morning
is always welcome. I spent the day eating mangos and writing on my web page.

I didn't feel like meeting any neighbours after the
weekend so I stayed inside as long as it was daylight.

But as soon as it was dark I took a taxi to Lat Prao and my friend's office. I never been there before so he showed me around and we took a taxi back to the city and Sizzler on Soi 55.
We had our dinner and I went home and an interesting weekend had come to an end. Tomorrow it's wake up call at 8 o'clock and I'm off to school again.


SCHOOL WEEK AGAIN
Monday morning and it was time to get out of bed 8 o'clock again. And no, I was
not jumping out of bed. Alarm on snooze and I didn't get in to the shower until the second alarm.
Well, school, it was nice to be back in class even though I was a few
minutes late. 3 hours of kick as studies and it was nice when it was time to leave school.

I had to kill 40 minutes before class at my second school. So I walked to the Swedish Embassy to translate my driving licence so I can get a Thai driving licence. Well, they closed at 12 o'clock so I have to come back tomorrow before school. BEFORE
school and I have to wake up at 7 o'clock tomorrow morning.

Well, I was to visit my friend at his office yesterday and I meet his dogs. He has 5 dogs so they are all over the place. Today he sent me a picture of his dogs dressed up in the red and yellow shirts. Popular colours to wear on T shirts in Thailand today. Hmm, it's great fun to walk the dogs in the shirts but I think the neighbours must wonder.

Tuesday morning and my alarm went off at 7 o'clock.
Surprise! I didn't get out of bed and I felt asleep again. I woke up at 8 o'clock and at least I made it in time to school. And the
only good thing happened at school was my desk. The desk is attached to the chair USA style (savages). I don't know what they call
this kind of school desk.

- Well, maybe they simply call it a school desk.

The folding tablet arm provides easy seat access.
Yeah, I have no doubt that you have easy access to the seat when you're built like a 10 year old. It's a wee bit different story when 82kg Chief Officer tries to get in to the chair. OK, when you fold open the tablet it's easy enough to take your seat. But when in the seat it's not all that easy to fold the tablet back in horizontal position. Pretty much like sitting in an airplane with the table in the armrest. And of course, I'm not talking about business class.

No, the table is not even close to horizontal, about 30° missing to full horizontal position. But today I managed to get the tablet down to horizontal position so I know my diet is working.
Of course there was not much space left on the table for my book. But today was the first time I could make notes in my book.

After school I went to my plant shop on Soi 63 and I bought a truck full off potted plants and they promised that they would deliver my plants at 6 o'clock.
- Good, I still have time to go to the gym.

Lo and behold! 6 o'clock means f@ck all in FUNKY TOWN and I was surprised when they came to deliver my plants 10 minutes before the hour. And what a surprise, 5 minutes later my LIFE COACH called to pester me. Obviously he must
have been bored.
- I'm coming over to look at your new plants!

I really didn't had the time, I had planned to be at the gym but as soon as I heard then my friend was at the hospital I changed plans and I was going to go visit him as soon as my potted plants were ready. Well, my LIFE COACH stepped inside a few minutes later and I suspected that he had spent the afternoon outside my apartment waiting for me to come home and brighten up his day.

- Isn't the girl that gives the plants water doing her job? He asked first thing when he spotted
my new plants.
- It's not that easy to keep the plants alive, I said.

When the plant guys left I took a shower and my LIFE COACH decided to join me to Bangkok hospital to see our friend.
- Do they have a gift shop at the hospital? I asked.
- Yes, there is a gift shop for flowers and chocolate.
- Good, we can not come empty handed.

Well, it was better last autumn when the gasoline was 70 bath/ litre. Now the gasoline is cheap again and the traffic jam is terrible. Took us an hour to get to the hospital and when we finally arrived the gift shop was closed

Wednesday morning and my alarm went off at 7 o'clock.
Surprise! I managed to get out of bed even though I didn't felt asleep until 4 o'clock in the morning. Damn! It's the same every day, I'm going to bed at midnight and I don't fall asleep until 3 or 4 o'clock. I'm dead tired but as soon as I go to bed it's impossible to fall asleep. But so far I have managed to be in time for class every day.

I arrived to the Embassy a few minutes before they opened. And I was in school 20 minutes before class started. At the Embassy they asked me to be back in 2 hours to get the translation of my driving license.
- My class starts at 10, I said.
- We close 12 o'clock.
- I'm in school until almost 4, I said.
- OK, you can come back between 3 and 4 o'clock in the afternoon.
- But you close at 12!
- I will be here, just knock on the door.

I left for the bank and I paid the translation fee and when I returned they told me to wait 15 minutes. After 10 minutes they changed their mind.
- Better you come back in the afternoon

Well, we remember the AB from Bro Promotion. He arrived to my school and I went out to give him the key to my apartment.
- I can not find you apartment. I wait for you.
So when I finished class he came with me to my second school and he was sitting with me for 2 hours studying Thai and when we were ready we took a quick walk to the Embassy to pick up my stuff. Arriving and we knocked on the glass door. I saw him through the glass door and it was porn
on the computer screen. And I'm pretty
sure it was a lady boy on the screen, but I'm not sure. I only got a quick glimpse, the porn was quickly exchanged for a Word document as soon as I knocked on the door.

When I had my documents we walked back to Robinsons to pick up my friend's car and we drove home. We had tea, tuna and pumpernickel with cheese. This is the only stuff I have home. But my healthy life style quickly catches on and my friend told me that he would buy pumpernickel before
returning home and then he would start his tuna and pumpernickel diet.

I left for the gym at 6 o'clock and when I got back home my friend suggested that we should go to Marriott.
- Are you crazy!! What about my diet??!! OK, let's go.

We skidded in on Soi 2 on 2 wheels and the taxi driver stopped at the door to Marriott. Well, we had too much to eat and, well, it was delicious but I got a raving remorse and agony. And it was the same story again coming home. I went to bed but I didn't manage to fall asleep until almost 4 o'clock. But I can sleep until 8 before going up to school.

Thursday morning and my friend was still sleeping when I left for school. When I got to school our Teacher gave me 2 Mangos. I told her that I ate Mangoes for breakfast, lunch and dinner a few
days ago.
- Which Mango are you eating?
- I eat the yellow Mango.
- The small ones are much better than the big ones, she told me.
I told her that I bought my Mangoes at Villa Market and there was only one size. She asked how much I paid for the Mangoes.

- 95 bath/kg!!! VERY EXPENSIVE! At the market you pay 35 bath/kg
Well, she said that she would buy small Mangoes for me next time she was at the market and today she brought
the Mangoes. When I came home I tried them right on. Delicious, but better than the big mangoes?

- Hmm, well, I don't know. Both are very good.

I finished my mangoes and I did my home work before going to the gym. My friend was not home, but

Labour Day

May Day can refer to various labour celebrations conducted on May 1 that commemorate the fight for the eight hour day. May Day in this regard is called International Workers' Day, or Labour Day. The idea for a "workers holiday" began in Australia in 1856. With the idea having spread around the world, the choice of May 1st became a commemoration by the Second International for the people involved in the 1886 Haymarket affair.

The Haymarket affair occurred during the course of a three-day general strike in Chicago, Illinois that involved common labourers, artisans, merchants, and immigrants. Following an incident in which police opened fire and killed four strikers at the McCormick Harvesting Machine Co. plant, a rally were called for the following day at Haymarket Square. The event remained peaceful, yet towards the end of the rally, as police moved in to disperse the event, an unknown assailant threw a bomb into the crowd of police. The bomb and resulting police riot left at least a dozen people dead, including seven policemen. A sensational show trial ensued in which eight defendants were openly tried for their political beliefs, and not necessarily for any involvement in the bombing. The trial lead to the eventual public hanging of seven anarchists. The Haymarket incident was a source of outrage from people around the globe. In the following years, memory of the "Haymarket martyrs" was remembered with various May Day job actions and demonstrations.

As such, May Day has become an international celebration of the social and economic achievements of the labour movement. Although May Day received its inspiration from the United States, the U.S. Congress designated May 1 as Loyalty Day in 1958 due to the day's perceived appropriation by the Soviet Union. Alternatively, Labour Day traditionally occurs on the first Monday in September in the United States. People often use May Day as a day for political protest, such as the million people who demonstrated against far-right candidate Jean-Marie Le Pen in France, or as a day for protest against government actions, such as pro-immigrant rallies across the United States.

he called and asked when I was coming back from the gym.
- I'm usually home around 19:30
- I will be there by then. Maybe I will be home before you leave for the gym.

Coming back home from the gym and my friend is on his bed. I don't know how, but he had managed to find out that school was closed tomorrow on Labour Day.
- If you are free tomorrow we can go have a drink, was the first thing he said when I came home.
I have had problem sleeping during the week and I would like to get a night of good sleep. So I was tired but I told him that I would take one M-150 energy drink to see if this would help. As I told him:
- Not very fun to go have a drink if you fall asleep after 3 glass of wine.

I was also a wee bit concerned about Glow after our last visit
there and I came up with a Master Plan. They don't know my friend at Glow and I can send him as advance guard to reconnoitre. My plan was for him to go down to Glow (Just a 2 minutes walk from my apartment) to find out if I were welcome. He should go to Glow and ask if there was something fun going on in FUNKY TOWN.
- I live in Korat and I'm only here to visit Aladdin and I know
F all about FUNKY TOWN. They know Aladdin and depending up
on their reaction we can make a decision if we can go to Glow or not.
Alternative 1:
- Aladdin! Yeah we know him. It's a nice guy.
This answer allowed me to go for a drink with my friend.
Alternative 2:
- Aladdin! We never want to see him again.
Well, in this case I'm better off staying well clear of Glow.

I took a shower while my friend was at Glow and after 30 minutes there had been nothing from the spy at Glow. I called him and he was desperate. - Are you on the way? Here is boring, I'm all alone.
- What's the news?
- I don't know yet.
- OK, I call you in a few minutes.

He called me again before I called him. It just took a few minutes.
- Are you on the way? Here is boring, I'm all alone.
- What's the news?
- They are busy eating in the bar so I can't speak with them.
After 1 hour I still didn't knew and the advance guard got more and more desperate.
- Where the hell are you? I'm about to jump in front of a buss just to alleviate the boredom.


WEEKEND AGAIN

Labour Day

and no school
It was almost 12 o'clock when I got out of bed. Weekend starting good, my hangover was not as
severe as I had expected. Maybe because, well, I'm almost sure it
was because of school yesterday. When our Teacher came to class she told us that she had given private lessons to a 68 years old man.
- He wants to communicate with his wife, she said.
- How old is his wife? I asked.
- She is 40
- That was a big gap, I said.
- That's no problem, she said.
She said that she was married with a guy here own age and, well, I didn't understood it as it was so very good. She turned to the class and she asked the girls what they thought. All the girls thought it was OK. Well, 28 years difference was maybe a wee bit too much. But as one of the girls said.
- My husband is 20 years older than me and it's very good. I was married to a man 2 years
younger than me and that was no good.

I was in a pretty good mood after this pep talk and I guess this made me feel better when I got out of bed Friday morning. I went to the kitchen for some tea and tuna and my friend was already up and about playing with my computer. We had our morning tea planning our weekend. Well, I left the planning to my friend and if things don't turns out the way we expect I can always blame him. Its holiday and I asked if he wanted to stay in FUNKY TOWN or if he wanted to go to the beach. He already f@cked up my life so I'm open to everything. My healthy life style got a dangerous list on Soi 2 Wednesday night and it finally capsized and sunk yesterday at Glow.


Well, he chooses the beach and we left FUNKY TOWN after our morning tea. OK, I took the time to burn a CD with funky music so we had something to listen to in his car. We left FUNKY TOWN
just after 2 o'clock.

It took us close to 20 minutes to get on the highway due to the weekend traffic. But as soon as we were on the highway we flew and we arrived to the only pit stop at 3 o'clock. This is the only stop between FUNKY TOWN and the beach. And I know were to buy Bacardi Breezers Orange. Good luck finding them at 7 Eleven. They only have Lime Breezers and that's
impossible to drink. I don't understand why they only have the Lime Breezers, and it has been the same the last year or two. But I always got to "MY" shop to get the real stuff. And it's strange, they recognise me even though there must be millions of cars stopping at the pit stop every day.

We were soon on the way again, but first I dropped a Losec. Otherwise it's impossible to drink the Breezer. One gulp of
Orange Breezer is enough to kill you with heartburn. But after a
Losec you're ready to go.

Coming to the beach and we ran in to the worst traffic jam. We were stuck between Sukhumvit and Beach Road and I called my friend.
- We will be a wee bit late. Terrible traffic.
- Yeah, something is going on. Beach Road is full
of tents and I think it's a festival or something, my friend said.
When we came to 2nd Road we had to turn right. The road was closed down to Beach Road so we had to go through Soi 6.

When we came out on the Beach Road we could see all the tents
and it looked like an exhibition or a fair of some kind. But plenty people and the traffic was slow and we were in a hurry. No more Breezers and we need to get to a bar in a jiff.

When we arrived the security guard parked our car and another guy took care of the garbage in the car (empty Breezer bottles) and we stepped in to the by me now well known reception at Eastiny Place on Soi 8.
- ALADDIN! Welcome back!
5 minutes later we were sitting with a vodka orange
in front of us. Nice to be known at the hotel, formalities are real quick. Back in the day when I booked my room they always made sure that the pool bar had plenty coconuts.

We were having a drink when my friend arrived with another friend. They were going to eat dinner
and at first I said that I would skip dinner. Second thoughts and I joined for a meal. Bad idea, took me almost 3 hours to get back in mood after the dinner. It's the same every time you eat, your festive spirit is high and after a good meal you just want to go to bed.

But after about 3 hours and 25 vodka orange the spirit was high again. And when we got PONG LANG from the loudspeakers the festive mood was a full force 10.

PONG LANG from the loudspeakers and it's impossible to sit down

Coming home 5 o'clock in the morning and you really feel that your way too old for this kind of life.
Saturday morning and I really appreciated it when my friend called me at 09:30 and woke me up.
- Where is the fire? I asked.
Damn! I just got to bed and he calls me. After the call it was impossible to fall asleep again, but I didn't get out of bed until 12 o'clock. Hangover, well, nothing else was expected. We had breakfast at 12 and we returned to our cabins for an hour of two of rest. Really didn't feel like meeting people.

Back on the room and I called my friend in Jomtien. She staying in their condo in Jomtien and I
was going to visit them in the afternoon. He was working as a Journalist in Taiwan and he had a terrible accident a few years ago when he felt of a train.

So now his only way of communicating is by his right hand. Terrible and what a disaster for him and his family. I was visiting them in Stockholm last time I was in Sweden autumn 2006 and now they had bought a condo in Jomtien. And coming to Jomtien was a wee bit different
from Stockholm November 2006. When I arrived to Stockholm there was snow and traffic chaos due to a passing blizzard.

No sign of any blizzards in Jomtien and I walked up Soi 7 in shorts. It was a little problem finding the condo, well, not problem. But I missed it the first time I passed and I had to go back down Soi 7 before finding it.

Arriving to the 10th floor and when I knocked on the door his wife opened up. Her mom and sister lives at a hotel just across the street and they joined us after an hour when we left for a Japanese restaurant. At the restaurant, well, I had a
raving hangover and it felt like a Sunday afternoon. Friday was a holiday and I appreciated the day off from school. But when Friday is off Saturday feels like a
Sunday, especially when Thursday night turned in to a drinking night.

Well, my friend coming to stay with me in Bangkok had already harpooned my healthy life style and I asked my friend's wife's sister if she drank sake.

- Hmm, or if it was she asking me? I don't remember.

And it's hard, my friend is in a wheel chair communicating by means of moving his hand a few centimetres and I'm sitting next to him drinking sake. You understand, it's not easy or fun to go visit him. I mean, what to talk about? We have had so much fun together back in the days.

I remember in the beginning of the 90's. He was in FUNKY TOWN to make an interview with a Dutch guy running a computer factory outside FUNKY TOWN. I was in his hotel room passed out by
eating too much Mangoes.
He was knocking on the door trying to get in and I was just in the bed screaming "NO CLEANING TODAY". Well, it was 4 o'clock in the morning but I had lost track of time by then. Finally I go up to open the door, but I don't recognise him and I just shut the door closed.
They had sent a limo to pick him up at 8 o'clock in the morning, but as you understand we were asleep
at 8 o'clock.

Well, I blame it on the sister and I had had the first sake in front of me after a few minutes. And it's
Saturday and it's socially accepted to be a bit tipsy.

Back at the hotel and we decided to take a look at the new shopping centre next to the hotel.

- Well, exactly how fun is it to run around a shopping mall?

- Not very.
But we went to take a look and we started in the basement looking for a place to buy a milkshake.
- Jävla Fyllesvin!
I turned around and there was Mr Roland. Hotel Manager from Koh Chang. I had not seen him for, well, must be more than 10 years by now. He was the Manager on a bar we used to visit back in the days when we were young and frequent visitors at the bar scene.

We had our friends visiting Koh Chang and they found the place very boring and they left the island this very morning.
While we were at the shopping centre they called. Well, they have been calling all day long, but now they told us that they would arrive in about 45 minutes.

They were on the way back to FUNKY TOWN but after driving all day they decided to stay with us at our hotel. A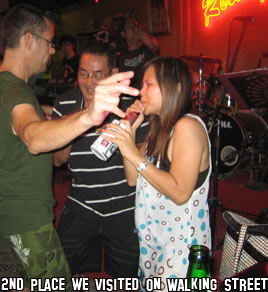 few beers in the reception and we were soon on the way to Walking Street to check out a band our newly arrived friend liked.

We made a pit stop before reaching Beach Road. But it was a very quick stop. They watched soccer on the TV and this was nothing we
wanted. We were in a festive mood and we wanted some good music. So we continued to Beach Road where we stopped a taxi. Traffic jam and it took us about 10 minutes to get to Walking Street.

After 5 or 6 beer at the first place we agreed on that the band wasn't all that good and we left for a new place. Tequila was soon on the table and we asked the band to play Pleng
Lao. I don't like Tequila so I just had beer, but my friends drank Tequila like there was no tomorrow. But there will be a tomorrow with a severe hangover.

Tequila

I lost track of time, but when the band stopped playing Lao music we asked where to go if we
wanted to have more of the good music. Lao music is not the kind of music they play around Walking Street so we
had to leave for the outskirts of the town. So we had to find a ride to take us there.

We arrived to the place and it was exactly what we had expected and nice to leave all the tourists behind. I prefer to mix with the locals, much more fun. Well, anyway, it was live music and it didn't took
long before we had a beer tower on our table. And yes, they put ice in the beer around here. Savages??!! Well, that's what they
call me when I put ice in my wine. And you're getting used to it so it's OK.

They closed the place, I think the name was Baan Esarn, at 2 o'clock I think and it should have been time to go back to the hotel. But no, now we wanted to listen to German Hip Hop and we continued to Soi 8.
I never learn, coming to bed around 4 o'clock and it will not be fun to wake up tomorrow morning. Sunday and hangover kinds of comes with the territory.

Sunday morning and my friend called me at 11 o'clock. I had a shower and I left for the restaurant and our breakfast. Cheese & ham omelette with a pot of tea. I didn't feel as bad as I
had expected. Thus time I had remembered to bring my
B-12 vitamins and I had a fistful when I woke up. But I was glad not to have to drive the car.

When we finished our breakfast we checked out from the
hotel and I bought a bottle of water in the mini mart before we left. Never mind how much B-12 vitamin you eat, you're always thirsty. Sitting on the highway without water is nothing I was looking forward to, but of course. The water was finished before we reached the highway.
I stepped inside my apartment around 3 o'clock and it was nice to be home again. I spent the rest of the Sunday at home preparing myself for tomorrow's class.


SCHOOL WEEK AGAIN
Monday morning and my alarm went off at 8 o'clock. If I said that I was quick out of bed I would be lying. But 10 minutes after 8 I was in the shower and then I went to make tea and to prepare my tuna. Seriously, the tuna starts to taste like wood and I will have to fins something else to eat.
I heard on the Swedish radio that latest research findings said that fruit makes you fat. So no more Mangos, darn, it was too good to be true. Mango is so good so I can't stop eating it and until now I had eating my Mango without having a bad conscience about eating too much. Well, what do you know? No more Mango and tuna taste like wood, I really have to come up with a real Master Plan.

After School I went to Villa Market and I only bought 5 Mangoes. Can't just stop like that, but tomorrow I will not buy any more Mangoes. The girl in the fruit department also told me that there was a lot of sugar in Mango. Well, coming back home I did my homework while eating my Mangoes. Tonight it will be time for the gym again so I can burn the Mangoes.


WEEKEND AGAIN
Weekend again and it's nice to have 2 days off from school. Last week was a busy one. I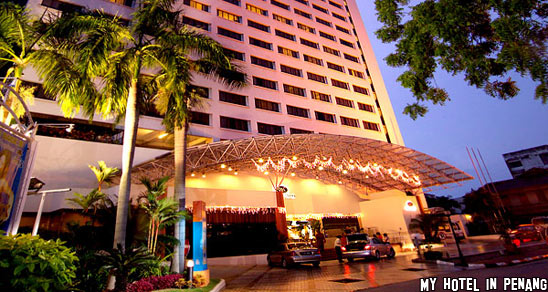 bought the ticket for Malaysia and I will leave on Monday 11th of May and I will be back 13th of May. I booked a room at Sunway Hotel in Georgetown not far away from the Thai Consulate.

Friday and do I have any plans? Well, my diet is back on track after last weekend's party (3 days) and my plan is to go to the gym everyday. You eat tuna and pumpernickel for a week and you put in another 2 holes in the belt. After the weekend your back where you started so I'm better off stay away from the nightlife and thus looking better on Monday. And there will also be more space for me in the seat going to Penang.

Saturday morning and I woke up feeling good. I spent Friday night at the gym, but only on the jogging machine. I can't lift any weights with my right arm. Going to bed Thursday night and I
could not move my right hand, it's getting better but not good enough to do any heavy lift.

Saturday and it's early, at least comparing to when we have been out drinking Friday night. I had plans to start the day by going to the gym and the rest of the day with my school books. But when my friend called it was a quick change of plans.


- We're coming over

- What??!! Hey, I'm going to the gym and I have plenty homework to do.
Obviously this was not any arguments they understood. But of course, I need to get rid of my wine before it's getting old. I thought I could save my wine for years, but after some research on the internet it's good for a few months unless you have a wine cellar.

Sukhumvit Toll way going to Khao San Road

After a few bottles of wine we took of for Khao San Road, a 20 minutes ride if you chose the
toll way. You also have the option of saving the 45 bath toll and be stuck in the traffic for hours.

We entered the toll way at Sukhumvit and we exited at Lan Luang and 5 minutes later we were at Khao San via Ratchadamngen
Road. Parking the car and we were soon at Suzie Bar.

No wine so I had to drink vodka orange and as long as it's fresh orange juice it's OK. But white wine is the best option for my diet. But I'm not drinking vodka Red bull anymore and that's a big
step in the right direction. Red Bull is pure sugar and a killer for my diet.

After Suzie we went to check for a place with good music, it was a little early so most of the places had not yet opened.
Only restaurants and some small bars. But we passed a place and we went up on the second floor. No people but there was a heavy metal band playing.

As I said, it was too early in the evening. Around 7 o'clcok and the action don't kick off until maybe 9 or 10 o'clock. By
then we were at Tapas on Silom Soi 4. I have not been there for 10 years or so. But the DJ still recognised me.
- ALADDIN!
Well, needless to say, I didn't recognise him. But, well,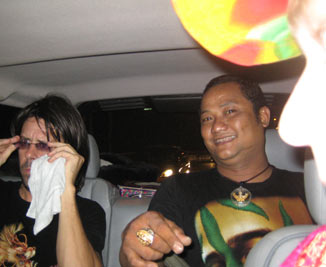 Tapas was more fun 10 years ago. Now its re decorated beyond recognition and my guess is that another 10 years will pass before going back again. Coming out from Tapas and the
streets were flooded. Heavy rain and 20 - 30 cm of water on the streets. How fun is that?

Leaving Tapas and we made a bad decision, pizza. At Soi 23 there is a 24/7 Pizza restaurant and we drove there. I had only eating 2 slices of pumpernickel and a can of tuna this morning so I was hungry. Well, eating and after this I went home for bed.

Sunday morning and I woke up at 12 o'clock to discover about 1 million missed calls on my phone. My friend had sent SMS "CALL ME ASAP" and I called him as soon as I had dropped a few B-12s. My hangover was nothing like it uses to be. I woke up at 8 and it's usually impossible to fall asleep again. I dropped 4 valium and I felt asleep again.

Well, anyway, I called my friend and I asked if he was OK.
- You called 2000 times and you sent the SMS so of course I'm worried.
He told me that his wife had left. He asked when I was going to Malaysia.

- Monday night, why?
- My wife just took her things and left and I don't know if she comes back.
- And now you need to go to Malaysia to get a visa? I asked.
I suggested that he would take his things and move to FUNKY TOWN. Here is much more fun that to sit in the middle of nowhere.

Sunday and the girl who is giving water to my flowers is
expected. She has her own key but I don't know what time she comes. I was on my bed watching movies that I bought yesterday. Always preparing my self for the hangover with
movies. But she came in the afternoon and waiting for her is not very fun. You have to be decent and presentable.
- Why don't you give the darn flowers water your self?
- Well, I need to have continuity and suddenly I'm off on a ship for 10 months.
Today she was scolding me a little.
- Your apartment is dirty!
- Yes, but I clean everyday, I lied.

I cooked dinner for us and when she left I returned to my bed and the movie. Just another Sunday is about to come to an end in FUNKY TOWN. Tomorrow it's back to school but I will
skip gym. My flight leaves FUNKY TOWN International at 19:40 so there will be no time. Well, as good to stay away from the gym a couple of days. The Pizza restaurant we went to at the wee hours this morning is just opposite from California WOW. NO, don't misunderstand me. We didn't embarrass anyone at the Pizza restaurant.

- Hmm, OK, it might be that our table manners left a little to wish for.

But they see me everyday going to the gym and suddenly Aladdin

"The good boy" is sitting at a table ordering pizza in the middle of the night.

My friend showed up with his dog Sunday night and the week didn't get quite the ending I had expected. My kitchen was soon full off doggy poo. I went to grab a diet drink in the fridge and it smelt poo in the kitchen.
- Hey! Your dog made a mess in my kitchen, I shouted to my friend in the living room.
- I will be right on it.
The mess was soon cleared and I could enjoy the diet drink. When he left I wrote a few words on my web page and it was soon bed time.


SCHOOL WEEK AGAIN
Monday morning and it will be nice to get back to school. And if you ask me they could as well skip Saturdays and Sundays. Everything you have achieved during the week is down the drain during the weekend. But this weekend has been a short one, Friday was a holiday and all the discos and bars were closed.

Believe it or not, I'm looking forward to school and 3 hours flies away. It's really fun, especially Tuesdays and Thursdays when this very beautiful girl studies with us. Our Teachers are very good and fun so I'm looking forward to Monday morning. New week and I can start my new life

I was out off bed at 8 and I left for school at 09:45 and it was almost 4 o'clock when I was back home. Just to pack my weekend bag and I was off to the airport. Hopefully the beautiful girl is working at Black Canyon Cafe so I can have a diet drink there before my flight takes off.
The flight was 1h40m long and it passed pretty quickly. I ended up next to a guy from Canada and we
talked about the good old time. We arrived to Penang International around 22:00 and Immigration was a quick formality. There was a nice system for taxi in Penang. You paid the fare at the airport and the driver took you straight to the hotel without any hassle about the price.

Arriving to the hotel and I bought 4 diet drinks in the restaurant first thing. What a disappointment, the tasted like F@CK OFF. Second disappointment today, first one was at FUNKY TOWN International. No sign off the beautiful girl at Canyon Cafe.

Tuesday morning and I received my wake up call at 7 (6 o'clock Thai time ) and I was dead tired.
I didn't felt asleep until almost 2 o'clock and a few hours more sleeping would have
been nice. But I have important business to attend to so I swinged myself out of the bed and in to the shower.

The Consulate opens at 9 so I had time for a diet drink after breakfast and 15 minutes before the hour I went down to take a taxi to the Consulate. There was a few taxis waiting outside the hotel and the drivers were sitting under a sunshield on the side walk.
- Hello Boss! Can you take me to the Thai Consulate? I said to one of the drivers
- You're the Boss, he said.
- No you're the Boss. You're in charge and responsible to
get me to the consulate and thus the Boss. How can you be responsible if you're not the Boss? I asked.
- I understand, he said when we left.

Of course, if you're the Boss you're responsible and he understood this. I only wished it was the same on the ships. No spare parts for the cargo pumps. Pure luck
that we had to change crew in Las Palmas so we could get some emergency parts onboard. Ships' falling apart a no one does anything. No reactions from the owners, well, the only reaction was that Aladdin was a pain in the arse.

Well, anyway, we arrived to the Consulate after 10 minutes and the German guy in front of me looked puzzled when they asked for a copy of his passport. I was surprised as well, this was a new requirement. Copy off the front page in the passport. I took of with my driver with smokin' and screamin' tires. The German guy beat us to the copy shop by a few seconds. But while the German guy fiddled with his change I dropped a Scooby dollar and I was ready at the Thai Consulate before he returned.

Indian temple in Georgetown, Penang

Back in my room and what the f@ck to do? As mentioned before, the diet drinks tasted like F@CK OFF! So sitting in my room enjoying a diet drink was not an option. So I decided to take a walk to
see the sights of Georgetown. There is an Indian Temple across from the hotel and that was fun to watch, for about 3 seconds. I went around the block and I passed a barber school and I decided
to get a haircut. 21 Scooby Dollar and I had killed 10 minutes. What the hell is here to do? I turned left coming out from the barber shop and I was back at my hotel.

I asked one of the taxi drivers to take me to a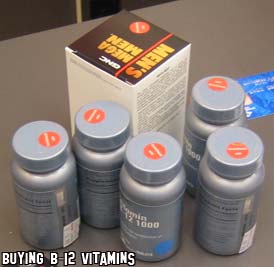 shopping mall. There is a big mall, Time Square next to the hotel. But it looked like no one has moved in yet.
- Queens bay Shopping Mall, very beauty, the driver suggested.
- Lets go!

Queens bay Shopping Mall didn't do anything to alleviate my boredom. But I was getting hungry and I was looking for a Japanese restaurant. While looking for a Japanese restaurant I passed a vitamin shop and I bought all the B-12 vitamins they had in stock Turned out that the Japanese restaurant was a Chinese restaurant. But I got a noodle soup (I have had better noodle soup) and I was off to look for diet drinks in the supermarket. OK, let me put it this way. Their selection off soft drinks was less than impressive.

Georgetown, Penang

No diet drinks, what to do? I had given up the idea of finding something exciting in Georgetown and
I would like to have a few diet drinks while study Thai in my hotel room. Yeah,
I brought my school book. And I can as well killing the day over the book and if I'm lucky my favourite girl will be impressed
by my reading when I'm back in class on Thursday.

- Hmm, maybe loosing 150kg would be a better way to impress her??!!

But one good thing with the shopping mall was that I found out that I had a
50% discount in Malaysia. I was under the impression that 1 Scooby Dollar was 5 Swedish Scooby Dollars. But it was only about 2,5 Swedish Scooby Dollars for a Malaysian Scooby Dollar. It was cheap as it was and now it was half the price so I was, well, not in a festive mood. But I was
in a good mood even though I was bored to death.


I asked the driver to drop me off at Time Square so I could find some diet drinks. I asked the driver if there was a 7-eleven or another convenient store around. The driver went out of the car and in to a knick knack store.
- No, they only have ordinary drinks.
- OK, never mind. I take a walk looking my self, I said and I paid the driver and I left.

Didn't looked like there was very much diet drinks around here, but I spotted a mom & dad shop
across the street and I gave it a try.

Disappointed, and that's what I have been most of the time this tour. No diet drinks and I returned to my hotel. Coming to the hotel I decided to continue down the road and I ran in to a convenient store. Lo and behold, they had Diet MAX drinks.


- Yippee!!
I took as many as I could carry and I returned to
my hotel room and my school books. Coming in to my room and I ripped open a can of Diet MAX and instant distress. There is no word to describe the displeasure. The Diet MAX tasted like shit, well, no taste at all and I had to call room service.
- Can I please have a few Diet drinks?

They are not good, but they are way better than the crap I brought home from the convenient store around the corner. Same with the beer. I remember first time in Malaysia/ Singapore and I ordered a Carlsberg. You could hardly drink the shit. At least you had to be really drunk
before you could enjoy the beer. And believe me, I mean dead drunk.
Well, I started to read my school book and after a few hours it was dark outside and I was hungry. So I took a shower and I left my room.
Georgetown, Penang from my hotel room

The Canadian guy I talked with on the flight told me about a street with restaurants and coffee
shops and I asked the driver if he knew the place.
- SOHO
- Let's go!

10 minutes later we arrived and I walked around looking at the sights. There were bars, discos and restaurants but not very much people. I stopped at an Italian restaurant and I had lamb chops for dinner. It was, well, OK. But I had a strange taste in my mouth when I left. I was walking
down the street when I ran in to some Tuesday night action.

There was a fire up the road and the road was closed for traffic, but pedestrians were allowed and I took the opportunity to get some action pictures for my web page.

The only exciting happening in Georgetown, Penang

I spent 5 minutes at the scene before I left looking for a taxi. I don't want to hang around making a fool of my self standing there looking at the action. An honestly, it was not very exciting.

The only exciting happening in Georgetown, Penang

While looking for a taxi I checked a few convenient stores but they didn't had any exciting to drink to offer. I bought a diet drink at my hotel before going up to my room.

Wednesday morning and I woke up at 9 o'clock. Now I have to find a way to kill time until 1515 when my driver comes to pick me up. He will take me to the Thai Consulate so we can pick up my passport and then we will go see the sights of Penang trying to kill time until 22:05 when my flight
leaves for FUNKY TOWN.


BORING! There is a gym but I didn't bring any clothes for one night only. But it might have been a good idea to bring my gym
suit and I could have spent hours in the gym and pool.

1After breakfast I returned to my bed and my school book. And the restaurant was full of, I don't know what you call them. Black hair, pins through tongues, chins, noses and other body parts.
Tattooed with this black stuff that everyone has today and they pretty much look the same. But this group was from Finland and it seems like I have been followed by Finnish people like this ever since the airport in Las Palmas. Las Palmas International was full of them and me and my friend was only gaping when they passed by.

I spent the time until 2 o'clock in my room playing with matches. I checked out at 2 and I had my lunch waiting for my driver. He will pick me up at 15:15 and I told him to
come up with something exciting to do after we had been at the Consulate, something to do killing the time until my flight.

But before we left the Driver had to pay the Meter Maid. I don't know how it works here in Malaysia, but it has been one guy on a motorcycle going up and down the strip outside the hotel. If he sleeps? I don't know, he's always busy whenever I have passed.
And I don't know if, well, I'm pretty sure his work description is not the same as for a Meter Maid in Sweden. But he collects money and he looks happy.

Getting my passport at the Thai Consulate was a quick affair and if we forget the "Copy of the first page in the passport" faux pas I spent less than 5 minutes at the Thai Consulate leaving and picking up my VISA.
- OK, tell me about your Master Plan, I said to the driver.
I was hopping that he would have come up with something exciting.
- We can see a Thai Buddhist temple, the laying Buddha. It's over 100 years old.

- What??!! A Buddha.
Yet another Buddha, if I see one more I will throw my self in front of a buss, I thought for my self. Unnecessary to inform the driver about this. But we have about 6 hours to kill.

- A BUDDHA!! EXCITING!! WHAT ARE WE WAITING FOR?

Lying Buddha in Georgetown, Penang (Seems like there is one everywhere in the world)

It took us just about 5 minutes to reach the temple with a quick stop at the ATM. 5h 55m to go. We parked the car and it took me about 20 seconds to check out the Buddha. Luckily enough there were some Japanese tourists outside and we had soon killed 5 minutes talking with them. A few
Police men showed up and my driver had told them that I was a wrestler so we spent 3 minutes shaking hands. There is a Burmese Buddhist temple across the street and my driver asked if I wanted to check it out.
- Well, I think I get the picture.
We left and now it's only 5h 47m to my flight.

- Do you want to see monkeys? The Driver asked.
- Are they wild ones? I don't care very much for Zoo.
- Yeah, they are wild and if we buy peanuts you will soon be friends.

My driver stopped to buy peanuts and we arrived to the first garden after 8 minutes. 5h 39m to go. But there were no monkeys and the Driver looked puzzled.
- Here is always plenty monkeys.
- We continued to a park and there were no monkeys and we were standing there looking stupid with our peanuts when I guy arrived on a motorcycle. He pointed up the hill.
- The monkeys are up there, he informed us.

Monkeys in Georgetown, Penang

We brought our peanuts and we went to see the monkeys. And as the Driver said, show them the peanuts and they are soon your best friend. I wandered off to explore the sights and DARN! I don't understand how people think, they just drop their garbage right where they stand. It looked like a garbage heap. What a shame! Pain in my Greenpeace heart.

Monkeys in Georgetown, Penang

I was running out off peanuts in a jiff and when I returned the Driver had ordered bananas. After a few seconds the guy on the motorcycle returned with a bag of bananas.
- The monkeys like you even more if you bring bananas!
- Is that right?
- Yeah, one banana is good for one day. They need to eat plenty peanuts in one day.
The bridge to mainland Malaysia

We left the park and by now it was about 5h 15m to my flight. The Driver was going to take me up to the mountain.
- I know a nice place with a good view over Penang and the bridge to the mainland.
- Let's go already.
Georgetown, Penang

On the way the Driver told me it was a nice place to go to in the evening. You bring some friends and a few drinks and you can throw a party while enjoying the sights. We arrived to a Chinese temple and we enjoyed the scene for 10 minutes.

- Do you want to go look for snakes?
- No
I don't like snakes so I gladly skipped this attraction. I told him to drive me to the airport even though it was 4h 43m until my flight was leaving. When I arrived to the airport it was 4h 30m and after 1 hour sitting around waiting I started to regret that I turned down the snake attraction. I spent 10 minutes having dinner at Kenny Roger's Roaster. I will never go to Kenny Roger's Roaster again and there is no need for you to do it either unless you like to be disappointed.


1 hour waiting, 2 hours of waiting and the German guy from the copy shop passed. He said hello and it took me 20 minutes to remember where I had met him. But I pretended like nothing and time passed quickly while we were talking.


SCHOOL WEEK AGAIN
My alarm went off at 8 and I was dead tired. I arrived home at midnight and I didn't felt asleep
until 4 o'clock. (5 o'clock Malaysian time) A hot shower and a pot of tea and I was as good as new. (Only wish I was 22 again)

And of course, coming to school and my Teachers had missed me. But I had missed the beautiful girl and she was a no show today. DARN! And this is what I had been looking forward to during my tedious days in Malaysia. Looking forward to, well, it was more like dreaming about. No worries, she arrived 20 minutes late and it might be my imagination. She looked surprised and happy to see me back in class. Well, at least this is what I wish.

Going to gym and my worst nightmare came true. Passing the Pizza restaurant and they said hello to me and I knew that they remember me from early Sunday morning.

Well, coming home from the gym and I have a new job.
- Fer f@cks sake! I just signed off!


WEEKEND AGAIN
Friday evening and I was busy answering the phone from different companies, but I told them that
I already had a new job. I had planned to stay home Friday night, but to dodge all the calls I had to go out for a little wine and good music.

I ended up at Narcissus Club, a mere 5 minutes walk from my apartment. I have not been there for a few years and the place was redecorated and I must say that it has become much better. It was fun and I will soon be there again.

Saturday morning and waking up was the worst experience I had had in many years. Cramp in both
legs, impossible to move and an indescribable pain. I needed to get out of bed to throw up but I could not move. Must have been the chicken I ate yesterday that had made me sick
(Well, drinking 3 bottles of wine and a bottle of vodka can be a reason) because as soon as I drank some water I just throw up. Not nice when you're stuck in bed, believe me. Hour after hour with a terrible pain in my leg and throwing up as soon as I drank some water. I really good start on the Saturday.

Unnecessary to mention, but I stayed in bed all day long. My friend and his wife came over in the
evening. My friend needed some music and while we copied the music we went to a Thai restaurant a few minutes from my home. I never had been at this restaurant before even if it's just next door. I did not even know that there was a restaurant.
I had suggested a restaurant on Soi 22 were they have a very tasty curry soup. Chiang Mai food, but my friend's wife doesn't like Chiang Mai food so she suggested this restaurant instead. And it turned out to be a very good one and the food was excellent. But now I have a nice Thai restaurant to bring friends to when visiting Thailand.
When we finished the meal we returned home to me for tea and while talking about the good old time times flied away and suddenly it was almost midnight and time to go to bed.


2 more weekends before it's time to sign on and I cancelled my courses in Manila. I will take them next time I'm coming home.

- Hmm, if I have time. Seems like it's the same story every time. I'm signing on not long after signing off.


SCHOOL WEEK AGAIN
My alarm went off at 6 o'clock but I didn't get out of bed until 7. I was dead tired even though I
went to bed at 9 o'clock yesterday. Yeah, I still blame it on the chicken I had Friday afternoon. I skipped gym Monday and Tuesday due to pain in my calfs. My legs have not been good since I woke up with cramp Saturday morning. I was at the hospital Sunday night to get a medical certificate for my Thai driving license and I asked the Doctor about the cramp.
- You don't get enough calcium.

My friend called Tuesday night and he had dinner with a guy study medicine in England.
- He says that you need magnesium.
OK, I will go for a massage and I will look for calcium/ magnesium tablets on the way to the massage.


Wednesday was the first day at the gym this week. But I started the day with 5 hours in school. I never made it to the drug store yesterday. So no mineral tablets, but I got a massage and when I woke up today my legs felt good and I was glad to be back at the gym.

Thursday and the day almost got a very bad end. I eat 4 slices of pumpernickel and 3 cans of tuna per day and now the tuna start tasting like wood. So I bought some chicken filets after school and I went home to eat chicken. I don't know what it is with the chicken. But I got a terrible pain in my stomach at the gym and I went home again
(After almost a full session) and I hope I will be back in good order for the upcoming weekend. You never see Charisma Man with stomach pain and this is the guy you want to be around when it's weekend.

But seriously, as I told my Teacher today:
- It would be better if it was Monday after Friday. School all the time and no hangovers.


Friday and I went to school dressed for gym. Of course fresh from the washing machine. You don't want to smell like SKUNK hanging around the beautiful Teachers and Students. Tea and a shower and I were off to school.


WEEKEND AGAIN
My last weekend in FUNKY TOWN before leaving for Sweden

Yeah, Friday afternoon. School is over and I went to the gym straight after school and my fridge
is full of white wine. Plenty music and now the only question is how hard the hangover will hit me. Well, I expect the worst and I have prepared myself with 20+ DVD movies and 5kg of Mangoes. Just to pop a few valiums and B-12
vitamins, watch movies, drink water and eat Mangoes with the AC on 16°.
My friend will arrive around 3 o'clock and I will hopefully have finished my homework by then. Gym and homework, everything to alleviate the agony tomorrow morning. You see, it's not easy getting old, the weekend has to be
planned and prepared minute by minute.

Due to traffic my friend didn't arrived until almost 4 o'clock. Good, I had time for homework and a
very quick nap after gym.
- Fan, halsen e full av rese damm. Jag öppnar en Captain Morgan, he said.
From there on it went quickly downhill. I don't remember when we left my apartment, but my friend told me it was after 11 o'clock when we finally made it out of the door.
- What the hell did we do until 11 o'clock? I asked.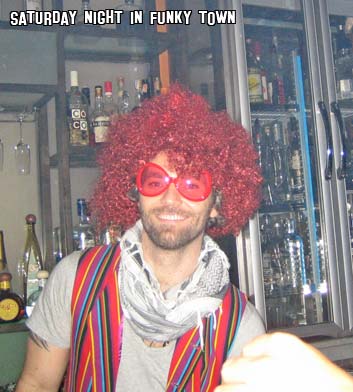 - When Disco Duck came on we opened a few Breezers and time turned quick. As soon as we got a tune going we, yeah, we were in a real 70's disco mood and when we were ready we had finished a bottle of Captain Morgan, two
bottle of wines and we were deep down in a bottle of vodka when we finally left.

So we were pretty drunk when we arrived to the disco and according to my friend I got the concrete hat
on as soon as we came in to the disco. Well, they asked me to go home to get some sleep. Well, they
don't know me. Believe me, it's not the first time
I have had the concrete hat on.

I went outside and sat down in a taxi. I turned the music on full blast and I ordered wine from the bouncer. So I had a pretty good time, good music and there was always a fresh supply of wine coming my way.


Saturday morning and I woke up before 7 o'clock in the morning. Hangover force 9,6 but by now I have found out the reason for my terrible hangovers. No, it's not the 4 bottles of wine and the bottle of Absolut vodka I had. It's lack of sleep. I always wake up around 7 when I have had a late night out and it's impossible to fall asleep again. Sp I feel like shit all day long. So I pooped 4 valiums and I slept until 2 o'clock in the afternoon feeling like a baby.
OK, I guess my new school, gym and tuna diet "LIFE STYLE" helps me feeling better as well.

My friend and his girlfriend were up and about and I had planned to take them to the restaurant we went to last time. I expected a quick departure from my apartment. But obviously we had to do some serious redecoration before we could take off. My friend's girlfriend wanted to see my
bathroom. (Hey, I have a guest bathroom)
- BUDDHA! No good!
I knew that this was a little sensitive. Every time
I'm coming home the girl that gives water to my plants have moved out my Buddha to my bed room.

Well, so I had already moved the bigger of the 2 Buddha's to the guest room so I didn't had to carry it in to the bathroom every time coming home. But the
small Buddha is still in my bathroom, or was until Saturday afternoon. And every one is complaining about the Buddha in the
bathroom. And when my "LIFE COACH" gets started I just feels like jumping out from a bridge.

But I'm not impossible and if this is how they like it around here I
can as well move out the Buddha and hopefully I will never hear about it again. Well, no guaranties when it comes to my "LIFE COACH". But he is the way he is. Well, anyway, after the delay we were ready to leave for brunch.

The restaurant we went to last Saturday night had not
opened when we came so we had to go eat at a Thai restaurant on Soi 22. Surprisingly enough they served white wine so it didn't took long before the spirit was high.

After our brunch we needed a shower. Well, 4 or 5 glasses of the wine had been as good. But a shower is always good. My friend can't take his eyes off my new Persian Carpet (I bought it from him) and he is proudly showing it for his girl friend.
And I must admit, it's a beautiful carpet and very nice to walk on.

Well, not only redecorating my condo. There is also time to inspect my new Persian carpet

Yeah, it's nice to walk on the Persian carpet

I love the carpet, 4,8m long and it's perfect to have in the hallway to the kitchen. A good
quality carpet and it's like walking on clouds walking on it.

I had to make a quick stop at GLOW before continuing exploring the night life. I just had to check out the reactions from yesterday's adventure. And believe me, this is nothing you do sober so I took the opportunity when I was a wee bit tipsy.
- Yo! Aladdin!
Turned out that they were impressed....

- Hmm, I don't know if impressed is the word I'm looking for.
But, well, they had never seen something like this before. No use to throw out Aladdin. Just more work to bring the wine to a taxi outside instead of just handing it over the bar counter. But well, after finding out that there were no hard feelings I moved on and waking up Sunday morning was just as exciting as I had expected.
At 12 o'clock it knocked on my bed room door.
- Where is the fire??!!
- Aladdin, I will go home at 1 o'clock.


SCHOOL WEEK AGAIN
After spending Sunday in bed it was nice to come back to school. Beautiful Teachers and the Filipina studying at Bangkok University came wearing her school uniform. Well, you know, when she arrives you just straighten up trying to look you best. And the best part, last week it was 14 holes in the belt and Monday morning it was 16 holes. White wine is the best thing that has happened to my diet.

I also have a shopping list from my friend in Sweden to attend to. I have found everything, except some sunbathing oil. But I have 2 more days. But seriously, who the hell is using sunbathing oil?

I left my morning school 1 hour early. Last class starts at 12 o'clock and 5 minutes after the hour our Teacher was still out in the reception chatting with the other Teachers.
- What the ...? F@CK IT!
I took my bag and left. I'm paying for classes and I expect the class to start on time. It would have been a totally different story if it was for free or if I was forced to go to class. But I'm in school because I want to. Same with the students coming late, 20 minutes in to class people arriving and disturb the class.
- HEY F@CKER! CAN'T YOU WAIT UNTIL THE BREAK TO COME BURSTING IN?

And believe it or not, we also have students asking if we can go home early. One guy tried to advance the clock so we should be ready early.
- Hey! Isn't that like stealing from yourself?
I mean, why bother pay the Tuition fee? Well, anyway, I left school and I found the Coppertone sun block for my friend. My friend wanted number 2 and 4 but I could only find #30 so I didn't bought any sun block. But when I came home I called my friend and #30 seems to be good.
- Can you please buy 1 bottle for me?

Wednesday and it's my last day in school until August. I will take my morning school but I have cancelled my afternoon school until 10th of August. I will buy the sun stuff for my friend and pick up a few new shirts before going home. And it's Wednesday so I'm looking forward to meet the Filipina in her Bangkok University uniform.

My flight leaves 23:55 tonight so I hope for more luck tonight regarding the Girl at Nero Cafe on the airport. The flight to Malaysia was a big disappointment, no beautiful girl at Nero Cafe and it kind of put a lid on my good mood.

Before leaving for school I ordered a car to pick me up at 7 o'clock tonight. Maybe it's a wee bit early, but I might be lucky and I can spend a few hours at Nero Cafe. Luck, yeah, coming to school and for sure, I didn't felt lucky. The Filipina in her Bangkok University uniform was a no show but our beautiful Teacher was charming like never before. At the brake she asked me to come sit next to her.
- OH! I will miss you Aladdin!
- Why?
- Now I'm used to see you every day. When will you be back?
- I will be back in school Friday 7th of August.

- OH! It's my birthday!
SHIT! If I forget this she will, well, most likely she will have forgot that she told me that it's her birthday. But she will be mighty impressed if I come back at 10 o'clock the 7th of August and congratulate her on her birthday.
And it's strange, she told me that she would turn 27 but last time I asked her how old she was she said 27.
- You told me you were 27, I said.
- I'm 26 but I will turn 27.
Why does anyone want to say that they are older than they are? If it was me I would have sucked on the "26 years old" candy as long as I could.



OK, time to leave FUNKY TOWN for Göteborg, Sweden via Frankfurt, Germany. I bought the darn
Coppertone after school and I went to pick up my new shirts before
returning home to pack my bag. The last thing to buy is Camel with filter at the airport tonight and I'm ready to leave.

My friend has the same problem as I have. I LOOK DARN GOOD
WITH A COFFIN NAIL
IN MY HAND. Well, it all started when I was on Rainbow Warrior. The ship was full off beautiful Greenpeace girls and I had to do what I could to look as good as possible.

I spent 10 minutes to pack my bag and this time I did not forgot my school books. I will study every day and my Teacher will not only be impressed by me remember her birthday. My language skills will knock her feet of the ground.

- Hmm, where have I heard this before?
But at least I will do my best.

Before packing I checked the weather in Göteborg and it will be around
20°C and sunshine so I decided not to pack my pullover. OK, a pair of panta longas went down the bag. But otherwise only shorts
and my new short sleeved shirts. Thursday, tomorrow, will be the coldest day according to the forecast. But I will manage to get from the arrival terminal in to my friends car without freezing to death.

Arriving to Göteborg, Sweden at 10:20 tomorrow morning and my friend will be there to pick me up and the will bring me to my hotel.

Checking in at 8 o'clock and I had a few hours to kill before my flight. I went to Nero Cafe
and the beautiful girl was working.

- Yippie!!!
- And there is no customer at the cafe!!!
I could not believe my luck.
- Do you want a diet MAX? She asked.

- SHE REMEMBERS WHAT I DRINK!!!!
We talked for
and hour or so before the first guest started to arrive and, well, it was time
for me to leave anyway. But I found out that she has her birthday 27th of August
so now Aladdin has two birthdays to keep track on.

The flight was scheduled to leave at 23:55 and we pretty much left on time. Lufthansa and not KLM and the seat next to our hero were empty. He dropped a Rohypnol and he woke up 1 hour before arrival to Frankfurt.

Thursday 28th of May and we arrived to Frankfurt on time. Our hero was pretty much lost as soon as he got off the plane. Frankfurt airport is rebuilt beyond recognition. I had to walk several km before coming to the Immigration. Frankfurt airport is closing in on Brussels airport on top of my shitty airports list.
| | |
| --- | --- |
| Not the kind of breakfast I'm used to in Frankfurt | No pot of tea, instead I had to order several cups of tea |
I could not find my favourite restaurant

I could not find my restaurant where they serve the best breakfast I ever had at any airport
in the world. Instead I ended up in one of those semi self service place that I hate. But I had to kill time, 90 minutes until departure.

A pot of tea was never heard of at this place so I had to order cup by cup and I soon grew tired and paid my bill and left for my departure gate. A 42 and after security it was trotting and trotting and trotting. Jesus, how far can it be? This is worse than Brussels airport. I could not see the end of the
concourse. Passing gate 22 and I was about to give up. How can they fail so completely when planning an airport. KLM may be the worst airline, but Amsterdam airport is a very good one.
Finally on the airplane

And according to posters work are in progress to make Frankfurt airport even bigger. What a night mare! Our hero, exhausted by all the walking, could not believe my eyes when I finally arrived to the gate. A f@cking buss at the gate.

Luckily enough I had an empty seat next to me and the flight from Frankfurt to Göteborg passed pretty quickly. We were 10 minutes late due to head wind.

Göteborg archipelago

And it was nice to see Göteborg. Not because I have missed the city but I was pretty feed up after almost 24 hours travelling and all the walking in Frankfurt.
Göteborg

Approaching Landvetter airport the landscape was green and I could tell that the spring was about
to turn in to summer.

Even though they told us that it was only 10°C in Göteborg. OK, its early morning, but I had hoped for a few degrees more. But summer weather is expected for the weekend.

It was so nice to get off the plane in Göteborg and the airport were rebuilt since last time I was here. It must have been several years since last time I was at Landvetter airport. I could hardly find my way to the luggage claim area and that's even though it's a very small airport. But I found the belt and when I got my bag I went out to my waiting friend.
When I saw him I said:
- Nice, a porter! Can you please take care of my luggage?

It was nice to leave the cart with my bags to my friend. Coming out from the airport and it was not as cold as expected. Actually
it would have been very nice if it wasn't for the strong wind. But it was sunshine and the spirit was high.

It didn't took long before we were cruising the highway towards Göteborg. Our first stop was Rosenhill to get my voucher for the hotel. As a sailor I get a
discount on the hotel, but I need a voucher from Rosenhill.

At arrival to Rosenhill they recognized me immediately.
- Yo! Aladdin, haven't seen you in a long time.
- I stayed at your apartment 5 years ago when I took my last fire fighting course.
There is an apartment at Rosenhill that you can rent (if you're a sailor) for about 30 US per night. My friend hadn't had his breakfast so we had our breakfast at Rosenhill before going to the hotel.

When we had brought my luggage to my room my friend asked if I wanted to help him painting the bottom of his sail boat. They will lift the boat in to the water at 15:00 and I need to get some paint on the bottom before she is waterborne. Well, when we came to the marina the sailboat was already in the water and we left.
| | |
| --- | --- |
| First you have to buy a card at the cashier | Walk to the machine and hopefully change your mind on the way |
Always something new when coming back to Sweden

Well, what they hope for is for you to change your mind on the way to the vending machine.

- Hmm, maybe I should give up smoking
| | |
| --- | --- |
| Insert the card in the slot | Collect your cancer sticks |
Always something new when coming back to Sweden

On the way back to the city we stopped to look for a sandwich layer cake, yeah, my friend is
crazy. He wants to celebrate my 22nd birthday even though I refuse to admit that it's my birthday. At the first baker shop they were out of sandwich layer cakes and we had to go all the way to Torslanda to buy the cake.

And in Torslanda our hero discovered the new way to buy cigarettes in Sweden. They also have new coins in Sweden and it was like coming to a new country. You have to look at each coin like an idiot when paying.

When we arrived to my friend's apartment we went to the baker shop next door. He had ordered a birthday
cake for me. And I was impressed that he managed to get my age right, 22!

Oh dear, my diet! But we managed to finish all the sandwich layer cake and most of the birthday cake. But only coffee (for the girls) and tea for the man.

Last time we had a birthday party in his
apartment it ended up with the police coming and, well, someone
must have slipped a Mickey
in my drink because I passed out. I woke up at 5 o'clock in the morning by the noise and what I was to discover was pure
ghastliness. The guy involved still denies everything, but I was handy with my camera and I must warn people of delicate nature for the left hand side picture. Well, I think it's too late by now with any warnings.

Unnecessary to mention, but I was blamed for the Police bursting in and, OK, I'm used to it. But the thing I remember as the most pleasant was the DJ from Marstrand. We had been in Marstrand a few years earlier and I'm always reminded how I had behaved back then.
- You're the worst thing that ever happened to Marstrand. The DJ was very angry at you and he wonders how the hell we got mixed up with you. Well, I meet the DJ for the first time at the party, at least the first time I can remember and he
told me that he had never had such fun before, or after.
- I hope to see you soon in Marstrand!

I woke up in my friend's sailboat and I don't understand how I managed to get onboard the darn boat.


Coming to Göteborg and a visit to Koto, the best Japanese restaurant in the world is
a must. I suggested a dinner at Koto and bad news
was coming my way.
- Koto is closed, my friend said.
- What? This was the best Japanese restaurant in the world. What a disappointment! What is this world coming to?
My friend stopped at the old restaurant where Koto used
to be. He went in and asked if they knew if they had closed down or just moved to a different location. I was waiting in the car while he made the inquiry and he was back in a few minutes.
- They have another restaurant around the corner.
Turned out it was a Chinese restaurant and we stepped inside
and asked why they had closed their Japanese restaurant.
- We don't have time to run both restaurants so we closed Koto.

We hadn't Chinese food on our mind but when they told us that the still had the deep fried ice-cream we decided to stay. The food, well, let me put it this way. We're in no hurry to come back and I won't be surprised if I'm never coming back there again. Most likely not, but you never know if someone holds a gun to your head:
- Go eat at Lai Wa!
- OK, whatever you say.
We finished the dinner, paid our bill and we left without any backward glances. My friend brought me to my hotel and I struggled to stay up a few hours. If I went to bed at 7 I would have been up at 4 in the morning.

Friday 29th of May and I woke up at 09:20. Good my friend will be here for breakfast at 09:30 and we're off to put on the mast on his sailboat. Well, at 09:50 he called and the mast business was cancelled. Good, I was not in a real "Put on the mast" mood.

A 10 minutes walk and I was at his apartment and he was still in his bathrobe when I arrived. No
need for him to know that I was happy that the tour to the marina was cancelled.
- What the hell! You should be at my hotel at 09:30 and the mast should be on the boat by now.

We went to pick up his motorcycle and then I went to meet our Cook from Bro Promotion and we were soon
tipsy. And the prices in Sweden, I had expected it to be very expensive. It's cheaper to drink in Sweden than in FUNKY TOWN. The first place set me back by 500 Swedish Scooby Dollars. That's about 2000 bath. For this price I had numerous glasses of wine and a few beers.

My friend and his wife had been at a 70 years birthday and when they arrived to the pub we left
for new adventures. And isn't it strange. Yesterday I was writing about the DJ from Marstrand and when we were on the way to Opiumhålan we
ran in to him.

Opiumhålan, I knew it was closed a few years ago but rumours has it that it was open again. Well, no luck and we continued downtown. I had spent 500 and I was drunk, actually so drunk so I was refused at some places. What have happened to Sweden? It has become so cheap. Next place I had 2 glasses of wine and after 2 glasses I was feed up calling on the waitress all the time so I ordered 2 bottles of wine. Two 6 cl Captain Morgan
and two 0,5 litres bottles of beer. 722 Scooby Dollars and that is 3000 bath.
Now I had spent 5000 bath and the concrete hat was on and it was time to go home. In FUNKY TOWN a night like this would have set me back by 12 to 15000 bath. OK, I spent almost 700 Scooby Dollars on taxi so taxi is more expensive than drinking. And this 700 Scooby Dollars worth of taxi would have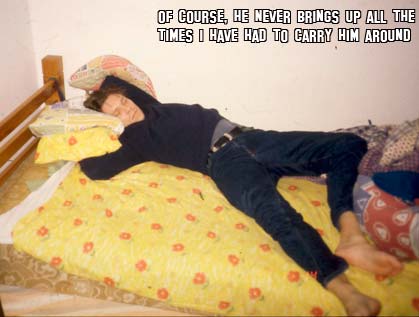 been 50 in FUNKY TOWN.

Taxi back to my hotel and at 21:41 I was in the gutter and my friend he likes it so much every time I end up in the gutter. He never fails to remind me of trashed parties.

- Hmm, strange! He never brings up all the times I have carried him around.

I remember one time when I brought him to Båstad. We we're at the restaurant having a good time. We were sitting with some of my friends from Båstad when my friend disappeared. 1 hour passed and 2 hours passed and I was embarrassed. My friend had passed out on the toilet.

Saturday 30th of May and my friend called me at 09:30.
- Where the hell is the fire? I asked
- Do you want to join us for some traditional dance from Peru?
- Are you f@cking joking?
- OK, I call you when we're back.

I had my breakfast and I was back in bed. Lunch was taken at a Thai restaurant around the corner when I went to send a CD with the pictures from Songkran to my friend. The waitress was 30 and she was looking for a boyfriend.
- Isn't there any handsome Thai guys in Göteborg? I asked.
- NO NO! Thai men are no good. No work, only drinking and beat up their wife's.
- Well, I'm sorry. But I don't live in Göteborg, I said.
- I can move to Skåne, she said.

She could hear me groan and moan and it was not only from my hangover.
- What's wrong? She asked.
I must have done something with my knee yesterday because I have a terrible pain. She told me
that her friend have a massage place around the corner.
- Thai massage is very good! She informed.
She sprayed something on my leg before I left and it felt a little better.

I took a taxi to Röda rummet at Järntorget and I arrived just after 3 o'clock. They had run out of white wine so I had to order a beer. I called my friend and I told him that I would change place.
- They don't have white wine here.
- OK. there is a place at the corner to Haga. Try that.

I was on my second glass when he arrived and after a two more glasses we moved to a place with music.

Harry's Garage should be a place where they play music. And as the bar tender said on the first place:
- And they are not afraid to turn it up a bit
We had not been there for a very long time until I heard someone
| | |
| --- | --- |
| Before | After |
screaming Aladdin. It was a girl I knew 24 years ago and we talked about the good old time. And I don't know, but drinking white wine is the best thing happening to my diet. But you're getting drunk pretty quick.
I
tried the "Every second water" trick, but honestly. It doesn't work the way I had expected. It works the first 20 minutes and after that you skip the water and every order is a glass or a bottle of wine.

Well, since I was in Göteborg last time they have started
with something called Andra Långgatans day.
So they closed the whole street for traffic and all the pubs had moved out the music on the street. And of
course Charisma Man was present, he is always around when there is a party going on.

It's strange with Charisma Man, a glass of white wine too much he turns in to Obnoxious Man. I meet this beautiful girl on Andra Långgatan and
when we should enter a club the bouncer asked me to take a walk around the block. Seems to be the standard line in Sweden when you have had a few too
many glasses of white wine.

It was a nice evening and great fun and I managed to stay up until dark. But I don't remember how I got home, but I'm used to this by now. But now it will be a few months until next party.

Sunday 31st of May and I spent the day in bed. Well, I took a walk to the Thai restaurant but they were closed so I have to go ha my dinner there tomorrow after my fire fighting course.




OK, it has come to my knowledge that we have senior citizens visiting my web page. How hard
can it be? So it's not very easy for them to see the blue coloured links to the next page.

Jiffy (also jiff)


noun [in SING.] informal a moment: we'll be back in a jiffy.

ORIGIN late 18th cent.: of unknown origin.

So as you understand, in a jiff pretty much depends on your internet.

So I put a "Next" button here and I hope that there isn't any problem to understand how to use that one. So just CLICK the "Next" button on your left hand side and you will be on the next page in a jiff!
Marunong ka mag-tagalog? Walang problema! Magpunta sa kabilang pahina pindutin ang "NEXT" button sa itaas


Faites vous parlez le français? Pour arriver à la page suivante faites s'il vous plaît un déclic le bouton "Next" ci-dessus!


Haga usted dice el español? Ver la siguiente página sólo hacer clic el botón "Next" encima!


Farla parla l'italiano? Per vedere la prossima pagina lo scatto per favore giusto Il bottone "Next" sopra


Sprechen sie Deutsch! Kein problem! Wenn Sie die folgende Seite sehen wollen gerade klicken der Knopf "Next" oben!


คุณพูดภาษาไทยได้ไหม ไม่มีปัญหา ถ้าคุณต้องการไปหน้าถัดไป ให้กดปุ่ม "Next" ข้างบนนี้


Вы говорите по-русски? NJET PROBLEMA! Просто нажмите синюю кнопку "Next" с левой стороны и Вы моментально переместитесь на следующую страницу!


E ni Svenskar och inte förstår Engelska så ska ni skämmas. J och Björn, med det menar jag inte att alla mina stavfel ska ältas varje gång vi träffas.
Well, the flag of Skåne, just a BONUS flag.
You are visitor no.
To www.aladdin.st since December 2005
Visitors to www.aladdin.st from different countries since 26th of September 2011