Monday 22nd of June 2015 we landed at Longyearbyen just after midnight. Flight SK1468 from Copenhagen to Oslo and it was they shot us down over Oslo. And flight SK 4496 from Oslo to
Longyearbyen and it was like we were bouncing along the runway, 2 shitting in my pants landings in one day.

The flight was full and I was in the third row from aft so I expected to get off the plane as one of the last passengers.

They opened the door in the aft and I was one of the first to get off the plane. I can't believe the luck I had on this flight. Not hard to guess, I was the only one at the airport
wearing shorts. Midnight and of course it was cold.

But not too bad, around 6°C and it was nice to come inside the terminal.

The terminal was crowded and I guess there were several different groups arriving as I saw some tour operators holding up placards. But I could not see any sign with "POLAR QUAEST" But the couple from Skåne that I had meet at the airport was here so I must be at the right place. But first my luggage.


Longyearbyen Airport
Longyearbyen Airport
Longyearbyen Airport
View from Longyearbyen Airport
View from Longyearbyen Airport


My bag from Victoria Falls Hotel was soon coming on the belt and suddenly, the terminal was empty. All passengers gone and only a cardigan remaining going round and round with the belt. Where the foock is my bag?

I found out that the girl looking for her bag at the SAS Service desk was the Guide on our Polar Bear Quest. Her bag was also missing. She told me it happened all the time when flying to
Svalbard. Well, SAS, if it happens so many times they should shape up and change their routines.

Well, not SAS, they are the best airline in the world and they don't need to change anything. Well, they are about to go bankrupt so something is wrong with them.

The rest of the passengers were waiting for us in the buss. There is a SAS flight arriving around 2 o'clock in the afternoon and we will see if they can get the luggage on that flight.

We were going to spend the night at Radisson BLU, Polar hotel Spitsbergen and we were soon on our way in the buss. I estimate that it took us about 10 minutes to reach the hotel. And we passes M/S Quest on the way as she was moored at one of the jetties in the harbour.


Longyearbyen from the bus
View from the hotel
View from the hotel
View from the hotel
View from my hotel room
View from my hotel room


I expected it to take some time for the group to check-in and I went for a look at the place (ask if the restaurant was open, was closed) There was a pub with some people drinking beer and by the look of it they were drunk. Check in was way quicker than expected and I was soon in my room
emptying the MINI bar of all the snacks and a can of Ramlösa soda water

I had got a "over night kit" from SAS so I could brush my teeth. But I was not happy about the missing bag with all the juice for my e-cigarette. I also have a lot of other stuff that I would like to have. But this stuff, some camera equipment, underwater camera and swimming trousers for swimming on Iceland and Greenland. So before leaving Svalbard I need the bag.

I was in bed at 2 thirty and I had my alarm to go off at 8 thirty and it will be a hectic day. Breakfast and then we need to have our luggage ready at 10:15 for transportation to the ship.
11:00 Check out
11:00 to 11:45 Safety meeting regarding Polar bears, Zodiacs and general information
13:00 Lunch
14:15 Meeting outside the hotel for a walk to the Svalbard Museum
16:00 Transportation to the ship

I was at the breakfast around 9 o'clock and, yeah, there was sausages and they looked like the
sausages from Skåne that I had at Elite Marina Plaza Hotel. Believe me, they only looked like the real thing. But there was plenty of the other things to choose from and I was full when I left the restaurant.

I put my bag in the conference room just after 10 and they would bring it to the ship. The girl told me that she had been speaking with SAS. Her bag was
on the way with the SAS flight arriving at 14:00. She would go to the airport to see if my bag was on the flight as SAS had no clue if my bag was on the flight.

10 Fifteen and that gave me 45 minutes to walk a round Longyearbyen before 11 o'clock when it is time for the safety meeting regarding Polar bears, Zodiacs and general information. I started by walking down to the water, passing a tax free
shop. And next to the tax free shop was a Thai shop.

Yeah, the girls shat their pant this morning, a crazy farang bursting out from his room starting to speak Thai to them. They had for sure not expected an นักผจญภัย from Bangkok at the hotel. And on top of that it was a handsome guy,
totally unexpected like a bolt from a clear sky

I never went in to Longyearbyen Thai shop, but I went in to the tax free shop. They had exactly nothing that I wanted to buy and I was soon on my way again. I continued towards the water front and I turned right walking towards a few shops I had seen from the hotel. Just in
case my bag is lost, I need some socks and underwear for the cruise.

I passed a museum and apart from that there was not much. Yes, there was hundreds of snowmobile/ snowcat put on rest for the summer.

And there were 2 dogs barking at me, it was actually quite comical. One very small lap dog yapping and the huge dog barking like there was no tomorrow. I reached the shops, but they had nothing I wanted to have


The big red box on the left hand side is Santa's mailbox
North Pole Expedition Museum
A guy and a camera just walking straight out in the wilderness
My hotel and the path leading to the hotel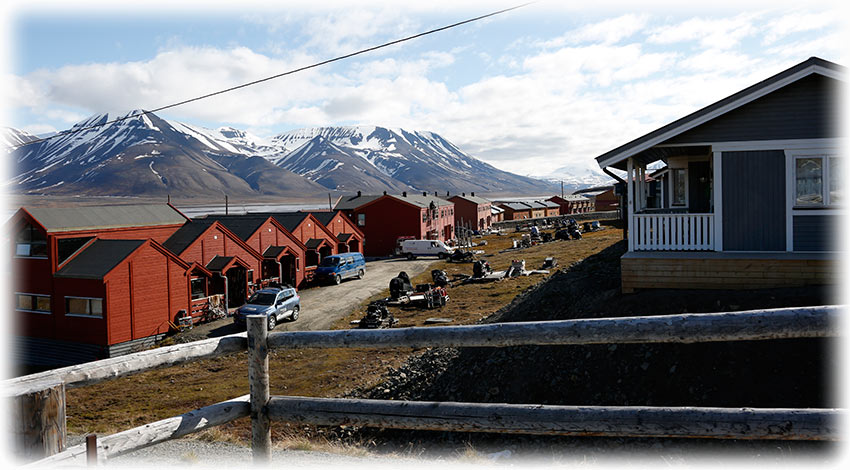 Walking around Longyearbyen didn't take long and I was soon back at my hotel. I was thinking
about Bangkok and Dairy Queen and soft ice cream. Soft ice cream, I think
the chances are at least to say slim to find soft ice cream here in Longyearbyen.

At least something good for my diet. Well, anyway, I was back at the hotel in time for the meeting at 11 o'clock. They have split us in to two groups, one meeting in Swedish and one in English when the Swedish is ready. We are about 50 passengers, Swedish and German.

And they started with the introduction in Swedish and when we're ready the German group start.
The meeting/ introduction took about 45 minutes.

We had seen a movie and we had been instructed in how to get in and out of the Zodiacs, inflatable boats that will take us ashore.

And we will get wet, we will make "wet" landings, walking across creeks and walk through wet grass and moss. Here I am sitting with my safari shoes only. I was lucky to have been at the meeting/ introduction. We had got information about the water but I hate rubber boots and I had thought
"what the heck" No way I'm walking around in rubber boots.

I have searched the internet and I was in to a few sport and outdoor shops in Thailand looking for water tight shoes, nothing and I decided to use my safari shoes. Well, that would have ended in a disaster.

When the meeting/ introduction was over the girl told me that SAS had no, yes, they had NO clue where my bag where.

I walked up to the "city centre" to look for underwear and rubber boots. And the most important, juice for my e-cigarette. I was very soon to find out that the e-

cigarette was forbidden on Svalbard. I had a back-up plan, a plan "B" that I didn't liked at all.


It was a quite clever plan, but it was really something I didn't want to do. TO BUY SNUS! Just to last me for the cruise.















First stop was at a shopping centre, yes, I could not believe my eyes. A shopping centre, nothing like in Bangkok. But there was 4 shops and a tobacco shop.

I was in a shop and I asked for runner boats, the girl told me they had something I had never heard of. But they didn't had my size and I went next door. They had both the rubber boats and the same stuff they had in the first shop. They had my size and I tried them on, I had never seen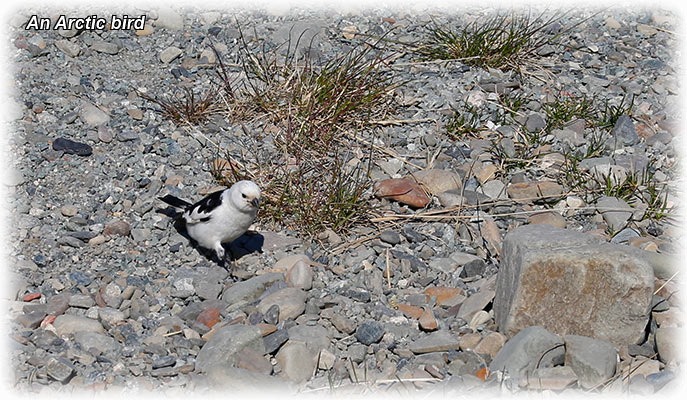 boots like this before and they were very comfy to walk in.

So I told the girl that I skipped the rubber boats and I took a pair of this kind of boats.

Have to be comfy while on Polar Bear Quest. If your feet is sad, you're sad!

Amazing what materials they have come up with since I used rubber boats last time, 30 years ago. I bought 2 pair of woollen socks for my new boots and I went to look for underwear as they only had boxer shorts. The girl at the Sport1 recommended me to try out "Butiken" across the street.


Lompen Senteret - Shopping in Longyearbyen

Well, didn't take long for me to realise that "Butiken" had foock all to offer. I had seen another sport shop up the street and I walked over to check it out. They had something, but only one girl working there so no service as she was busy with other stuff. What did Aladdin say? Yes, foock it
and I walked back to Sport1 at Lompen Senteret.

The staff at Sport1 had been really helpful and I asked for the underwear and a pair of gloves. I got a pair of woollen gloves that I can use with my camera. And as I didn't liked the boxer shorts the girl took me to another shop.

They, well, they only had boxer styled under wear as well. Björn Borg with Xes all over the box. I bought three pairs and I was ready to leave
for the Radisson BLU and our lunch. But first snus!

There was a big sign SOFT ICE CREAM at the entrance to the tobacco shop. Time for lunch, but you can't say
no to a soft ice cream when in Longyearbyen.

I asked for 10 cans of General snus, 2 bottles of Diet MAX and one soft ice cream with Dajm topping. This promise to be a feast and I was drooling while waiting for the ice cream.

I enjoyed the ice cream in the tobacco shop before I left walking back to the lunch at the hotel. And as it is free heating here it is like summer inside. Outside it is like an early spring in Sweden and it is comfy with a coat and my polar bear hat. But as soon as you come inside it is very hot and I have to get out of my hat and coat.



I finished my ice cream and I donned my hat and coat and I walked back to the hotel. Lunch, excellent, a lot of different kinds of salmon and something that reminded me about new potato. Of
course, not from Skåne. But it was good.

A bow of custard sauce with a few crumbles of apple pie for dessert. And I'm on a dangerous path here. I have grown out of my trousers since I left Bangkok and from now on
it will be a different attitude. From now on I will only eat the healthy stuff. And no more ice cream.

We met outside the hotel quarter past 2. Divided in two groups, one English (the Germans) and one Swedish group and we walked down to Svalbard Museum, 2 minutes from the hotel.

It is a custom here on Svalbard to take of your shoes when you're indoors, well, like in Sweden and in Thailand, but here they do it at hotels etc.

So we had to wear blue bags over our shoes while at the museum. The museum is well worth a visit if you're in Longyearbyen. OK, there isn't very much else to visit. OK, if you visit Lompen Senteret -
Shopping in Longyearbyen you can kill another 5 minutes.

Our Guide made it very interesting and he told us about the history and about the amazing life the animals are living out on the ice and I enjoyed the stay even though I was very tired.

I would love to visit the North Pole Expedition Museum across the street as well. But there was no time as the bus would come to pick us up at 4 o'clock.

M/S Quest have moved to the anchorage from the jetty and we will have to go out to M/S Quest using the Zodiacs. We get going with the excitements right on and we will experience yet another adventure here in Longyearbyen. Almost like when I was on Rainbow Warrior.


Buses come to pick us up. One bus for M/S Quest and one bus for M/S Stockholm
They are taking the passengers to M/S Stockholm
We can explore the area while they are taking the passengers to M/S Stockholm
We can explore the area while they are taking the passengers to M/S Stockholm
M/S Quest on the anchorage
Our hero
And what a success the Polar Bear hat turned out to be. I had expected every second person to wear one of those.
But everyone asked about the hat. Obviously not available on Svalbard.
The girl at Sport1 said she had never seen any before and she thought it would be a good idea to start selling them.
Well, I knew I was on to something with the Polar Bear hat, just like with my safari uniform and helmet in Africa
M/S Quest on the anchorage
Now it is time to board M/S Quest
Now it is time to board M/S Quest
Now it is time to board M/S Quest
Our hero in the last Zodiac leaving for M/S Quest
Leaving Longyearbyen behind
Our hero in the last Zodiac leaving for M/S Quest

It was a few minutes on the bus and when we arrived the passengers for M/S Stockholm was boarding the Zodiacs. That gave us some time to walk around taking some pictures. Our Guide
suggested to take a picture of the WARNING Polar bears sign at the road. This would look good with M/S Quest in the back ground.

I don't know, maybe we spent 20 minutes waiting and when it was time for us to board I was sitting on a rock taking pictures.

And I made it with the last Zodiac. Deliberately as I was hoping for the last boat to be almost empty. And as I thought, almost empty and it was a comfy ride out to the anchorage where we boarded M/S Quest. And yes, it was very nice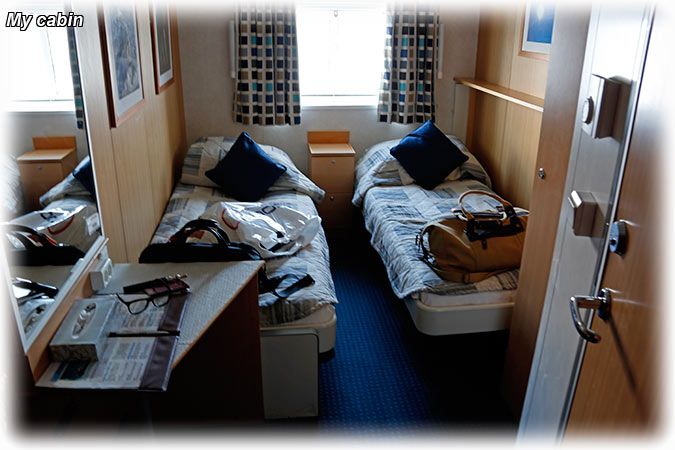 to get on board and to get to my cabin, even though I missed one bag.

All the other passengers were asking about my luggage as the word had spread like bush fire. I told them that SAS had no clue where my bag was, but I had new boots and I was happy.

Well, I was very
upset about my e-cigarette juice and camera equipment. But let's make the best out of this and I was happy to be in my cabin. Safety meeting and information in the saloon at 17 thirty.

We had left Longyearbyen and we were in the Icefjord steaming West when I came up to the saloon. Beautiful scenery and I had a few pictures before the safety meeting started.


In the saloon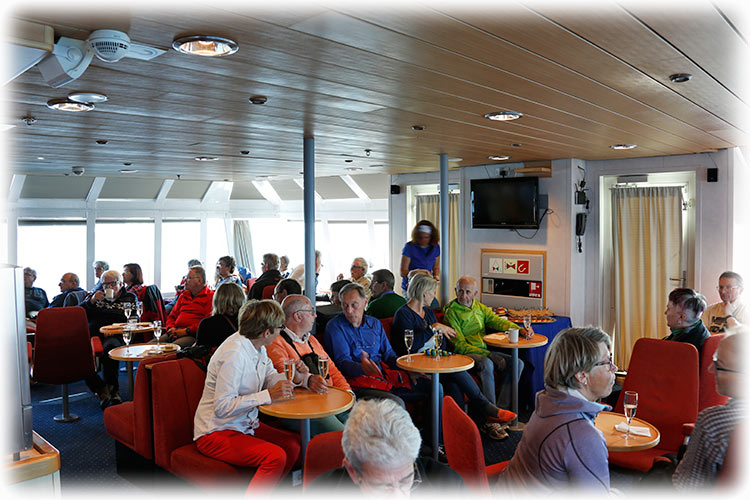 In the saloon
Introducing the Guides
Survival Suit demonstration
Our hero is having a diet drink
Another ship is leaving Longyearbyen
Abandon ship drill
Abandon ship drill
We pass the Ymer glacier after the life boat drill


We had the safety introduction and information meeting in the saloon. Then we had an abandon ship drill as per regulations. When we finished I discovered something that looked like a glacier and I asked our Guide. It was the Ymer glacier, OK, so now I have seen a glacier. But tis was a very small glacier.

Dinner at 7 and the food was good. I spent some time looking at my pictures before going to bed at
1 thirty in the morning, full sunshine. And I'm sea sick, no, it is the snus. Can't wait too get my e-juice back.

Well, this is pretty much it for today. We will steam North full speed during the night and we will be at the NW corner of Svalbard tomorrow morning. And you just need to click HERE to find yourself in the middle of that adventure. Will tomorrow be the day we see a Polar Bear?


OK, it has come to my knowledge that we have senior citizens visiting my web page. How hard can it
be? So it's not very easy for them to see the blue coloured links to the next page.

Jiffy (also jiff)


noun [in SING.] informal a moment: we'll be back in a jiffy.

ORIGIN late 18th cent.: of unknown origin.

So as you understand, in a jiff pretty much depends on your internet.

So I put a "Next" button here and I hope that there isn't any problem to understand how to use that one. So just CLICK the "Next" button on your left hand side and you will be on the next page in a jiff!
Marunong ka mag-tagalog? Walang problema! Magpunta sa kabilang pahina pindutin ang "NEXT" button sa itaas


Faites vous parlez le français? Pas de problème! Pour arriver à la page suivante faites s'il vous plaît un déclic le bouton "Next" ci-dessus!


Haga usted dice el español? No hay problema! Ver la siguiente página sólo hacer clic el botón "Next" encima!


Farla parla l'italiano? Non problemi! Per vedere la prossima pagina lo scatto per favore giusto Il bottone "Next" sopra


Sprechen sie Deutsch! Kein problem! Wenn Sie die folgende Seite sehen wollen gerade klicken der Knopf "Next" oben!


คุณพูดภาษาไทยได้ไหม ไม่มีปัญหา ถ้าคุณต้องการไปหน้าถัดไป ให้กดปุ่ม "Next" ข้างบนนี้


Вы говорите по-русски? NJET PROBLEMA! Просто нажмите синюю кнопку "Next" с левой стороны и Вы моментально переместитесь на следующую страницу!


E ni Svenskar och inte förstår Engelska så ska ni skämmas. J och Björn, med det menar jag inte att alla mina stavfel ska ältas varje gång vi träffas.


Well, the flag of Skåne, just a BONUS flag.
You are visitor no.
To www.aladdin.st since December 2005