02JUL: The tour 99/H around Iceland starts:
GOLDEN CIRCLE (290 km)
Day 2
08:30 transfer from Hotel Fron to Hotel Klettur

We see classic highlights today. We explore Gullfoss, the beautiful double "Golden Falls" and we walk through the active geothermal area of Geysir, where Strokkur "the churn" spouts up to 25 meters (70 feet) every five to seven minutes. A visit to the ancient Viking Parliament area and UNESCO world heritage site of Þingvellir National Park tops the day off before travelling along the scenic shores of Hvalfjörður fjord.

Overnight at Borgarnes in Borgarfjörður, West Iceland.

Thursday 2nd of July 2015 and they woke me up at 7 o'clock. I had time for a shower and a
diet drink before going to take the taxi to Hotel Klettur where the Grand Tour of Iceland will start.

8 thirty and no car and I call them 20 minutes before 9 o'clock. They were on the way and just before 9 o'clock and I stopped a taxi. I was a little late to Hotel Klettur and they were waiting for me in a van with a trailer for our luggage. I was soon to find out that our Guide was from Skåne.











I have booked the tour through Grönlandsresor but we will go around Iceland with GJ Travel. We took off leaving Reykjavik behind after a few minutes and our first stop will be at Gullfoss, the double Golden Falls.

But we will make a comfort stop after about 45 minutes. We had not been driving for long when we passed the power plant supplying the whole of Reykjavik with hot water and electricity. That was amazing to see, a small shed with steam coming out from a funnel. And that's it, and they don't expect to ever run out of energy on Iceland


We saw a plume of steam
Reykjavik power plant
Reykjavik power plant
Reykjavik power plant
Energy coming out from the ground
Steam coming up in the gardens
Eurasian and North American tectonic plates


Iceland has extensive volcanic and geothermal activity. The rift associated with the Mid-Atlantic Ridge, which marks the division between the European and North American tectonic plates, runs across Iceland from the southwest to the northeast. This geographic feature is prominent at the Þingvellir National Park, where the promontory creates an extraordinary natural amphitheatre. The site was the home of Iceland's parliament, the Alþing, which was first convened in 930.

From Wikipedia, the free encyclopedia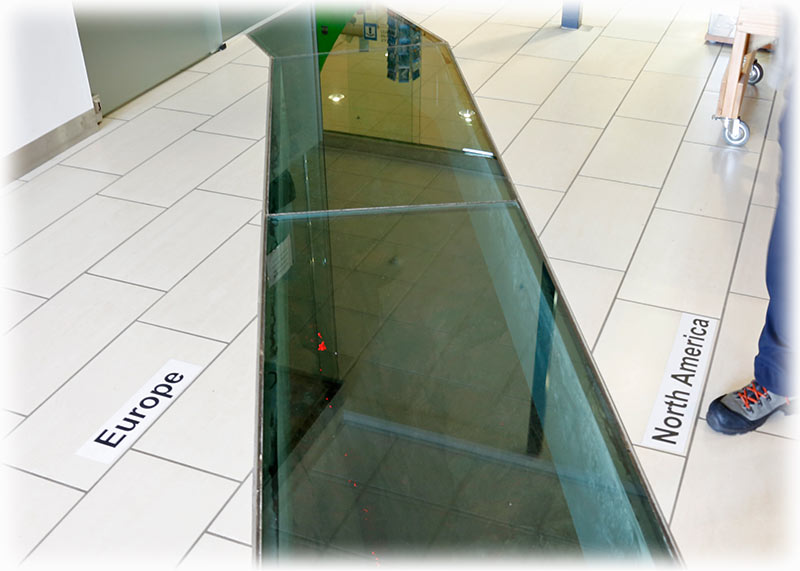 I have one foot on the Eurasian tectonic plate and one on the American tectonic plate
Kitchen after an earthquake


We made a stop at a service station and our Guide told us that they had put a glass cover over one of the cracks after a earthquake. The crack is between the Eurasian and North American
tectonic plates. I was hungry and I was more interested in a sign saying BAKERY. Yes, no way I was going to have any breakfast at the hotel this morning.

Well, I started with the crack between the Eurasian tectonic plate and the American tectonic plate. There was also a kitchen from the earthquake. And of course, I took the chance to stand with one foot on each of the tectonic plate.






I took my picture and I dashed off to the bakery. I had a cup of tea, from a paper cup
and a Danish or two.

We were soon on our way again and it was a beautiful, and dramatic landscape. And I was really happy that I had taken this tour. All countries should be small like this so you could cover the whole thing in 10 days.

I had already been working out a new plan. And this is a
quite clever plan if I say it myself. I had a plan to explore Reykjavik's nightlife for two days coming back from Greenland.

Now I'm thinking about skipping the night life and to do some extra tours in Reykjavik as I also want to see the Blue Lagoon outside Reykjavik. There are still some museums I want to see, and of course, a few extra whale watching tours with Elding.

No hangovers and no need to spend the whole days in my bed. There are so much fun to do in Reykjavik and I don't want to waste the time by staying in bed with a hangover force 9,7.

We drove towards the Gullfoss, the beautiful double "Golden Falls" and we passed the geothermal area of Geysir with the geyser Strokkur. There are also a few sleeping geysers as well. Our Guide told us that we would stop here when we're coming back from the waterfall



Gullfoss


"Golden Falls" is a waterfall located in the canyon of Hvítá river in southwest Iceland.

Gullfoss is one of the most popular tourist attractions in Iceland. The wide Hvítá rushes southward. About a kilometre above the falls it turns sharply to the right and flows down into a wide curved three-step "staircase" and then abruptly plunges in two stages (11 m and 21 m) into a crevice 32 m (105 ft) deep. The crevice, about 20 m (66 ft) wide, and 2.5 km in length, extends perpendicular to the flow of the river. The average amount of water running over this waterfall is 140 m³/s in the summertime and 80 m³/s in the wintertime. The highest flood measured was 2000 m³/s.

As one first approaches the falls, the crevice is obscured from view, so that it appears that a mighty river simply vanishes into the earth.

During the first half of the 20th century and some years into the late 20th century, there was much speculation about using Gullfoss to generate electricity. During this period, the waterfall was rented indirectly by its owners, Tómas Tómasson and Halldór Halldórsson, to foreign investors. However, the investors' attempts were unsuccessful, partly due to lack of money. The waterfall was later sold to the state of Iceland, and now the waterfall is protected.

Sigríður Tómasdóttir, the daughter of Tómas Tómasson was determined to preserve the waterfall's condition and even threatened to throw herself into the waterfall. Although it is widely believed, the very popular story that Sigríður did save the waterfall from use is not true. A stone memorial to Sigriður, located above the falls, depicts her profile.

Together with Þingvellir and the geysers of Haukadalur, Gullfoss forms the Golden Circle, a popular day tour for tourists in Iceland.

From Wikipedia, the free encyclopedia


We arrived to Gullfoss, the beautiful double "Golden Falls" and we started in a giant souvenir shop as I was looking for the famous Iceland pullover. I tried one but there wasn't enough of the Xes in the neck. After 15 minutes or so we walked down to the waterfall.


We're walking towards the Gullfoss
Our Guide from Skåne
My fellow passengers
We're down at Gullfossen
Gullfoss, the beautiful double "Golden Falls"
Gullfoss, the beautiful double "Golden Falls"
The glacier that supply water for the waterfall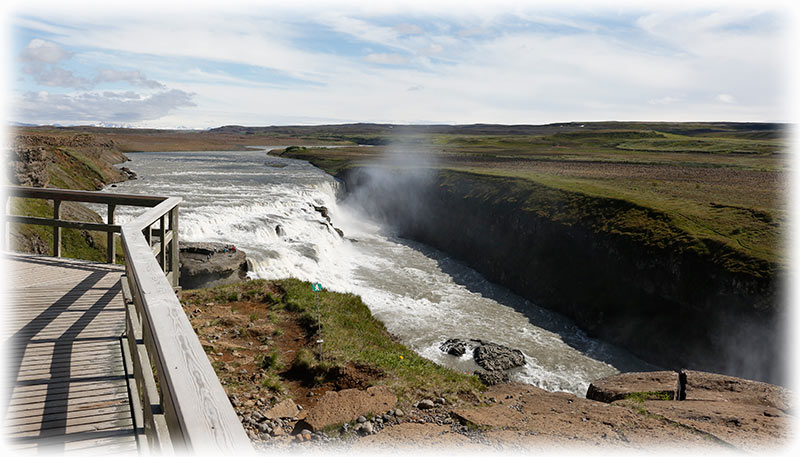 Time to leave

Gullfoss, the beautiful double "Golden Falls" was very beautiful. We started on the top and we walked down some stairs and we could reach a natural platform under the top fall. I had a few pictures before it was time to leave and I was looking forward to see the geyser.



Geyser


A geyser is a spring characterized by intermittent discharge of water ejected turbulently and accompanied by steam.

The formation of geysers is due to particular hydrogeological conditions, which exist in only a few places on Earth, so they are a fairly rare phenomenon. Generally all geyser field sites are located near active volcanic areas, and the geyser effect is due to the proximity of magma. Generally, surface water works its way down to an average depth of around 2,000 metres (6,600 ft) where it contacts hot rocks. The resultant boiling of the pressurized water results in the geyser effect of hot water and steam spraying out of the geyser's surface vent (a hydrothermal explosion).

Over one thousand known geysers exist worldwide. At least 1,283 geysers have erupted in Yellowstone National Park, Wyoming, United States, and an average of 465 geysers are active there in a given year. A geyser's eruptive activity may change or cease due to ongoing mineral deposition within the geyser plumbing, exchange of functions with nearby hot springs, earthquake influences, and human intervention.

Jet-like eruptions, often referred to as geysers, have been observed on several of the moons of the outer solar system. Due to the low ambient pressures, these eruptions consist of vapour without liquid; they are made more easily visible by particles of dust and ice carried aloft by the gas. Water vapour jets have been observed near the south pole of Saturn's moon Enceladus, while nitrogen eruptions have been observed on Neptune's moon Triton.

There are also signs of carbon dioxide eruptions from the southern polar ice cap of Mars. In the latter two cases, instead of being driven by geothermal energy, the eruptions seem to rely on solar heating via a solid-state greenhouse effect.

From Wikipedia, the free encyclopedia


We left Gullfoss, the beautiful double "Golden Falls" behind steering towards the geyser Strokkur. We will have our lunch there and our Guide had told us that there were both a restaurant and a
self service coffee shop when we passed on the way to Gullfoss.

One of our passengers had disappeared when it was time to leave. Our Guide had to go back and look for him at the platform. He was soon back.

But without the passenger. The Guide and the missing passenger's wife went back up the stairs to look for him at the level we had arrived at. We arrived at the top and the driver took the van and drove down to the lower paring place.

Message had not been clear and the missing passenger had returned back to where we had got off the van.

We were soon on our way and it took us maybe 10 to 15 minutes to get to the Haukadalur valley on the slopes of Laugarfjall hill.

We got out of the van and the driver continued to the restaurant where we would meet him
an hour later after the tour and lunch.

We went in to the area and we stopped at a map over the area 20 meters inside the area.

Geyser Strokkur erupts like a clock work every 4 and a half minutes and if you miss one eruption you just wait four and a half minute and there is one more eruption.


Geyser Strokkur


Strokkur (Icelandic for "churn") is a fountain geyser in the geothermal area beside the Hvítá River in Iceland in the southwest part of the country, east of Reykjavík. It is one of Iceland's most famous geysers, erupting about every 4–8 minutes 15 – 20 m high, sometimes up to 40 m high.

Strokkur is part of Haukadalur geothermal area, where are located various other geothermal features: mud pools, fumaroles, algal deposits, and other geysers beside and around it, such as Geysir.

Strokkur was first mentioned in 1789, after an earthquake unblocked the conduit of the geyser. Its activity fluctuated in the 19th century; in 1815 its height was estimated to be as much as 60 metres. It continued to erupt until the turn of the 20th century, when another earthquake blocked the conduit again. In 1963, upon the advice of the Geysir Committee, locals cleaned out the blocked conduit through the bottom of the basin, and the geyser has been regularly erupting ever since.



Geysir


Geysir, sometimes known as The Great Geysir, is a geyser in south western Iceland. It was the first geyser described in a printed source and the first known to modern Europeans. The English word geyser (a periodically spouting hot spring) derives from Geysir. The name Geysir itself is derived from the Icelandic verb geysa, "to gush", the verb from Old Norse.

Geysir lies in the Haukadalur valley on the slopes of Laugarfjall hill, which is also the home to Strokkur geyser about 50 metres south.

Eruptions at Geysir can hurl boiling water up to 70 metres in the air. However, eruptions may be infrequent, and have in the past stopped altogether for years at a time.

From Wikipedia, the free encyclopedia
Geyser Strokkur erupting
Geyser Strokkur erupting
Geysir, the sleeping geyser
Waiting for the Geyser Strokkur to erupt
Here we go!
Here we go!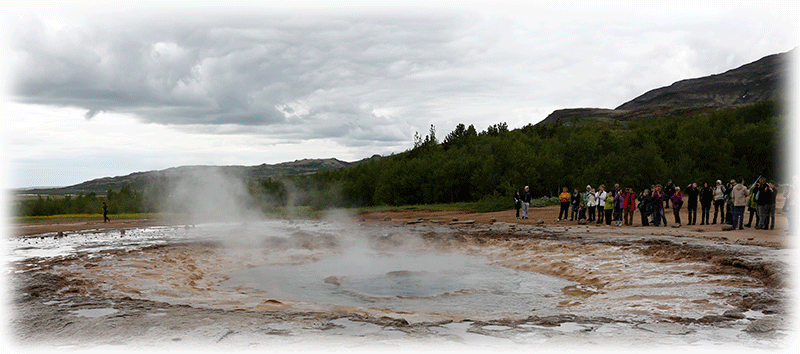 Geyser Strokkur erupting
Geyser Strokkur erupting
Water running back in to the Geyser Strokkur
Water running back in to the Geyser Strokkur
Waiting for the Geyser Strokkur to erupt
Geyser Strokkur erupting
Geyser Strokkur erupting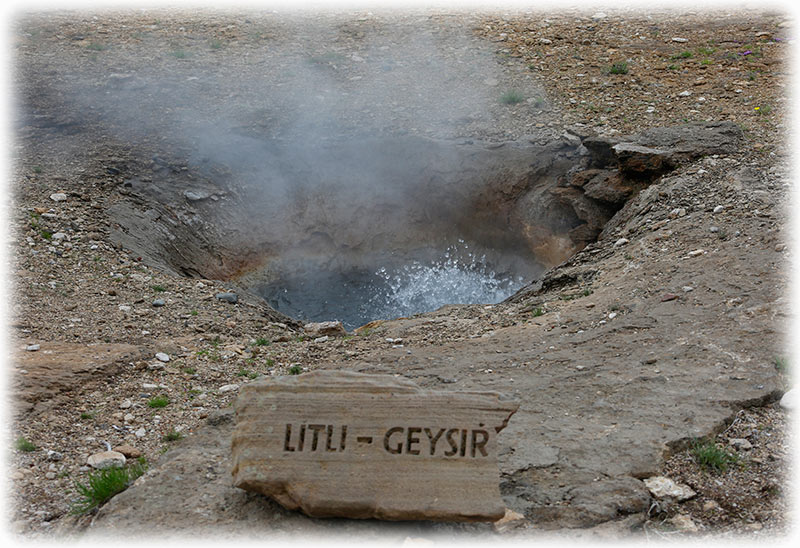 Well, this one is easy to understand - A little geyser
We can see the steam coming up from the ground
Boiling water coming up from the ground
Geyser Strokkur last blast before I leave

The restaurant was closed and in the other house was a huge souvenir shop and some kind of self service restaurant. I skipped my lunch and I bought two sandwiches in the mini mart and I ate on the parking place talking with our Guide.

We left the Geysers behind and next stop will be Þingvellir. Here we will be able to see the Eurasian and North American tectonic plates on each side of the valley.



Þingvellir


Thing Fields, anglicized as Thingvellir, is a place in the administrative district of Bláskógabyggð in south western Iceland, near the Reykjanes peninsula and the Hengill volcanic area. Þingvellir is a site of historical, cultural, and geological importance and is one of the most popular tourist destinations in Iceland.

It lies in a rift valley that marks the crest of the Mid-Atlantic Ridge. It is at the northern end of Þingvallavatn, the largest natural lake in Iceland.

Parliament or Alþingi (Althing in English) was established at Þingvellir in 930 and remained there until 1798. Þingvellir National Park (or Thingvellir National Park) was founded in 1930, marking the 1,000th anniversary of the Althing. It was later expanded to protect natural phenomena in the surrounding area, and became a World Heritage Site in 2004.

Þingvellir is notable for its unusual tectonic and volcanic environment in a rift valley. The continental drift between the North American and Eurasian Plates can be clearly seen in the cracks or faults which traverse the region, the largest one, Almannagjá, being a veritable canyon. This also causes the often measurable earthquakes in the area.

From Wikipedia, the free encyclopedia


We drove down the valley and we were soon reaching a lake Þingvallavatn, a popular place for sport fishing. We could see the North American tectonic Plate. And when we come up on top of the North American tectonic plate we will see the Eurasian tectonic plate on the other side of the valley. This is a very popular place for divers as the can dive in the crack between the tectonic plates. And the giant trout's makes it a good place for fishing.


Þingvellir - Crack between the North American and Eurasian tectonic Plates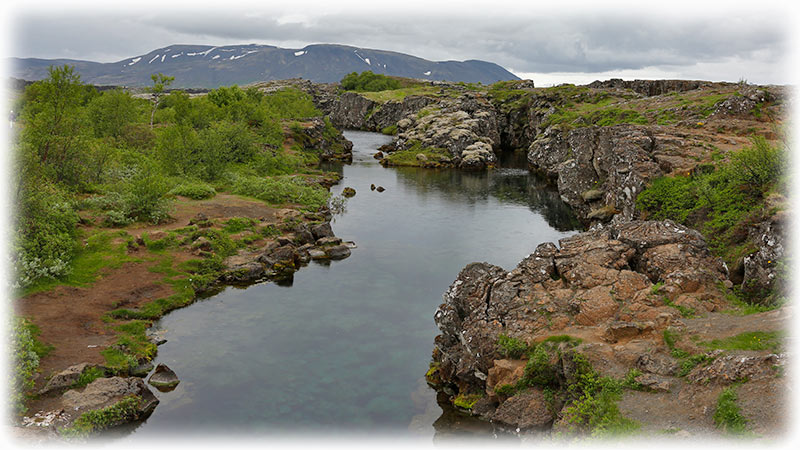 Þingvellir
The North American tectonic Plate
The North American tectonic Plate
Walking along the North American tectonic Plate
Þingvellir
Þingvellir
Þingvellir - We can see the Eurasian Plate on the other side


We left Þingvellir and now it is time to go to our hotel. We will spend the night at Borgarnes North of Reykjavik so we drove back to Reykjavik and we drove through Iceland's longest tunnel on Iceland

Borgarnes


is a town located on a peninsula at the shore of Borgarfjörður in Iceland. It has a population of 1,763 (as of January 2011). The town is located 60 km north of the capital Reykjavík and is connected to other places in Iceland through the second largest bridge in Iceland, Borgarfjarðarbrú. Borgarnes is the biggest town in the Borgarbyggð municipality.

From Wikipedia, the free encyclopedia

and when we came to the fjord we had to cross the second longest bridge on Iceland to reach Borgarnes.

The tunnel was almost 6 kilometre long and it took us some time to get through. I don't know what time we reached Borgarnes, maybe around 4 thirty or so. I had investigated about the area. There was
nothing to do, and our Hotel was located outside Borgarnes.

Anyway, when we rolling in to Borgarnes we stopped at a Netto Supermarket and our Guide asked us if we wanted to buy snacks and some drinks. I got scared, OK, I had not expected very much from the hotel/ Guesthouse out here in the middle of
nowhere. But that we would have to buy our own snacks and drinks. I filled a basked with diet drinks and I had to double check, yes, it was Kims Srøde Flæskesvær



I bought two bags, never know, they can come in handy. I also bought a
few sausages, again, never know when they can come in handy out here in the wilderness.

And when I came out from Netto I had a look around and it was for sure not looking like there was much going on here in Borgarnes.

Well, it as beautiful surroundings. Drizzle and overcast and most of the clouds were black. So the weather left a lot to wish for. But it was beautiful with the black clouds coming in over the mountains. The clouds were hanging down heavy by rain and it was almost like they reached all the way down to us on the parking space.


As exciting as it gets in Borgarnes
As exciting as it gets in Borgarnes
Clouds over Borgarnes
Clouds over Borgarnes


We got in to our mini bus/ van and we started on the last leg of today's adventure. He turned off the road and we approached a house, nice looking, not a luxury hotel. But it looked nice and there
was a sign RESTAURANT. So why did we buy the snack.

We were halfway down the gravel road when we turned right and I saw a sign: Icelandair Hotel and this was obviously the place we were going to stay.

Icelandair Hotel, airline hotel and they are usually good and now I was even more puzzled about the snacks we had to buy. We got out of the bus and it was a very
nice hotel. I really liked my room, especially the pillows. And there were two extra pillows.

We will have our dinner at 7 o'clock and I was in the restaurant at 6 o'clock. The restaurant was empty and I discovered that the clock was 6 and I thought it as 7. I was soon back in my room where I killed the time with my pictures. I had taken quite a few pictures at Gullfoss and at the geysers so I had plenty pictures to look at.

we had a very nice dinner and it took us about two hours and we got to know each others better and I have ended up in a nice group. People from Canada, Australia and New Zealand.


Dinner


We will go to the Snæfellsnes Peninsula tomorrow leaving the hotel at 09:45. Good, no need to run out of bed at 6 o'clock in the morning. This is how I want my holiday. OK, it is nice to get out of bed at 6 o'clock in the morning to discover new things. But it is also nice with some sleep.

Snæfellsnes Peninsula, just click HERE and you will soon be on the beautiful Snæfellsnes Peninsula


OK, it has come to my knowledge that we have senior citizens visiting my web page. How hard can it
be? So it's not very easy for them to see the blue coloured links to the next page.

Jiffy (also jiff)


noun [in SING.] informal a moment: we'll be back in a jiffy.

ORIGIN late 18th cent.: of unknown origin.

So as you understand, in a jiff pretty much depends on your internet.

So I put a "Next" button here and I hope that there isn't any problem to understand how to use that one. So just CLICK the "Next" button on your left hand side and you will be on the next page in a jiff!
Marunong ka mag-tagalog? Walang problema! Magpunta sa kabilang pahina pindutin ang "NEXT" button sa itaas


Faites vous parlez le français? Pas de problème! Pour arriver à la page suivante faites s'il vous plaît un déclic le bouton "Next" ci-dessus!


Haga usted dice el español? No hay problema! Ver la siguiente página sólo hacer clic el botón "Next" encima!


Farla parla l'italiano? Non problemi! Per vedere la prossima pagina lo scatto per favore giusto Il bottone "Next" sopra


Sprechen sie Deutsch! Kein problem! Wenn Sie die folgende Seite sehen wollen gerade klicken der Knopf "Next" oben!


คุณพูดภาษาไทยได้ไหม ไม่มีปัญหา ถ้าคุณต้องการไปหน้าถัดไป ให้กดปุ่ม "Next" ข้างบนนี้


Вы говорите по-русски? NJET PROBLEMA! Просто нажмите синюю кнопку "Next" с левой стороны и Вы моментально переместитесь на следующую страницу!


E ni Svenskar och inte förstår Engelska så ska ni skämmas. J och Björn, med det menar jag inte att alla mina stavfel ska ältas varje gång vi träffas.


Well, the flag of Skåne, just a BONUS flag.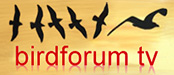 You are visitor no.
To www.aladdin.st since December 2005
Visitors from different countries since 26th of September 2011