Saturday 25th of July 2014 and it was almost 10 o'clock before I got out of bed even though I had my alarm to go off at 9. I called Laki Tours and I told them about the problem with the car. There was also an e-mail from Grönlandsresor.

I had sent them an e-mail yesterday to say thanks for the salmon and she explained that she had read on my web page that I liked the Icelandic smoked salmon. Who said it was a waste of time with the web page? Now I got a delicious smoked salmon out of it!

- Hmm, maybe they try to get me to book my trip to Antarctica with them?

The Killer whales, I think I go for a beer instead. I have wasted enough time on the rented cars. I sent the company I had booked with an, well, not too diplomatic e-mail. And the answer:




From: Economy Car Rentals [mailto:info@economycarrentals.com]
Sent: 25 July 2015 16:12
To: Aladdin
Subject: Cancellation of order

Dear Aladdin ,
Thank you for using EconomyCarRentals.com
We would like to inform you that none of our car rental partners in Reykjavik is able to confirm your order as it is. You are welcome to place a new reservation considering the following:

1. If you had selected pick up or drop off option other than an airport, please change it, if such an option is available (airport pick ups and drop offs are more possible and common than hotel or city office pick ups / drop offs).

2. Try selecting another car category.

3. If you had booked a minibus, try booking two smaller cars instead (sometimes it is a cheaper solution). Availability of minibuses is limited than that of other car categories.

4. If you had booked an automatic car, try booking a manual one instead. Availability of automatic cars is limited than that of manual ones.

Your car rental reservation is cancelled as well as the payment for it. We are sorry for any inconvenience caused and we will do our best to have your new order confirmed.
Kind regards
Reservation Team
EconomyCarRentals.com


And what do Aladdin think? TWATS! I give Economy Car Rentals 5
out of 5
And on top of that I throw in a few
I gave the rented car a try but I decided to stay in Reykjavik and I can
go for the full Icelandic experience and I need to try out the night life.

But first lunch and I will have my lunch at the Sjavarbarinn Sea food restaurant across the street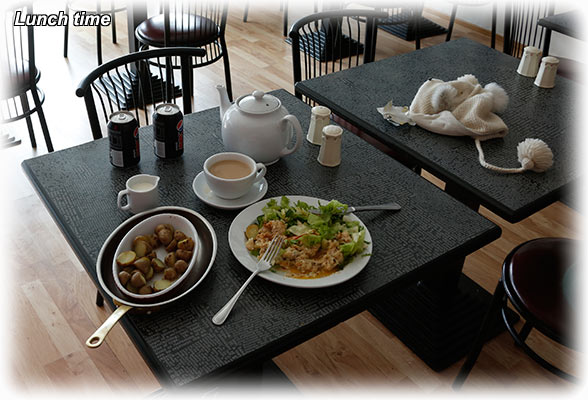 from the Northern Light museum.

I left my room to go look for a barber shop but the only one I found was closed. So it was a taxi to Sjavarbarinn Sea food and I was soon having a plate of fish stew and potatoes in front of me, and of course, a big pot of Earl Grey tea.

It was delicious and I had two plates and I told the girl that I might be back tomorrow depending on the hangover.

Yes, there is a slight chance for a hangover tomorrow. I heard that Charisma Man is on the way
to Reykjavik. I had 2 plates of the gorgeous fish stew. I bought two cans of Diet MAX to bring for the whale watching tour as they only have Coca Cola on board.

I asked the Waitress to call a taxi and I was at Elding's office 2 minutes later. I had just missed the 1 o'clock boat so I had to wait until 2 o'clock.

I went to the whale watching office next door to see what kind of tours they had and it was pretty much the same as Elding had to offer. They have a rib boat and the girl wanted me to take a tour tomorrow. I told her that I was most likely in bed with a hangover tomorrow. Another girl told me that it was just to come down tomorrow morning.
- You have never had a hangover? I asked
The other girl explained that this was the party girl #1
- How old are you? 25?
- I will turn 28
- 28! You know foock all about hangovers!

I told them that I would be back tomorrow if I felt well. I walked down to Elding's coffee shop/ souvenir shop/ whale exhibition and I was enjoying my Diet MAX(s) and both cans were soon empty. I was looking at a video of old tours and the sightings they have had on previous whale watching tours during the winter 2014/2015.

There were some beautiful footage and I told an old couple from Germany that this was the stuff we hope to see during the afternoon. I told them that we had seen a Humpback with the mouth wide open yesterday
- have you been on this tour before
- Yes, several times
- Why
- You never get tired of looking at whales
- Some people like it, seems boring
- Have you ever seen any whale? I asked
- No
- So you will see how it is today, maybe you take another tour
- Some people like the daughter and some people like the mother or grand mother
OK, I lost him. He asked if the whale with the open mouth was going to eat the tourists
- Only the stupid ones!

Quarter to two and they opened the door and we could get over to the boat and I was soon to discover that it was an old Sundsbuss that used to traffic the line between Helsingborg and Helsingør back in the days. So I have for sure been drunk on board this boat. Elding have just bought the boat and it is called the NEW boat.


We left at 2 o'clock. It was a beautiful afternoon, sunshine and the sea looked like a windmill pond, promise to be a good tour today and I really hope we're lucky.


WHALE WHATCHING
TOUR DESCRIPTION

A guide will meet you in the Whale Watching Centre, which is facilitated on board an old fishing vessel permanently placed by
the pier. Before or after the tour you can enjoy the on board multimedia show that includes images, videos and facts about the whales and marine life.

Summer season is great for whale watching, as the wildlife in the bay is at its highest peak.

This is the time when the Minke whales are at their most abundant, along with the white-beaked dolphins, harbour porpoises and humpback whales, giving us the chance to enjoy and understand them in their natural environment.

You can check previous sightings through our online Whale Diary before your tour.

Our sighting success on previous tours is 91.40% however the cetacean abundance is unpredictable and varies with the food availability of our shores.

The most common cetacean in the area are the minke whales, white-beaked dolphins and harbour porpoises and occasionally we see other species including the humpback whales, killer whales/orcas and even fin whales.

If no whales or dolphins are seen on your tour we will offer you a complimentary ticket valid for two years.

TOUR AREA

Our whale watching tours are focused mainly on the southern part of Faxaflói, just off Reykjavík. Each day we scan the area for signs of whales as we never know for sure where we might find them. Sometimes we have to go far while at other times the whales are quite close to shore. In rare occasions we head to other areas and/or depart from nearby harbours e.g. Hafnarfjörður (Zone 1), Keflavík (Zone 2), Sandgerðir (Zone 3) or Grindavík (Zone 4). This is the case when weather conditions or chances of seeing the whales are greater there than in our normal area.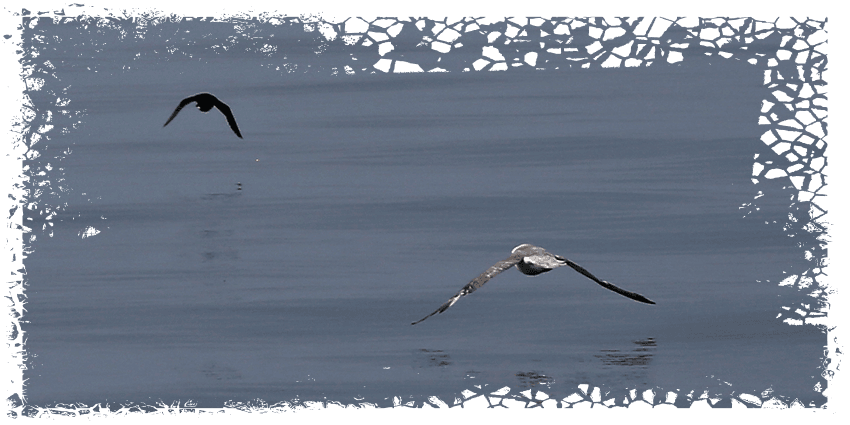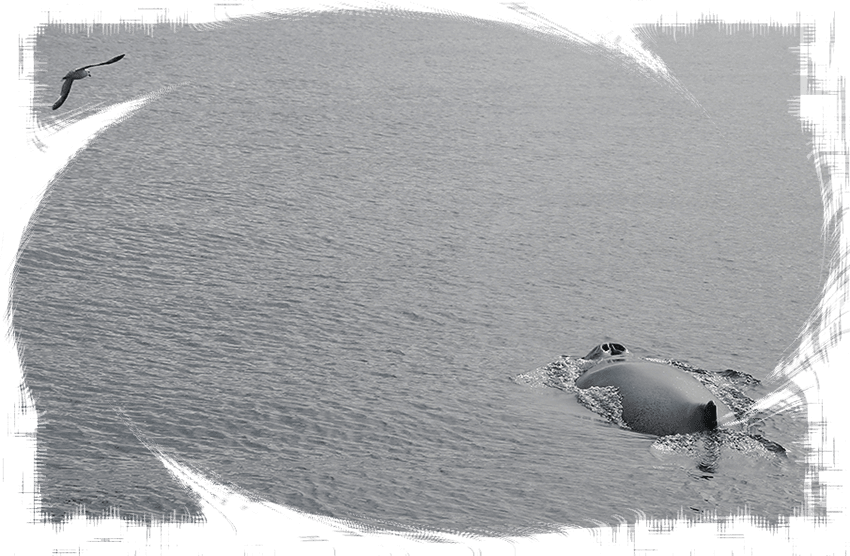 What a tour! This whale watching tour will be hard to beat. We Spotted Minke Whales, but the Minke whale is as exciting as watch paint dry. But we ran in to two Humpback whales and it was
non stop action. They were so close to the ship I could almost touch them.

It was a fantastic whale watching tour and when we turned back all the passengers were very happy.

We saw some Harbour Porpoises on the way back, but they are as exciting as the Minke whale. And of course, after the Humpback action it would take a lot to make us excited. And as we are on board an old
Sundsbuss and I have most likely been drunk o board this boat before I decided to buy a beer.



Sundsbussarna had a bar forward but this was
closed when Elding is running the boat. So I went back and I asked for a beer. The girl told me the boat was new so they had not yet any license to serve alcohol. Well, I was disappointed and I went forward again and I
had a seat in the old bar and I looked at the pictures of the Humpback whales.















We were back in Reykjavik around 5 o'clock and I walked to the Supermarket to buy a hangover pack. Can come in handy if someone trick me to drink a beer tonight. I bought smoked fish, salmon and Halibut and a pack of gravlax.

2 pack of Choco milk and a few bottles of Diet MAX and I will not have to meet any people tomorrow morning. I walked back to my hotel and I was looking for gifts for my nephews. I wanted to buy the home knitted sweaters but they don't have any sizes. And as when we were at the
horse show, the girl held up the sweater and she said it was for a 8 year old.

Well, a girl holding up a sweater in front of her estimating the size to be good for an 8 year old was nothing that was going to make me by sweaters for 400 US Dollars.

I was getting hungry and I stopped at the restaurant Scandinavian at the hotel. 2 smørebrød and a cup of tea. I spotted a bottle of Stroh
Rum in the bar. I asked for a Stroh Rum with cola and I bought two bottles of room to bring to my room.

I enjoyed the beers in my room while looking at my pictures. I was soon in a bar next door. I was walking down the street when I heard some "FUNKY" music and I went up on the second floor for a beer or two.

I was at a few bars before I ended up at a place called Ananas Bar and as they played some very good music so it was almost midnight when I left. Well, the Icelandic people are very nice and I had a good time.

I even had to tell one of them about Eric the Red's farmhouse. I also had to tell him about Eric the Red and his son. He was in to Vikings and he wondered how I knew so much. Well, I knew
foock all before visiting Eric the Red's farm hose here on Iceland. And as an extra bonus I got to visit his house on Greenland as well.

He did not even know about Eric the Red's farmhouse just outside Reykjavik and he checked it out on internet. I told him to go as, well, they house was shit but the girl telling us the stories was excellent.

He would go there and it is just one or one and a half hour to drive from Reykjavik. Well, I even had to do the
old "pain in the foot" trick as girls asked me to dance. Dance!? No, I don't think so. I had been on most of the pubs around my hotel and I was looking for a taxi to get further down in to the city. There is a bad thing by living smack
in the city. You make a tit out of yourself Saturday night and you're not very keen to show yourself in the area on the Sunday.

I don't know what time I was back in my room. But it was daylight. Well, it have been daylight 24/7 since I arrived to the Arctic. Today was the first day with a sunset but it was soon daylight again. One thing is for sure, it was way too late when I was back at my room. I'm too old for this by now, but now I have experienced the
night life in Reykjavik.

It had been a nice evening/ morning but darn, the beer are expensive here in Reykjavik. Well, everything is expensive here on Iceland except maybe taxi.

But it is expensive to drink beer where ever you are in the world. Never mind, it is time to leave Iceland, just a Puffin watching tour and a Whale watching tour remaining tomorrow and then I'm out of here. And the Puffins, you just need to click HERE to find out how the Puffin and Whale adventures turns out tomorrow afternoon.


OK, it has come to my knowledge that we have senior citizens visiting my web page. How hard can it
be? So it's not very easy for them to see the blue coloured links to the next page.

Jiffy (also jiff)


noun [in SING.] informal a moment: we'll be back in a jiffy.

ORIGIN late 18th cent.: of unknown origin.

So as you understand, in a jiff pretty much depends on your internet.

So I put a "Next" button here and I hope that there isn't any problem to understand how to use that one. So just CLICK the "Next" button on your left hand side and you will be on the next page in a jiff!
Marunong ka mag-tagalog? Walang problema! Magpunta sa kabilang pahina pindutin ang "NEXT" button sa itaas


Faites vous parlez le français? Pas de problème! Pour arriver à la page suivante faites s'il vous plaît un déclic le bouton "Next" ci-dessus!


Haga usted dice el español? No hay problema! Ver la siguiente página sólo hacer clic el botón "Next" encima!


Farla parla l'italiano? Non problemi! Per vedere la prossima pagina lo scatto per favore giusto Il bottone "Next" sopra


Sprechen sie Deutsch! Kein problem! Wenn Sie die folgende Seite sehen wollen gerade klicken der Knopf "Next" oben!


คุณพูดภาษาไทยได้ไหม ไม่มีปัญหา ถ้าคุณต้องการไปหน้าถัดไป ให้กดปุ่ม "Next" ข้างบนนี้


Вы говорите по-русски? NJET PROBLEMA! Просто нажмите синюю кнопку "Next" с левой стороны и Вы моментально переместитесь на следующую страницу!


E ni Svenskar och inte förstår Engelska så ska ni skämmas. J och Björn, med det menar jag inte att alla mina stavfel ska ältas varje gång vi träffas.


Well, the flag of Skåne, just a BONUS flag.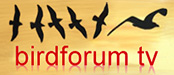 You are visitor no.
To www.aladdin.st since December 2005
Visitors from different countries since 26th of September 2011