Saturday 13th of February 2016 and as my alarm went off at 5 o'clock in the morning it meant that we had had no beers yesterday. And yet again, the stupid series "How to kill a day in
Bangkok?" will bring us outside Bangkok. The snake infested rice paddies of Petchaburi. So hang on, this will most likely turn out to be an adventure.

I left my room 10 minutes before 6 and when I reached Family Mart my friend was waiting with a bag of water bottles from Family Mart. Our driver and the taxi was waiting already and we were ready to leave. Well, almost, I went in to Family Mart to buy a couple of diet drinks for the trip.

I climbed in to our green taxi and I took the seat in the back. We were soon on our way through a dark Bangkok and I was enjoying myself with a diet drink in the back seat.

And I was looking forward to a day in the rice paddies around Petchaburi. And I hope to see a yellow bird I had seen on Nick Upton's web page from Petchaburi.


Early morning on Sukhumvit Soi 23


We have a good driver and I was happy that we're not having to fly down the highway in Formula 1 speed with a crazy driver. The only concern was that he did something with his mobil. But he
never touched the phone again after I had asked him to "please be so kind not to use the phone while driving" Yes, I'm not feeling so good in the back seat when the driver is fiddling around with his phone behind the wheel.

But he put away his phone and I felt better in the back.

It was a pleasant drive and we were soon approaching Petchaburi. Our driver stopped to fill up the car with gas and my birding pal left the
car to confirm the location of the place we were visiting.

We were soon on our way again and now the guys up front were looking for road #1023 on our left hand side. Suddenly we passed the road and we had to put full astern. We were soon up on road #1023 and we had been on our way for a few hundred meters when we stopped on a dust track.














We went out to have a check on the birds before we continued to where we were supposed to go.


White throated Kingfisher
Brown shrike - นกอีเสือสีน้ำตาล
Common Tailorbird - นกกระจิบธรรมดา
A gorgeous morning in a beautiful landscape
A gorgeous morning in a beautiful landscape
And we can see a Red-wattled Lapwing
Brown Prinia - นกกระจิบหญ้าสีน้ำตาล
Great Myna - นกเอี้ยงหงอน
A Little Cormorant
Jacobin cuckoo - นกคัคคูขาวดำ
Jacobin cuckoo - นกคัคคูขาวดำ


We spent an hour or so at the first stop and I spotted 3 new birds and the Common tailorbird. First time I saw the Common tailorbird in Thailand, I had seen the bird in India. It was a beautiful morning, but the cold season is definitely over. It was very hot.

We left to look for the birding sites recommended at thaibirding.com We passed a rice field and as I spotted a grey stork. Looked like a Asian Openbill but this one was grey. I wanted to check it out and I asked the driver to stop. Turned out to be Asian Openbills in very dark grey plumage.

We went out of the car to check out the rice paddies. A farmer was driving around in the paddy with something looked like a tractor. The paddy was full of Egrets and Herons and of course the Asian Openbill storks and a few of the Wooden sandpiper.


Wood sandpiper - นกชายเลนน้ำจืด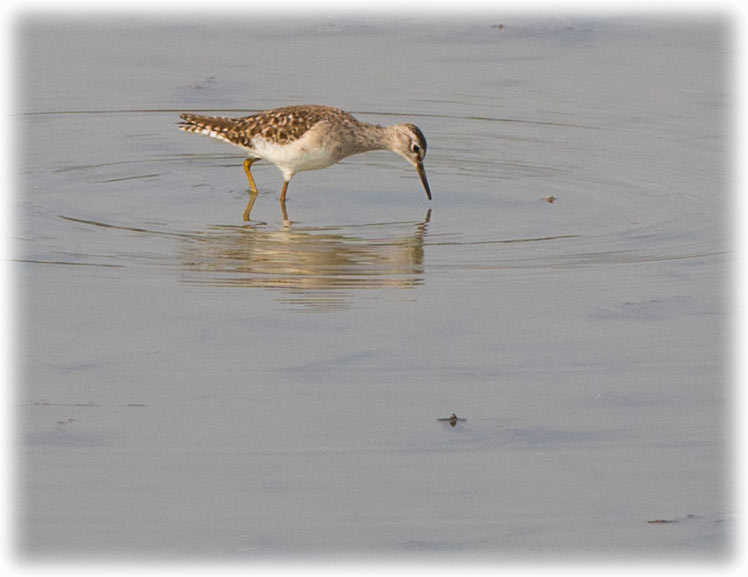 Wood sandpiper - นกชายเลนน้ำจืด
Wood sandpiper - นกชายเลนน้ำจืด
Asian Openbill Stork - นกปากห่าง
Asian Openbill Stork - นกปากห่าง
Asian Openbill Stork - นกปากห่าง
Asian Openbill Stork - นกปากห่าง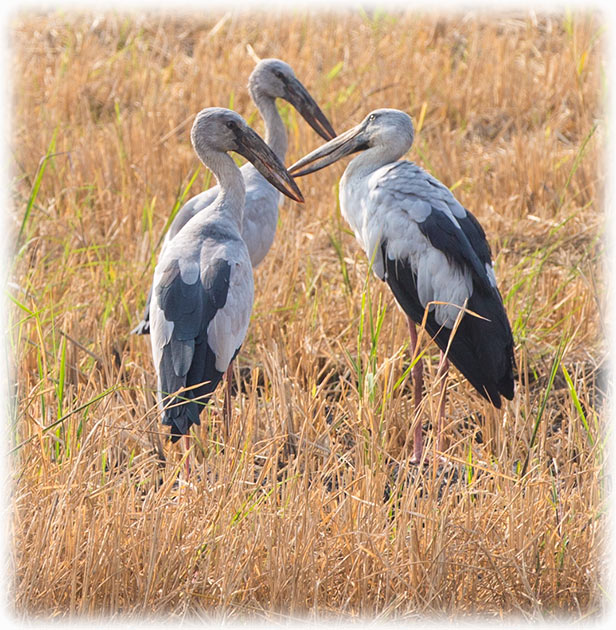 Asian Openbill Stork - นกปากห่าง

We were soon back in the car and we were looking for a radio mast and a railway as per the map
on thaibirding.com Something was not right and my friend up front was a wee bit confused with the map. We drove a bit in a direction and then we turned around. We had
seen a radio mast from the rice paddy and we drove there. We had to stop at a railway crossing as a passenger train was coming, this turns out to be a real adventure.

The radio mast was located next to a temple and there was a small canal going through the village. I spoke with one old lady and she told me that there were usually many people coming here to look at birds. We saw a White throated Kingfisher and a Hoopoe. I went out on a rice paddy to have a word with a cow munching on the grass.

And there was a train passing, 2 trains in the same day. This is really turning out to be a real adventure and the train was the most exciting thing happening in the rice paddy.


We have to wait for a train to pass
We have to wait for a train to pass
We have to wait for a train to pass
We're not alone waiting for the train
The train have passed
HEY! Isn't that my thing?
There is a small stream, well, there wasn't much movement in the water
I see a Hoopoe at the end of the stream
White Throated Kingfisher
A cow
The second train for today


They came back with the car and I left the rice paddy and we took off to look for the sites we had read about on www.thaibirding.com and we were soon back at the highway. OK, now I just told
the driver to make a U-turn and to go back. I had spotted a small road going
out in the rice paddies earlier this morning.

If we went to some other site 1 km away or here, never mind. It will be the same birds we will see. And I was for sure not going to waste the day going around looking for a special spot. So U-turn it was as I had come here to look for birds. We made the U-turn and after 20 meters I screamed:
- STOP!!

The driver stopped and my birding pal looked shocked, he thought we had hit something. But there was a turtle on the road and he will soon get hit by a car. So we need to save the turtle ASAP.
We got out form the car and the driver and my friend did still not know what we were looking for. I pointed at the turtle.

We moved the turtle, well, my friend moved the turtle. I told him that he must have some cover for his hands, but too late. Anyway, the turtle was left on the road side, close to the water so he will enjoy himself down at the creek.

We were in a good mood leaving the turtle behind and we were soon turning left in to a small road and we drove for a few minutes when we stopped. We got out of the car and our driver would wait for us here. I had not seen Bee-eaters in Thailand since Suan Rot Fai. But here was plenty of them, I even saw a new Bee-eater that I had not seen before. Turned out to be the Green Bee-eater. I had seen plenty of them in India but not here in Thailand. And the cap was much browner than in India, but I guess this is dependent on the time of the year.


Blue tailed Bee-eater
Black napped oriole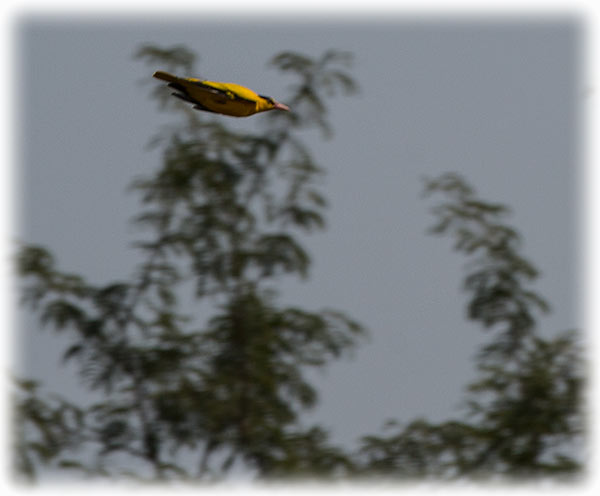 Black napped oriole
Ashy Woodswallow - นกแอ่นพง
Ashy Woodswallow - นกแอ่นพง
Ashy Woodswallow - นกแอ่นพง
The second train for today
Green Bee-eater - นกจาบคาเล็ก
White Throated Kingfisher
White Throated Kingfisher
White Throated Kingfisher
White Throated Kingfisher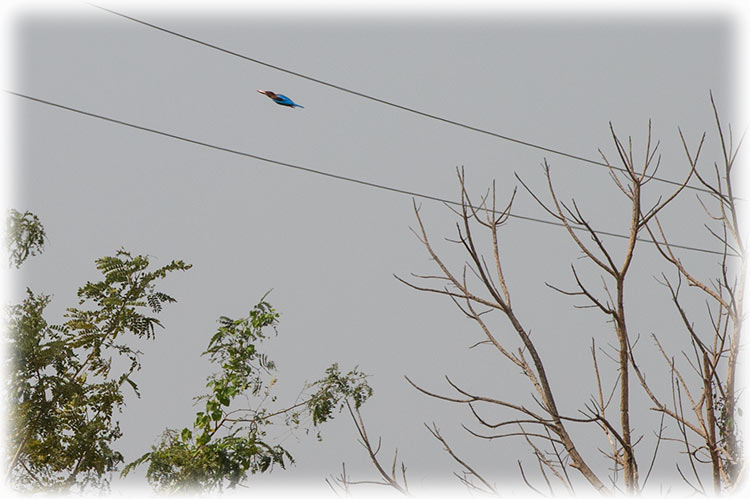 White Throated Kingfisher

Yes, last stop was very nice as well. My friend wanted to leave to go looking for the other site. Well, for me it made no sense to go look for another place as we would see the same birds. I was going to continue here until lunch. And I saw plenty birds, among them the one I came to see, the yellow bird. I never got any good pictures as the bird just few out in front of me. I got two pictures of the second yellow bird, but they were out of focus.

And I could put a new bird on my list, the Ashy Woodswallow and this make it my fourth new bird today. Plus 2 new birds for Thailand that I had seen in India before, the Common Tailorbird and the
Green Bee-eater. So it had been a good day and the hoopoe, I can't remember if I have seen the Hoopoe here in Thailand before. But it is nice to walk around in the nature even if I don't see any birds and it had been a gorgeous morning.

Well, anyway, we were soon on our way to Big-C in Petchaburi to have our lunch, and yes, we were hungry. But we didn't had any high hopes for any fine dining. There was a KFC, and wise from our last experience form KFC we just walked past the place. KFC, Mc Donalds and something called Chester's. We chose Chester's.

We got a table and I went to KFC to buy the only good thing they had. Egg tarts and we wanted to enjoy the egg tars at Chester's after our meal. Well, they were out of egg tarts. The food was, well, what to expect from Chester's. But the staff was very nice and friendly.

Before going for lunch we had been to check out the site recommended on www.thaibirding.com and now we know where it was. It was on the road between road #1023 and the bridge, an irrigation canal road. And there was an irrigation canal next to the road. We were soon at the radio mast and the fish ponds.

We saw the White throated Kingfisher, by now we have seen so many of them. We walked around the fish ponds and it was not so good to walk in the grass with holes and God knows what. I'm sure there are plenty snakes in the area. I saw some Egrets and the White-throated Kingfisher. There were two small ducks in the pond, but it was too far away.

And I spotted some more Bee-eaters. And it was hot so I was in a hurry to leave the ponds behind, but it was not easy walking around in the fields.


White-throated Kingfisher - นกกะเต็นอกขาว
Blue-tailed Bee-eater
Bronze-winged Jacana - นกพริก
Of course, all bird pictures available on my Thailand

bird checklist of bird I have seen by clicking

HERE



On my way back to the taxi I spotted yet another bird I had never seen before, the Bronze-winged Jacana. A very shy and scared bird so it was very hard to get pictures. But I will not give
up trying to get better pictures. We made a stop, but we only drank water before we decided to drive for an hour towards Bangkok.

It was too hot and we were hoping for the temperature to get down in the next hour.

Well, we made a stop but we could not see any birds and we continued to Bangkok.

we made a stop to fill up gas in the taxi and I took the opportunity to by water. This was our last stop and we were hauling arse back to Bangkok, the traffic was OK. At least until we came to Ratchadapisek and it was
full stop at the Asoke/ Sukhumvit intersection.

My friend got out from the taxi and he took the sub way back home as he had plenty stuff to do. Kind of good, we had been eating pizza after our birding adventures so far. The food at
the Pizza House on Sukhumvit Soi 23 is very good, but it is for sure not doing any good for my diet.

Yet another good birding adventure have come to an end, and on Monday we're going back to Bang Pu to check out the nature trail at Bang Pu Nature Education Centre's Bang Pu Nature Reserve. This promise to get exciting and just click HERE to find out if we spot any new and beautiful birds on the nature trail.


How to kill a day in Bangkok #23
Review: Birding/ bird watching in Petchaburi Rice Fields


Fee: Free

Web page: No official web page. But visit Nick Upton's web page Thaibirding for information about Petchaburi Rice Fields Here you find all the information you need about Bang Pu, maps and what bird you can expect to see. And of course info on how to get there

Address:
Drive on Rama 2 (Road #35) from Bangkok until you reach Wang Mano. Get up on the highway #4 (Phetkasem Road)and drive south towards Petchaburi and Hua Hin. Just before you reach Petchaburi there is a bridge over the highway. The bridge is the cross over from the Irrigation Canal Road and the road north of this road is road #1023.

We liked to make stop along road #1023 instead of going down to the Irrigation Canal Road as there were more places to stop and get out. But I guess it is up to you. And never mind where you are, the rice paddies are covering a huge area so just stop where you feel like stopping.


Rated:


It was hot walking around the area, it was beautiful but when
the clock turned 10 or 11 it was very hot, so bring plenty water. I saw 5 or 6 new birds that I had never seen before and I had really enjoyed my day on the field.

It was about 2 hours from Bangkok and we left 6 o'clock in the morning and that gave us a few hours of birding before we returned to Bangkok. So in one day you will have plenty time in the rice paddies. And even if you're not interested in birds it is worthwhile coming here as it is beautiful surroundings.

Review Man


OK, it has come to my knowledge that we have senior citizens visiting my web page. How hard can it
be? So it's not very easy for them to see the blue coloured links to the next page.

Jiffy (also jiff)


noun [in SING.] informal a moment: we'll be back in a jiffy.

ORIGIN late 18th cent.: of unknown origin.

So as you understand, in a jiff pretty much depends on your internet.

So I put a "Next" button here and I hope that there isn't any problem to understand how to use that one. So just CLICK the "Next" button on your left hand side and you will be on the next page in a jiff!
Marunong ka mag-tagalog? Walang problema! Magpunta sa kabilang pahina pindutin ang "NEXT" button sa itaas


Faites vous parlez le français? Pas de problème! Pour arriver à la page suivante faites s'il vous plaît un déclic le bouton "Next" ci-dessus!


Haga usted dice el español? No hay problema! Ver la siguiente página sólo hacer clic el botón "Next" encima!


Farla parla l'italiano? Non problemi! Per vedere la prossima pagina lo scatto per favore giusto Il bottone "Next" sopra


Sprechen sie Deutsch! Kein problem! Wenn Sie die folgende Seite sehen wollen gerade klicken der Knopf "Next" oben!


คุณพูดภาษาไทยได้ไหม ไม่มีปัญหา ถ้าคุณต้องการไปหน้าถัดไป ให้กดปุ่ม "Next" ข้างบนนี้


Вы говорите по-русски? NJET PROBLEMA! Просто нажмите синюю кнопку "Next" с левой стороны и Вы моментально переместитесь на следующую страницу!


E ni Svenskar och inte förstår Engelska så ska ni skämmas. J och Björn, med det menar jag inte att alla mina stavfel ska ältas varje gång vi träffas.


Well, the flag of Skåne, just a BONUS flag.
You are visitor no.