Thursday 6th of August 2015 and I was dead tired when they called me at 7 thirty. I didn't felt asleep until way after 3 o'clock in the morning. But the excitements over going on whale watching
got me out of bed.

One hour and my Driver would come to pick me up. But at 8 o'clock they called from the reception and my driver was here.

I had just finish packing my bag and I was soon in the reception to pay my bill. Then in to Rustic for some last smoked salmon and avocado.

I had asked the owner yesterday to prepare 6 plates (on one plate) of smoked salmon and avocado for 8 o'clock in the morning. They ran out of smoked salmon so I only got 3 plates. And of course a
pot of tea with that. I paid my bill and we were soon on our way towards Hermanus.

We drove on highway #2 same as yesterday when we drove to Gansbaai for the shark watching. Reaching Bot River yesterday and we turned off highway #2 and got on road R43 and we
drove through Hermanus on road R43 yesterday.

But today we would get off highway #2 at Somerset West just outside Cape Town and drive the scenic road along the coast to Hermanus.


Driving along the scenic ocean drive Route 44 in South Africa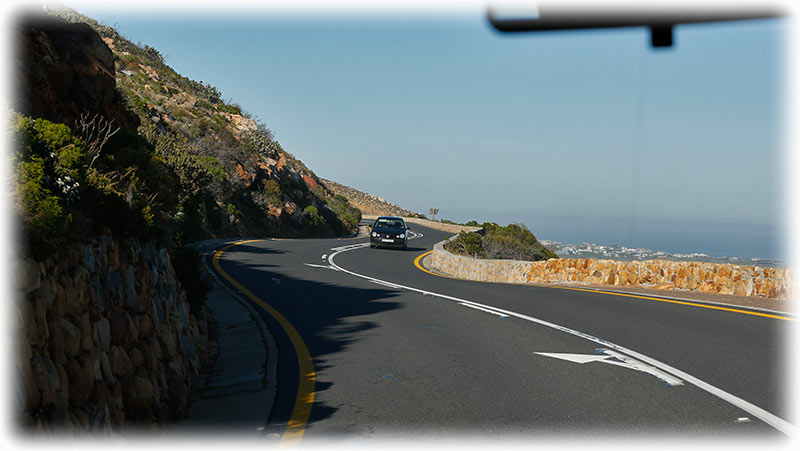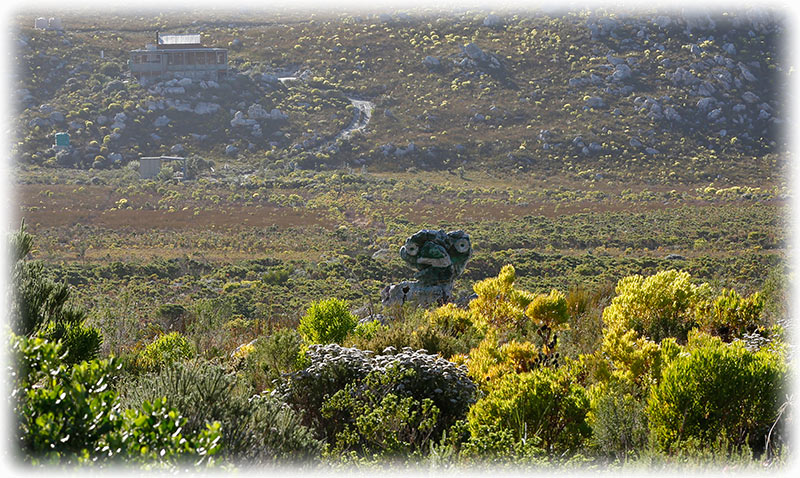 We pass a rock formed like ET
We park the car in Hermanus


When we left Cape Town all the whale watching tours were fully booked until Sunday. But we drove to Hermanus as you can watch the whales from the shore. But half way to Hermanus they called and they told us that there was a ticket available for me. They have a few companies in Hermanus. But only one running as all the other ships are laid up for maintenance.

As my Guide said: Amazing, they have 3 months whale season and they don't manage to plan to do the maintenance during the other 9 months of the year. We should be at Southern Right Charters in the harbour at 11 thirty and the boat is leaving at 12 o'clock. So we had 30 minutes to kill in the town. They had a big Southern Right whale sculpture that I had a look at.

Hermanus is a really beautiful place and they had places where you could sit ashore to watch the whales from shore. But today the Southern Right whale were on the other side of the bay and you needed to get on the boat. Of course, if you want to come up close to the whales you need to get on the boat


Southern Right whale sculpture
Hermanus water front, really beautiful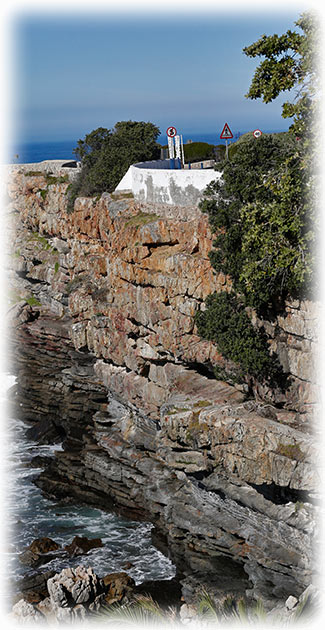 Hermanus water front, really beautiful
What a beautiful place to have tea while waiting


Hermanus water front was a really beautiful place. And we found a hotel where we decided to have a cup of tea while waiting. Selkirk's Restaurant in the hotel and we took a seat at a table with a beautiful view over the bay. I asked for a pot of Earl Grey tea and an omelette.

- Breakfast is finished
- What do you mean?
- We don't serve breakfast
- This is a good hotel and you don't have a Chef that can crack a few eggs.
- No
- I'm not a Cook, but I can make an omelette in 2 minutes

Not very impressive and I asked for a grilled cheese and ham sandwich. The sandwich and tea never came and we were in a hurry. I went in to see where the sandwich where. I was told that they
could not make the sandwich during the black out.

They have a 2 and a half hour black out every day because they don't have enough power in South Africa as they export it to Namibia. This has been going on for a few years now.

This was bad, we're waiting and waiting. This is just a simple case of "we don't give a fuck about our customer" Imagine booking a week in Hermanus from Germany. You pay your hotel and you come down to Hermanus after a long trip in a cramped air plane. BAAM and you arrive to your hotel, yes we have all done it. Felt the joy of arriving to your hotel after a long flight

You find yourself in a shitty hotel that you have prepaid. And note, the place next door was full of people eating and having a good time because the owner had invested in a generator. We were the

African penguin


The African penguin (Spheniscus demersus), also known as the jackass penguin and black-footed penguin is a species of penguin, confined to southern African waters. It is also widely known as the "jackass" penguin for its donkey-like bray, although several related species of South American penguins produce the same sound.

Like all extant penguins it is flightless, with a streamlined body, and wings stiffened and flattened into flippers for a marine habitat. Adults weigh on average 2.2–3.5 kg (4.9–7.7 lb) and are 60–70 cm (24–28 in) tall.

It has distinctive pink patches of skin above the eyes and a black facial mask; the body upperparts are black and sharply delineated from the white underparts, which are spotted and marked with a black band. The pink gland above their eyes helps them to cope with changing temperatures. When the temperature gets hotter, the body of the African penguin sends more blood to these glands to be cooled by the air surrounding it. This then causes the gland to turn a darker shade of pink.

The African penguin is a pursuit diver and feeds primarily on fish and squid. Once extremely numerous, the African penguin is declining due to a combination of threats and is classified as endangered. It is a charismatic species and is popular with tourists.

From Wikipedia, the free encyclopedia

only people at our place and now we understood why. Yeah, great service. Power or not, they managed to get me a cup of tea.

On the way coming here we had passed Betty's Bay and there had been a sign with a Penguin. The famous Stony Point Penguin Colony in Betty's Bay.

I had seen the African penguin, also known as the jackass penguin and black-footed penguin at the Two Oceans Aquarium in Cape Town when I came to South Africa. I was not very impressed but we were talking about it while drinking tea and we decided to go there on our way back to Cape Town.

This whale watching tour cost me 4000 Rand. 3350 for the car and driver and the boat ticket 700. If I had done it in a group it would have been a total of 1700 Rand. I pay almost double, but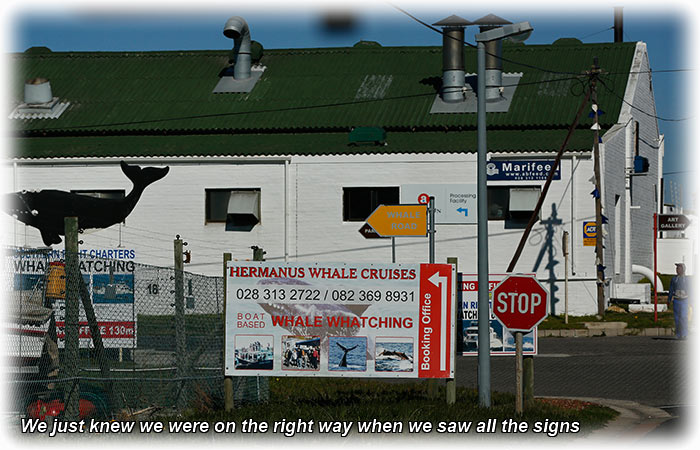 I have my own car. And I can drink tea when I want and we can stop at Stony Point Penguin Colony.

And we got to drive along Route 44 the scenic ocean drive coming here and going back to Cape Town. We made stops on the way coming here when I wanted to take pictures. If I would have been in the group we would have been on the same highway we drove on yesterday. And no view from a cramped and full van.

So was it worth the extra money, yes. I might come back to Cape Town. And if I don't I have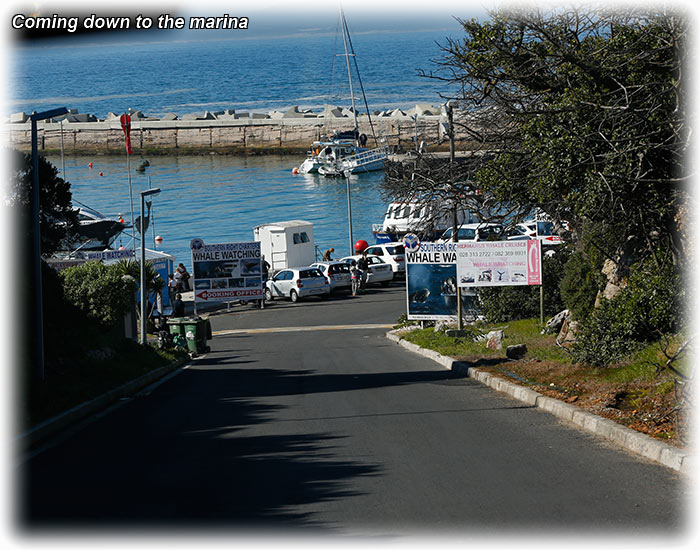 spent 1400 Rand extra for a beautiful tour and I haven't missed anything.

Well, if I had booked the tour they would have told me it was fully booked. But now they called us halfway and told us there was a ticket for me.

We drove down to the harbour and we were soon to discover that the ticket office was full of tourists from Italy. 2 different groups and there was a lot of, well,
hmm, noise. I managed to get my ticket and as I could foresee the onslaught of Italian tourists coming on the boat I went down to the boat. I was the fifth or so passenger to board and I got a seat up front.



Our whale watching boat
Leaving the harbour
Safety demonstration on our way out from the harbour
One breaching whale
We can see the heavy swell breaking behind the whales
A pectoral fin sticking up


We left the harbour and we were a few sitting up front of the boat. And we were driving towards the other side of the bay. It is a marine reserve in the bay so we have to stay outside the marine reserve at all time while watching.

We were soon seeing a Southern Right whale breaching (jumping) and it is almost impossible to catch them jumping as they come suddenly and you have no chance to know where they will come up. Suddenly we were surrounded by Southern Right whale. There were so many of them it was impossible to count them.

And at the same time all the Italians came up front. Whale watching is of course as the name indicates to watch the whales. But part of the "watching" is to hear them. They are breathing and splashing. Now we spotted the whales and the Italians came up front, many of them and it was like being surrounded by La Linea.

La Linea, yeah, I think we have all seen the guy on TV back in the days. I had a couple in their 50's talking like babies to each others, well, it was more like they were screaming at each others while looking at pictures on their phone. And they were just next to my right ear.

I didn't say anything, but I gave them the "what the foock" look and they shut up.



Blue whale, fine whale and the dead boring Minke whale and my favourite whale is the Humpback. I
have never heard of the Southern Right whale before. I learnt that there are 3 different right whales:
• Eubalaena glacialis (North Atlantic right whale),
• Eubalaena japonica (North Pacific right whale)
• Eubalaena australis (Southern right whale)

The right whale is as fun to watch as the Humpback whale. Jumping and showing the fluke. They are breaching, hard to get them on picture. But after every breach they stick up their head to shake their baleens back in position and this is nice to see. The come up with open mouth to shake the head so the baleens get back in
position. Then you can take the picture.

The difference between the Right whale and the Humpback whale, there are many but the first thing you notice is that the Right whale don't have any dorsal fin (the fin on
the top of the back) And as I could see the right whale don't arch the body so much as the Humpback whale when diving. It is very easy to see when you will see the fluke when a Humpback is diving. Arching the body and goes down lifting the fluke, beautiful!

And it was a joy to watch all the Southern Right whales playing in the water around us. And it is easy to understand why they are endangered, they are swimming very slowly around us and they didn't bother that we were very close to watch them. A whaler's wet dream, but WE are only armed with cameras!


| | |
| --- | --- |
| Right whale surface characteristics | Humpback whale surface characteristics |
A pectoral fin and a bit of the fluke sticking up
Another difference, the right whale was showing the head very often
You know you are watching a Right whale if you see a V-shaped blow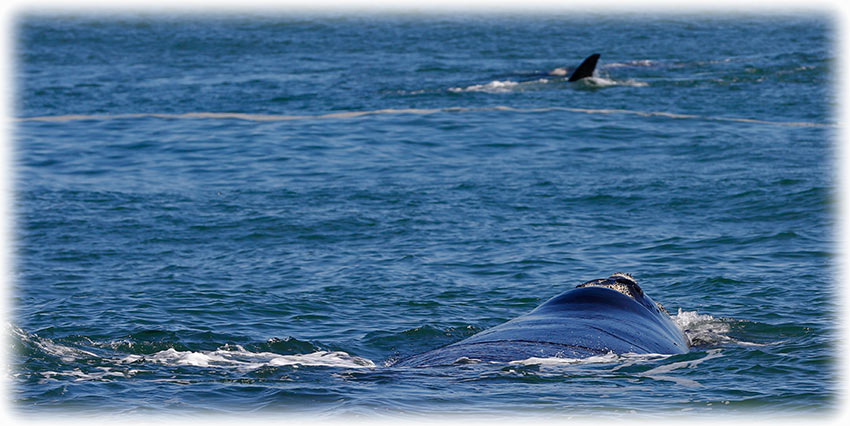 Hermanus on the other side of the bay
The head is sticking up
Whale back up after the jump to get the baleens back in order
Whale back up after the jump to get the baleens back in order
Whale back up after the jump to get the baleens back in order
Baleens


Baleen is a filter-feeder system inside the mouths of baleen whales. The baleen system works when a whale opens its mouth underwater and the whale takes in water. The whale then pushes the water out, and animals such as krill are filtered
by the baleen and remain as food source for the whale. Baleen is similar to bristles and is made of keratin, the same substance found in human fingernails and hair.

Some whales, such as the bowhead whale, have longer baleen than others. Other whales, such as the gray whale, only use one side of their baleen. These baleen bristles are arranged in plates across the upper jaw of the whale. Baleen is often called whalebone, but that name also can refer to the normal bones of whales, which have often been used as a material, especially as a cheaper substitute for ivory in carving.

Depending on the species, a baleen plate can be 0.5 to 3.5 metres (1.6 to 11.5 ft) long, and weigh up to 90 kilograms (200 lb). Its hairy fringes are called baleen hair or whalebone-hair. They are also called baleen bristles, which in sei whales are highly calcified, calcification functioning to increase their stiffness. Baleen plates are broader at the gum line (base). The plates have been compared to sieves or Venetian blinds.

Filter feeding
A whale's baleen plates play the most important role in its filter-feeding process. In order to feed, a baleen whale opens its mouth widely and scoops in dense shoals of prey (such as krill, copepods, small fish and sometimes birds that happen to be near the shoals), together with large volumes of water.

It then partly shuts its mouth and presses its tongue against its upper jaw, forcing the water to pass out sideways through the baleen, thus sieving out the prey which it then swallows.

From Wikipedia, the free encyclopedia
Heavy swell breaking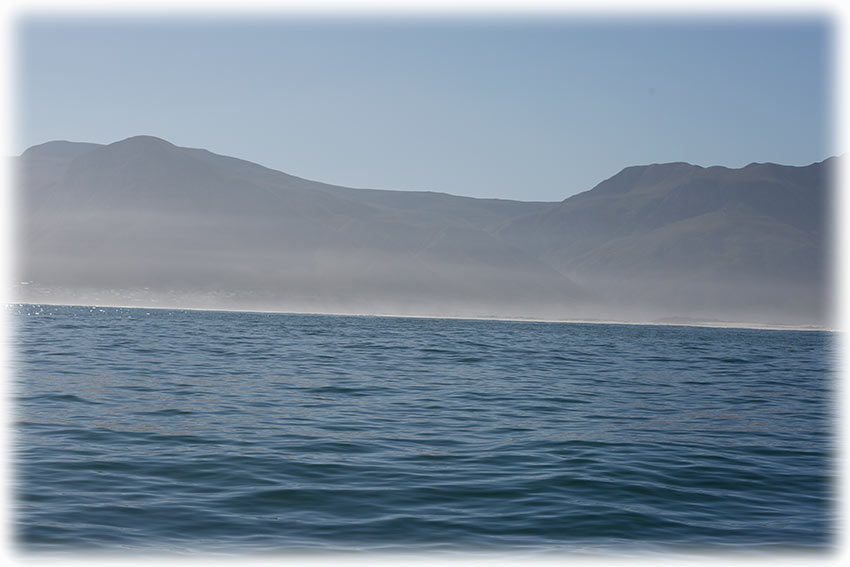 We're returning to Hermanus
Birds waiting for us in Hermanus

We were back in Hermanus just after 2 o'clock in the afternoon. My driver was waiting outside the ticket office. I was hungry but I decided to go to Pick n Pay for some diet drinks and a bag of
crisps. Then I could enjoy my snacks while we were driving to Stony Point Penguin Colony in Betty's Bay.

And we're not losing any time, I just could sense that a stop at a restaurant would mean at least one wasted hour.

I bought a bag of diet drinks as it could come in handy in Cape Town tonight.

We just need to click HERE to find out if we found any Pinguins and how the Stony Point Penguin Colony turned out.


OK, it has come to my knowledge that we have senior citizens visiting my web page. How hard can it
be? So it's not very easy for them to see the blue coloured links to the next page.

Jiffy (also jiff)


noun [in SING.] informal a moment: we'll be back in a jiffy.

ORIGIN late 18th cent.: of unknown origin.

So as you understand, in a jiff pretty much depends on your internet.

So I put a "Next" button here and I hope that there isn't any problem to understand how to use that one. So just CLICK the "Next" button on your left hand side and you will be on the next page in a jiff!
Marunong ka mag-tagalog? Walang problema! Magpunta sa kabilang pahina pindutin ang "NEXT" button sa itaas


Faites vous parlez le français? Pas de problème! Pour arriver à la page suivante faites s'il vous plaît un déclic le bouton "Next" ci-dessus!


Haga usted dice el español? No hay problema! Ver la siguiente página sólo hacer clic el botón "Next" encima!


Farla parla l'italiano? Non problemi! Per vedere la prossima pagina lo scatto per favore giusto Il bottone "Next" sopra


Sprechen sie Deutsch! Kein problem! Wenn Sie die folgende Seite sehen wollen gerade klicken der Knopf "Next" oben!


คุณพูดภาษาไทยได้ไหม ไม่มีปัญหา ถ้าคุณต้องการไปหน้าถัดไป ให้กดปุ่ม "Next" ข้างบนนี้


Вы говорите по-русски? NJET PROBLEMA! Просто нажмите синюю кнопку "Next" с левой стороны и Вы моментально переместитесь на следующую страницу!


E ni Svenskar och inte förstår Engelska så ska ni skämmas. J och Björn, med det menar jag inte att alla mina stavfel ska ältas varje gång vi träffas.


Well, the flag of Skåne, just a BONUS flag.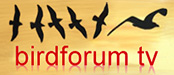 You are visitor no.
To www.aladdin.st since December 2005
Visitors from different countries since 26th of September 2011