PLEASE! If you see any mistakes, I'm 100% sure that I have wrongly identified some birds.
So please let me know on my guestbook at the bottom of the page
The White-browed shortwing (Brachypteryx montana) is a species of chat. This species is now classified in the family Muscicapidae.

It is found in Bangladesh, Bhutan, China, India, Indonesia, Laos, Malaysia, Myanmar, Nepal, the Philippines, Taiwan, Thailand, and Vietnam.

Its natural habitat is subtropical or tropical moist montane forests.White-browed Shortwing is a shy skulker, preferring to be on or near the ground, in the depths of dark vegetation, where it feeds on small insects, larvae, berries, seeds, sprouts and new buds of plants. The nest consists of moss and grass stems, placed in a dense shrub.

The first formal description of the white-browed shortwing was by the America naturalist Thomas Horsfield in 1821. He used the present binomial name Brachypteryx montana.



Range map from www.oiseaux.net - Ornithological Portal Oiseaux.net
www.oiseaux.net is one of those MUST visit pages if you're in to bird watching. You can find just about everything there
Illustration of the white-browed shortwing by J. G. Keulemans 1842-1912
By Ibis,
Public Domain, https://commons.wikimedia.org/w/index.php?curid=11795236
Listen to the White-browed shortwing
Conservation status
IUCN Red List
of Threatened Species. Version 2013.2.
International Union for Conservation of Nature. Retrieved 26 November 2013.
From Wikipedia, the free encyclopedia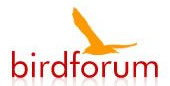 Sighted: (Date of first photo that I could use) 6 June 2017
Location: Doi Inthanon National Park


White-browed shortwing - นกปีกสั้นสีน้ำเงิน - 6 June 2017 - Doi Inthanon National Park




PLEASE! If I have made any mistakes identifying any bird, PLEASE let me know on my guestbook



You are visitor no.
To www.aladdin.st since December 2005
Visitors from different countries since 26th of September 2011