PLEASE! If you see any mistakes, I'm 100% sure that I have wrongly identified some birds.
So please let me know on my guestbook at the bottom of the page
The Marsh Sandpiper (Tringa stagnatilis), called Dammsnäppa in Skåne, is a small wader. It is a rather small shank, and breeds in open grassy steppe and taiga wetlands from easternmost Europe to the Russian Far East. The genus name Tringa is the New Latin name given to the green sandpiper by Aldrovandus in 1599 based on Ancient Greek trungas, a thrush-sized, white-rumped, tail-bobbing wading bird mentioned by Aristotle. The specific stagnatilis is from Latin stagnum, "swamp"

Distribution
Palearctic.It is a migratory species, with majority of birds wintering in Africa, and India with fewer migrating to Southeast Asia and Australia. They prefer to winter on fresh water wetlands such as swamps and lakes and are usually seen singly or in small groups.

These birds forage by probing in shallow water or on wet mud. They mainly eat insects, and similar small prey.

The marsh sandpiper is one of the species to which the Agreement on the Conservation of African-Eurasian Migratory Waterbirds (AEWA) applies.



AEWA


The Agreement on the Conservation of African-Eurasian Migratory Waterbirds, or African-Eurasian Waterbird Agreement (AEWA) is an independent international treaty developed under the auspices of the United Nations Environment Programme's Convention on Migratory Species.

It was founded to coordinate efforts to conserve bird species migrating between European and African nations, and its current scope stretches from the Arctic to South Africa, encompassing the Canadian archipelago and the Middle East as well as Europe and Africa.

The agreement focuses on bird species that depend on wetlands for at least part of their lifecycle and cross international borders in their migration patterns. It currently covers 254 species.

Treaties

Ban on lead shot
The use of lead shot over wetlands has been banned by the signatories to the convention on account of the poisoning it causes.



Range map from www.oiseaux.net - Ornithological Portal Oiseaux.net
www.oiseaux.net is one of those MUST visit pages if you're in to bird watching. You can find just about everything there
Click HERE for full size map

By SanoAK: Alexander Kürthy - Made with Natural Earth. Free vector and raster map data @ naturalearthdata.com.
Range map from BirdLife International 2016. Tringa stagnatilis. The IUCN Red List of Threatened Species 2016: e.T22693216A86691256.
https://dx.doi.org/10.2305/IUCN.UK.2016-3.RLTS.T22693216A86691256.en. Downloaded on 18 January 2019 as visual indicator of distribution.,
CC BY-SA 4.0, https://commons.wikimedia.org/w/index.php?curid=75923092



Description
It resembles a small elegant greenshank, with a long fine bill and very long yellowish legs. Like the greenshank, it is greyish brown in breeding plumage, paler in winter, and has a white wedge up its back that is visible in flight. However, it is more closely related to the common redshank and the wood sandpiper.

Together, they form a group of smallish shanks which tend to have red or reddish legs, and in breeding plumage are generally a subdued, light brown above with some darker mottling, with a pattern of somewhat diffuse small brownish spots on the breast and neck.

The length is 22–26 cm, wingspan is 55–59 cm and weight is 45–120 g.



Length: 26 cm
Wingspan: 55 - 59 cm
Weight: 43 - 120 cm
Longevity:

Distinctive Feature


•

Similar Species


• Common Greenshank is the main confusion species, differing in its larger size, and stouter, slightly upcurved bill with a pale base.

• When dealing with vagrants, Lesser Yellowlegs also needs to be considered because of its similar structure, though differing in bright chrome-yellow legs and a smaller, square white rump, not a long wedge.

• At long range, winter plumage Marsh Sandpipers can look surprisingly similar to (particularly juvenile) Black-winged Stilts.

From opus at www.birdforum.net the forum for wild birds and birding.

Female / Male / Juvenile


•

From opus at www.birdforum.net the forum for wild birds and birding.





Listen to the Marsh Sandpiper




Conservation status
From Wikipedia, the free encyclopedia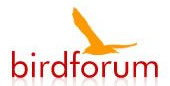 Sighted: (Date of first photo that I could use) 29 March 2022
Location: Praek Nam Daeng, Samut Songkhram


Marsh Sandpiper / นกชายเลนบึง
29 March 2022 - eBird hotspot: Praek Nam Daeng, Samut Songkhram




PLEASE! If I have made any mistakes identifying any bird, PLEASE let me know on my guestbook



You are visitor no.
To www.aladdin.st since December 2005
Visitors from different countries since 26th of September 2011