The Grey Bush Chat (Saxicola ferreus) is a species of passerine bird in the family Muscicapidae. It is found in the Himalayas, southern China and northern Southeast Asia.



Passerine bird


A passerine is any bird of the order Passeriformes, which includes more than half of all bird species. Sometimes known as perching birds or — less accurately — as songbirds, passerines are distinguished from other orders of birds by the arrangement of their toes (three pointing forward and one back), which facilitates perching. With more than 110 families and some 5,100 identified species, Passeriformes is the largest order of birds and among the most diverse orders of terrestrial vertebrates.

The passerines contain several groups of brood parasites such as the viduas, cuckoo-finches, and the cowbirds. Most passerines are omnivorous, while the shrikes are carnivorous.

The terms "passerine" and "Passeriformes" are derived from Passer domesticus, the scientific name of the eponymous species (the House Sparrow) and ultimately from the Latin term passer, which refers to sparrows and similar small birds.


Its natural habitats are subtropical or tropical moist lowland forest and subtropical or tropical moist montane forest.



Range map from www.oiseaux.net - Ornithological Portal Oiseaux.net
www.oiseaux.net is one of those MUST visit pages if you're in to bird watching. You can find just about everything there
Listen to the Grey Bush Chat
Remarks from the Recordist


Calling from an exposed perch along the road below Pangot


Conservation status
IUCN Red List
of Threatened Species. Version 2013.2.
International Union for Conservation of Nature. Retrieved 26 November 2013.
From Wikipedia, the free encyclopedia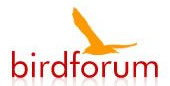 Sighted: (Date of first photo that I could use) 26 February 2018
Location: Doi Inthanon National Park


Female Grey Bush Chat, Saxicola ferreus, นกยอดหญ้าสีเทา
26 February 2018 - Doi Inthanon National Park
Male Grey Bush Chat, Saxicola ferreus, นกยอดหญ้าสีเทา
26 February 2018 - Doi Inthanon National Park




PLEASE! If I have made any mistakes identifying any bird, PLEASE let me know on my guestbook



You are visitor no.
To www.aladdin.st since December 2005
Visitors from different countries since 26th of September 2011