PLEASE! If you see any mistakes, I'm 100% sure that I have wrongly identified some birds.
So please let me know on my guestbook at the bottom of the page
The Greater Sand Plover (Charadrius leschenaultii) is a small wader in the plover family of birds. The spelling is commonly given as "greater sandplover" or "greater sand-plover", but the official British Ornithologists' Union spelling is "Greater Sand Plover"

The genus name Charadrius is a Late Latin word for a yellowish bird mentioned in the fourth-century Vulgate. It derives from Ancient Greek kharadrios a bird found in ravines and river valleys (kharadra, "ravine"). The specific leschenaultii commemorates the French botanist Jean Baptiste Leschenault de la Tour

Distribution
It breeds in the semi-deserts of Turkey and eastwards through Central Asia. It nests in a bare ground scrape. This species is strongly migratory, wintering on sandy beaches in East Africa, South Asia and Australasia. It is a rare vagrant in western Europe, where it has been recorded as far west as Iceland. It has been spotted twice in North America, the most recent being on May 14, 2009, in Jacksonville, Florida.



Range map from www.oiseaux.net - Ornithological Portal Oiseaux.net

www.oiseaux.net is one of those MUST visit pages if you're in to bird watching. You can find just about everything there


Subspecies There are three subspecies: The nominate, C. l. columbinus and C. l. leschenaultii. The last was known as C. l. crassirostris until it was established that this name is pre-occupied by a subspecies of Wilson's plover, C. w. crassirostris.

Description
This chunky plover is long-legged and thick-billed. Breeding males have grey backs and white underparts. The breast, forehead and nape are chestnut, and there is a black eye mask. The female is duller, and winter and juvenile birds lack the chestnut, apart from a hint of rufous on the head. Legs are greenish and the bill black.

In all plumages, it is very similar to lesser sand plover, Charadrius mongolus. Separating the species may be straightforward in mixed wintering flocks on an Indian beach, where the difference in size and structure is obvious; it is another thing altogether to identify a lone vagrant to western Europe, where both species are very rare.

The problem is compounded in that the Middle Eastern race of the greater sand plover is the most similar to the lesser species.



Listen to the Greater Sand Plover



Ecology
Its food consists of insects, crustaceans and annelid worms, which are obtained by a run-and-pause technique, rather than the steady probing of some other wader groups.

Its flight call is a soft trill.

The greater sand plover is one of the species to which the Agreement on the Conservation of African-Eurasian Migratory Waterbirds (AEWA) applies.



Conservation status
IUCN Red List
of Threatened Species. Version 2013.2.
International Union for Conservation of Nature. Retrieved 26 November 2013.
From Wikipedia, the free encyclopedia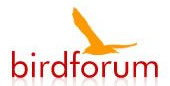 Sighted: (Date of first photo that I could use) 12 February 2016
Location: Bang Pu, Bangkok

Thank's to Nick Upton at www.thaibirding.com for HOT birding tip. His web page is a ONE STOP for everything you need for bird watching in Thailand. There are reviews of the birding sites with maps and information.

And if you like Nick Upton's web page you will also like www.norththailandbirding.com I have used this page together with Nick Upton's page when planning my birding tours. Excellent reviews and information about the birding sites.

I also got the Thai names of the birds from www.norththailandbirding.com. There is a bird check list with all the names in English and Thai. And of course also the Scientific Name. Down load the birdlist in Microsoft Excel format at www.norththailandbirding.com Or down load the Excel sheet by clicking HERE

PLEASE! As I'm a first time birdwatcher bear in mind that some of the bird can be wrongly named. I have bought book and I confirm on the internet to get the right identity on the birds I take pictures off. But there can still be mistakes.


Greater Sand Plover - นกหัวโตทรายใหญ่ - 12 February 2016 - Bang Pu, Bangkok
Greater Sand Plover - นกหัวโตทรายใหญ่ - 12 February 2016 - Bang Pu, Bangkok
Greater Sand Plover - นกหัวโตทรายใหญ่ - 12 February 2016 - Bang Pu, Bangkok
Greater Sand Plover - นกหัวโตทรายใหญ่ - 12 March 2016 - Laem Pak Bia/Pak Thale
Greater Sand Plover - นกหัวโตทรายใหญ่ - 12 March 2016 - Laem Pak Bia/Pak Thale
Greater Sand Plover - นกหัวโตทรายใหญ่ - 12 March 2016 - Laem Pak Bia/Pak Thale
Greater Sand Plover - นกหัวโตทรายใหญ่ - 12 March 2016 - Laem Pak Bia/Pak Thale




PLEASE! If I have made any mistakes identifying any bird, PLEASE let me know on my guestbook



You are visitor no.
To www.aladdin.st since December 2005
Visitors from different countries since 26th of September 2011