PLEASE! If you see any mistakes, I'm 100% sure that I have wrongly identified some birds.
So please let me know on my guestbook at the bottom of the page
The Curlew Sandpiper (Calidris ferruginea) is a small wader that breeds on the tundra of Arctic Siberia. The genus name is from Ancient Greek kalidris or skalidris, a term used by Aristotle for some grey-coloured waterside birds. The specific ferruginea is from Latin ferrugo, ferruginis, "iron rust" referring to its colour in breeding plumage.

It is strongly migratory, wintering mainly in Africa, but also in south and southeast Asia and in Australia and New Zealand. It is a vagrant to North America.



Range map from www.oiseaux.net - Ornithological Portal Oiseaux.net
www.oiseaux.net is one of those MUST visit pages if you're in to bird watching. You can find just about everything there
Range map of Curlew Sandpiper

By Cephas - BirdLife International. 2017. Calidris ferruginea (amended version of 2016 assessment).
The IUCN Red List of Threatened Species 2017: e.T22693431A110631069.
https://dx.doi.org/10.2305/IUCN.UK.2017-1.RLTS.T22693431A110631069.en. Downloaded on 30 December 2018.,
CC BY-SA 4.0, https://commons.wikimedia.org/w/index.php?curid=75447999


Taxonomy
This is a fairly unusual species, and has been proposed as type species of the genus Erolia but the DNA sequence data is currently insufficient to resolve its relationships. This matter is of taxonomic relevance since, as the curlew sandpiper is the type species, a close relationship with the small "stint" sandpipers would preclude the use of Erolia for the present species.

The curlew sandpiper is one of the species to which the Agreement on the Conservation of African-Eurasian Migratory Waterbirds (AEWA) applies.



AEWA


The Agreement on the Conservation of African-Eurasian Migratory Waterbirds, or African-Eurasian Waterbird Agreement (AEWA) is an independent international treaty developed under the auspices of the United Nations Environment Programme's Convention on Migratory Species.

It was founded to coordinate efforts to conserve bird species migrating between European and African nations, and its current scope stretches from the Arctic to South Africa, encompassing the Canadian archipelago and the Middle East as well as Europe and Africa.

The agreement focuses on bird species that depend on wetlands for at least part of their lifecycle and cross international borders in their migration patterns. It currently covers 254 species.

Treaties

Ban on lead shot
The use of lead shot over wetlands has been banned by the signatories to the convention on account of the poisoning it causes.







Description
These birds are small waders, similar to dunlins, but differ in having a longer down-curved beak, longer neck and legs and a white rump. They have a length of 18–23 cm and wingspan of 38–41 cm. The breeding adult has patterned dark grey upperparts and brick-red underparts.

In winter, this bird is pale grey above and white below, and shows an obvious white supercilium. Juveniles have a grey and brown back, a white belly and a peach-coloured breast.



Length: 23 cm
Wingspan: 38 - 41 cm
Weight: 44 - 117 g
Longevity: 6 years

Distinctive Feature


•

Similar Species


• Winter adult can resemble Dunlin; that differs in shorter bill, black stripe down the middle of the rump, and slightly shorter legs; juvenile Dunlin also differs in streaked flanks, and streaked (not peachy) breast. White-rumped Sandpiper and Stilt Sandpiper share white uppertail coverts in flight, but differ structurally; Stilt Sandpiper also has yellowish, not black, legs. Summer plumage Red Knot is larger and lighter, more orange-toned below, and has a shorter, straighter bill.

From opus at www.birdforum.net the forum for wild birds and birding.

Female / Male / Juvenile


•

From opus at www.birdforum.net the forum for wild birds and birding.





Listen to the Curlew Sandpiper





Remarks from the Recordist


A small flock of Curlew sandpipers stands in a marsh, the flock is flushed and fly above the marsh. Check my website www.birdsongs.it






Behaviour
The male curlew sandpiper performs an aerial display during courtship. The clutch of 3–4 eggs are laid in ground scrape in the tundra and taiga, mostly in Siberia.


Calidris ferruginea – MHNT

By Didier Descouens - Own work, CC BY-SA 3.0,
https://commons.wikimedia.org/w/index.php?curid=20394712


It is extremely difficult to measure breeding success or population trends in their breeding grounds because nests are scattered over a vast region and their positions influenced by localised weather.

Of all shorebird species, the curlew sandpiper has the smallest breeding range in relation to its non-breeding range. After breeding these birds migrate south to Africa, Australasia or India. South Africa is at the southern limit of the migration path from Siberia, 15,000 km or 130° of latitude away.

This wader is highly gregarious, and will form flocks with other calidrid waders, particularly dunlin. Despite its easterly breeding range, this species is regular on passage in western Europe, presumably because of the southwesterly migration route.

It forages in soft mud on marshes and the coast, mainly picking up food by sight. It mostly eats insects and other small invertebrates.


Curlew Sandpipers eating
Khok Kham Salt Pans, Thailand - April 2020

The numbers of this species (and of little stint) depend on the population of lemmings. In poor lemming years, predatory species such as skuas and snowy owls will take Arctic-breeding waders instead.

Counts of the birds in South Africa, specifically at Langebaan Lagoon where they are most numerous, indicate a 40% decline in numbers between 1975 and 2009. A similar trend has been noted in Australia and may be linked to effects of global warming at the breeding grounds.

This species occasionally hybridizes with the sharp-tailed sandpiper and the pectoral sandpiper, producing the presumed "species" called "Cooper's sandpiper" ("Calidris" × cooperi) and "Cox's sandpiper" ("Calidris" × paramelanotos), respectively.




The East Asian-Australasian Flyway Partnership is a network of partners within the East Asian-Australasian Flyway (EAAF). The East Asian-Australasian Flyway Partnership (EAAFP) aims to protect migratory waterbirds, their habitat and the livelihoods of people dependent upon them.

The Flyway is one of 9 major migratory routes recognised globally. Partners include National Governments, Inter-Governmental Organisations, International Non-governmental Organisations, and International Private Enterprise, which agree to endorse the text and support the objectives and actions under this Partnership.






The bird I saw had a BLUE flagg over YELLOW. And from the Shorebird Color Flagging Protocol on the East Asian-Australasian Flyway. Click HERE for the Shorebird Color Flagging Protocol. We can see that a BLUE flag over a YELLOW flag on the right leg means that the bird is ringed in Bohai Bay in China




Conservation status
IUCN Red List
of Threatened Species. 2012. Retrieved 26 November 2013.
From Wikipedia, the free encyclopedia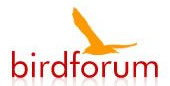 Sighted: (Date of first photo that I could use) 20 April 2020
Location: Moo Ban Pramong / Khok Kham


Common Redshank / นกทะเลขาแดง - 20 April 2020 - Moo Ban Pramong / Khok Kham




PLEASE! If I have made any mistakes identifying any bird, PLEASE let me know on my guestbook



You are visitor no.
To www.aladdin.st since December 2005
Visitors from different countries since 26th of September 2011