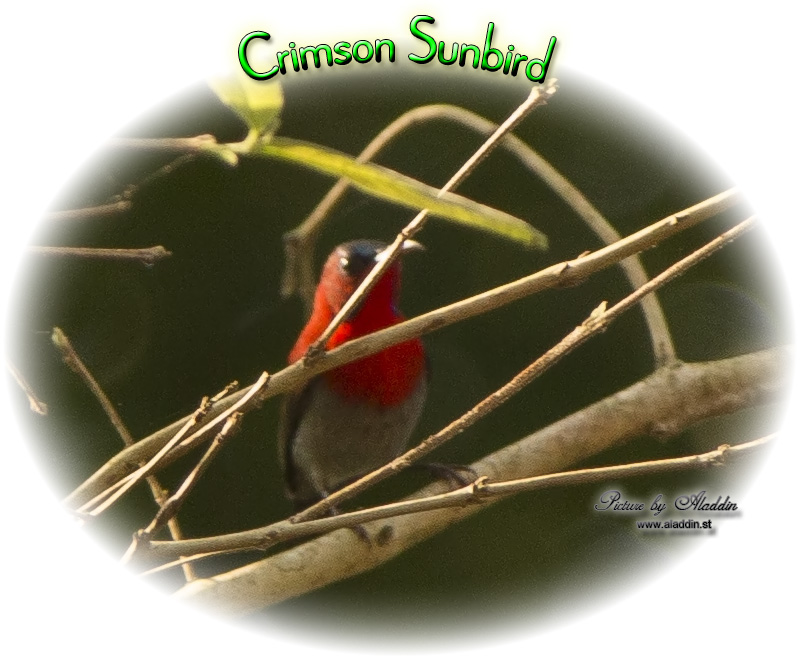 The crimson sunbird (Aethopyga siparaja) is a species of bird in the sunbird family which feed largely on nectar, although they will also take insects, especially when feeding the young. Flight is fast and direct on their short wings. Most species can take nectar by hovering like a hummingbird, but usually perch to feed most of the time.

The Crimson sunbird is a resident breeder in tropical southern Asia from India to Indonesia. Two or three eggs are laid in a suspended nest in a tree. This species occurs in forest and cultivated areas.



Range map from www.oiseaux.net - Ornithological Portal Oiseaux.net

www.oiseaux.net is one of those MUST visit pages if you're in to bird watching. You can find just about everything there


Crimson sunbirds are tiny, only 11 cm long. They have medium-length thin down-curved bills and brush-tipped tubular tongues, both adaptations to their nectar feeding.

The adult male has a crimson breast and maroon back. The rump is yellow and the belly is olive. The female has an olive-green back, yellowish breast and white tips to the outer tail feathers.

In most of the range, males have a long green-blue tail, but A.s. nicobarica of the Nicobar Islands and the former subspecies A. vigorsii (Western crimson sunbird) of the Western Ghats of India lack the long central tail feathers. Their call is chee-cheewee.



Listen to the Crimson Sunbird





Listen to the Crimson Sunbird




Remarks from the Recordist


Subspecies identification based on range only






The crimson sunbird has become the unofficial national bird of Singapore.



Conservation status
IUCN Red List
of Threatened Species. IUCN. 2016: e.T103804411A94566535.
doi:10.2305/IUCN.UK.2016-3.RLTS.T103804411A94566535.en. Retrieved 17 December 2017.
From Wikipedia, the free encyclopedia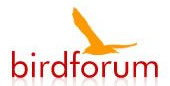 Sighted: (Date of first photo that I could use) 20th of February 2016
Location: Kaeng Krachan National Park

Visit Nick Upton at www.thaibirding.com for HOT birding tips for sites around Bangkok and Thailand. There are reviews of the birding sites with maps and information.

And if you like Nick Upton's web page you will also like www.norththailandbirding.com I have used this page together with Nick Upton's page when planning my birding tours. Excellent reviews and information about the birding sites.

I also got the Thai names of the birds from www.norththailandbirding.com. There is a bird check list with all the names in English and Thai. And of course also the Scientific Name. Down load the birdlist in Microsoft Excel format at www.norththailandbirding.com Or down load the Excel sheet by clicking HERE

And my new aid, maybe, and I say maybe the best aid. I brought my mobile phone as my SIM card have stopped working and I tried to get it to work again so I can use the internet. Thus I had my phone in my pocket on my first game drive in Jim Corbett National Park.

We saw a bird and I asked my Guide and the driver if they had a pen and a paper as I had forgot my pen and paper in my room. I remembered my LG phone and I recorded the name. And thus I will always bring my phone. Writing the name in the car and I have found more than once that it can be hard to read what I had wrote when I'm back in my room.

So now I always have my mobile in my pocket and it has been a great help. And from November 2018 I use eBird. Bird watching in U.A.E and Oman and my guide in Dubai recommended eBird and I have used the app since then and I note every bird I can identify in my eBird app.


Crimson Sunbird / นกกินปลีคอแดง - 12 June 2020 - Baan Maka Nature Lodge, Kaeng Krachan
Crimson Sunbird / นกกินปลีคอแดง - 12 June 2020 - Baan Maka Nature Lodge, Kaeng Krachan
Female Crimson Sunbird / นกกินปลีคอแดง
23 June 2020 - eBird hotspot: Kaeng Krachan NP--Huai Mae Priang rambutan orchard,




PLEASE! If I have made any mistakes identifying any bird, PLEASE let me know on my guestbook



You are visitor no.
To www.aladdin.st since December 2005
Visitors from different countries since 26th of September 2011