The brown-throated sunbird (Anthreptes malacensis), also known as the plain-throated sunbird, is a species of bird in the Nectariniidae family. It is found in a wide range of semi-open habitats in south-east Asia, ranging from Myanmar to the Lesser Sundas and west Philippines.

The grey-throated sunbird found in the remaining part of the Philippines is often considered a subspecies of the brown-throated sunbird, but the two differ consistently in measurements and plumage, and there is no evidence of intergradation between them.



Range map from www.oiseaux.net - Ornithological Portal Oiseaux.net

www.oiseaux.net is one of those MUST visit pages if you're in to bird watching. You can find just about everything there



Description
The brown-throated sunbird is a relatively large, heavy sunbird with a thick bill. Measuring some 14 centimetres in length, it has a mass of 7.4–13.5 g, with males averaging slightly larger than females.

Like most sunbirds, the male brown-throated sunbird is more colourful than the female. The male has iridescent green and purple upperparts with chestnut on the wing-coverts and scapulars; it is primarily yellow below. The female is olive-green above and yellowish below.


Length:
14 cm
Wingspan:
-
Weight:
7,4 - 13,5 g
Longevity:
-

Distinctive Feature

•

Similar Species

• Female can be distinguished from female Olive-backed Sunbird by larger size, straighter bill and the lack of white in tail.

From opus at www.birdforum.net
Olive-backed Sunbird and we can see the white in the tail

Wat Chaloem Phra Kiat Worawiharn, Bangkok - June 2019



Behaviour
The brown-throated sunbird primarily feeds on nectar, but it will also take small fruits and berries. Juveniles are fed with insects.



Listen to the Brown-throated Sunbird



Conservation status
From Wikipedia, the free encyclopedia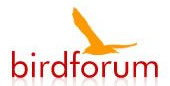 Sighted: (Date of first photo that I could use) 22 June 2019
Location: Bang Pu, Bangkok
Brown-throated Sunbird / นกกินปลีคอสีน้ำตาล - 22 June 2019 - Bang Pu, Bangkok




PLEASE! If I have made any mistakes identifying any bird, PLEASE let me know on my guestbook



You are visitor no.
To www.aladdin.st since December 2005
Visitors from different countries since 26th of September 2011