PLEASE! If you see any mistakes, I'm 100% sure that I have wrongly identified some birds.
So please let me know on my guestbook at the bottom of the page
The ashy wood pigeon (Columba pulchricollis) is a species of bird in the family Columbidae, found in temperate forests of southeastern Asia.

Distribution and habitat
The ashy wood pigeon has a wide range throughout Southeast Asia, able to be found in Bhutan, northern India, southern Tibet, southern China, northern Laos, northern to mid Myanmar, northernThailand, and Taiwan. While the world population is unknown, the Taiwan population is estimated to be anywhere from 10,000 to 100,000 breeding pairs.



Range map from www.oiseaux.net - Ornithological Portal Oiseaux.net

www.oiseaux.net is one of those MUST visit pages if you're in to bird watching. You can find just about everything there


Nesting
Clutches usually consist of one single white egg, although double egg clutches have been recorded. This pigeon incubates its eggs for approximately 21–23 days. Young birds fledge at about 28 days from being hatched.



Listen to the Ashy Wood Pigeon





Conservation status
IUCN Red List
of Threatened Species. Version 2013.2.
International Union for Conservation of Nature. Retrieved 26 November 2013.
From Wikipedia, the free encyclopedia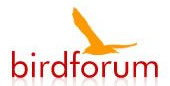 Sighted: (Date of first photo that I could use) 7 June 2017
Location: Doi Inthanon National Park


Ashy wood pigeon - นกพิราบเขาสูง




PLEASE! If I have made any mistakes identifying any bird, PLEASE let me know on my guestbook



You are visitor no.
To www.aladdin.st since December 2005
Visitors from different countries since 26th of September 2011