PLEASE! If you see any mistakes, I'm 100% sure that I have wrongly identified some birds.
So please let me know on my guestbook at the bottom of the page
The Golden-fronted Leafbird (Chloropsis aurifrons) is a species of leafbird. It is a common resident breeder in India, Sri Lanka, and parts of Southeast Asia. It often includes the Sumatran leafbird (C. media) from Sumatra as a subspecies, but the two differ extensively in, among others, morphology.

Its habitat is forest and scrub. It builds its nest in a tree, laying 2-3 eggs. This species eats insects and berries.



Range map from www.oiseaux.net - Ornithological Portal Oiseaux.net

www.oiseaux.net is one of those MUST visit pages if you're in to bird watching. You can find just about everything there


The adult is green-bodied with a black face and throat bordered with yellow. It has an orange forehead and blue moustachial line, but lacks the blue flight feathers and tail sides of blue-winged leafbird. Young birds have a plain green head.

The southern Indian race, C. a. frontalis, has a narrower yellow border to black face. The throat is black and it has a blue sub-moustachial stripe and duller orange forehead. Towards the extreme south of India and Sri Lanka the race insularis occurs which is slightly smaller than frontalis.



Listen to the Black Drongo





Conservation status
Least Concern(IUCN 3.1)
IUCN Red List
of Threatened Species. Version 2013.2.
International Union for Conservation of Nature. Retrieved 26 November 2013.
From Wikipedia, the free encyclopedia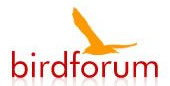 Sighted: (Date of first photo that I could use) 30 March 2018
Location: Bardiya/ Bardia National Park


Golden-fronted leafbird




PLEASE! If I have made any mistakes identifying any bird, PLEASE let me know on my guestbook



You are visitor no.
To www.aladdin.st since December 2005
Visitors from different countries since 26th of September 2011