Raffles's Malkoha (Rhinortha chlorophaea) is a species of cuckoo (family Cuculidae). It was formerly often placed in Phaenicophaeus with the other malkohas, but it is a rather distinct species, with several autapomorphies and sexual dimorphism (which its presumed relatives all lack).

It might not even be very closely related to the true malkohas, but form a very basal lineage of cuckoos; in any case, its placement in a monotypic genus Rhinortha is well warranted.

It is found in Brunei, Indonesia, Malaysia, Myanmar, Singapore, and Thailand. Its natural habitat is subtropical or tropical moist lowland forests.



Range map from www.oiseaux.net - Ornithological Portal Oiseaux.net
www.oiseaux.net is one of those MUST visit pages if you're in to bird watching. You can find just about everything there
Listen to the Raffles's Malkoha
Conservation status
2006
IUCN Red List
of Threatened Species. Downloaded on 24 July 2007.
From Wikipedia, the free encyclopedia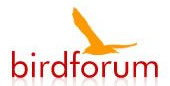 Sighted: (Date of first photo that I could use) 15th of September 2017
Location: Tabin Wildlife Reserve, Borneo


Raffles's Malkoha - Rhinortha chlorophaea - 15 September 2017 - Tabin Wildlife Reserve, Borneo




PLEASE! If I have made any mistakes identifying any bird, PLEASE let me know on my guestbook



You are visitor no.
To www.aladdin.st since December 2005
Visitors from different countries since 26th of September 2011