WARNING!! If you ever go to Australia avoid the above companies. What a scam it turned out to be.
My 3 days Great Ocean Road tour for 2500$ turned out to be a scam
VARNING! Söderhavs Resor - Destination Downunder - Southern World är skojare och lurendrejare.
Använd inte några av deras tjänster!!
Read all about the 2 Day Top Deck Club Snorkel HERE
Sunday 17th of July 2016 and they called me at 6 o'clock and my alarm went off 2 minutes later. Time to get out on the Great Barrier Reef, the first item on my itinerary and this is the beginning
of my Australian Kangaroo and Koala adventure. Yesterday was just an arrival day, and I was dead tired after having been up since Friday 5 o'clock in the morning

I packed my back pack and I left the rest of my stuff at the hotel room. No need to carry a lot of things just to go for snorkelling. I went to the restaurant, same as yesterday, the Bushfire - Flame grill but now they had a breakfast buffet.

I had 3 sausages, and they were not big. 2 cups of tea and two bowls of fresh fruit before I left Pacific Hotel. It took me about 3 minutes to walk down to the Marlin Marina and jetty "A" finger was full of peole. And what a difference from yesterday. There were, well, there would not
have been space for one more boat at the jetty.

The reef terminal was full of boats and yesterday when I had been down here reconnoitre the area I had thought that it would be a piece of cake to find the boat. Well, I asked around and I found my boat. And a long line of people waiting to get on board.

My name was on a list. luckily enough because I have not got any vouchers, tickets or anything. I was told that it would be delivered to me at arrival to my hotel. But so far nothing, well, as a Chief Officer you're used for unsuspected challanges on an day to day basis so this was no problem for me.

I waited in line and I was soon on board with my personal Guide that is included in the Top Deck Club Snorkel. This was nothing I had expected. She stack to me like a bubble gum frome the
moment I got on board. Can I cary your bag? Can I get you this or that? No, please, I'm 18 and can take care of my self.

Exclusive Top Deck services…

A crew member just for you! Whether it's a professional in-water guide, breakfast in bed, a fountain of marine-life knowledge or all of the above, your personal crew member ensures your holiday flows the way you want it to.

From the moment you board until you wave goodbye, you can relax in the knowledge that all of your needs are taken care of.

We are going to Reef Encounter by the boat Reef Explorer, the trip will take about 90 minutes and they will drop me and my personal valet and 13 other passengers at the Reef Encounter before continuing with the other passengers to some other diving spots.


Lining up to board the Reef Explorer
An Australian cople joining me at the "VIP" table
Many boats bound for the reef in Marlins Marina
Making breakfast for us on the deck
Safety breifing before departure
And a little something about the snorkelling equipment before departure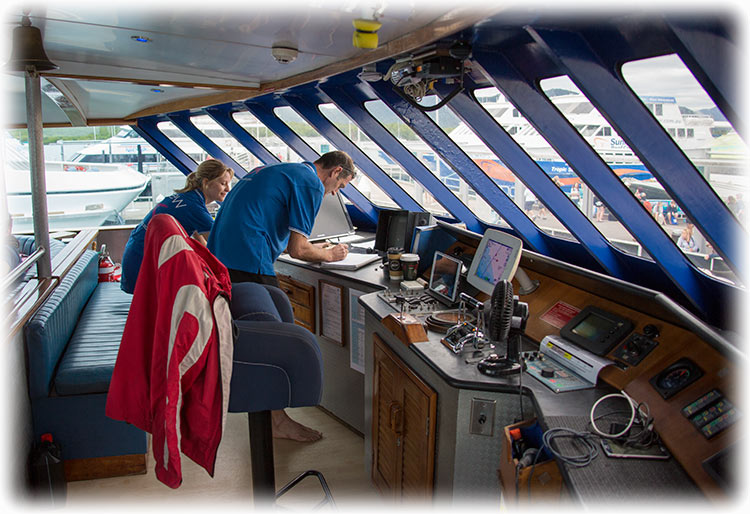 Preparing the bridge before departure
Boats start to leave Cairns for the Great Barrier Reef
Boats start to leave Cairns for the Great Barrier Reef
Boats start to leave Cairns for the Great Barrier Reef
Our turn to leave Cairns
Leaving Cairns behind
Leaving Cairns behind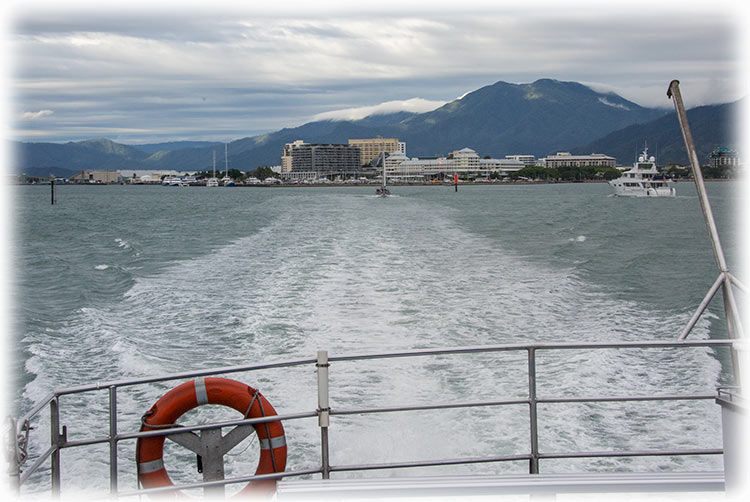 Leaving Cairns behind
Arriving to Reef Encounter
Preparing the gangway to Reef Encounter
Preparing the gangway to Reef Encounter


It was a wee bit "choppy" on the way out to the Reef ENcounter and several of the passengers
were helding a barf bag in front of their faces.

I left deck and went inside again as this was more annoying to watch than the movements of the boat. But I was disappointed, I had expected a sea looking like a windmill pond and that we would see whales. With this movements it would have been never mind I f we had seen any whales as it would have ben impossible to take any pictures.

MY personal valet told me that there had been a minkie whale last week and she had been snorkelling with the whale. She also tld me about an island in Polynesia, Tongo or Togo something. And there they had a year around snorkelling/ diving with the Humpback whales. Well, this goes straight in to my list of things I MUST do.

• To experience a hangover

• African safari

• To see Polar bears and icebergs

• Whale sharks "Failed"
• Tiger safari

• Whale sharks
(second try)
• Antarctica
• The Amazon in Brazil
• Koala and Kangaroo adventure in Australia (Soon to be completed,
hopefully)
• Swimming with Humpback whales


And I need to fly somewhere as Thai Airways gave me a free round trip upgrade to Business class
for renewal of my gold card. But then I will need to fly with Thai Airways :(

Anyway, we crossed the gangway to Reef Encounter and we gathered in the saloon for a safety/ information briefing.

There was a photograper talking about him taking pictures of us during the diving/ snorkelling. We were alos told that we could hire underwater cameras. I have my underwater camera but I cannot take RAW pictures. And well, it is a Canon pocket underwater camera.

Excelent for rainy days or during the Songkran festival in Thailand. But for snorkelling it is pretty much useless. Their cameras, same as I have, a Canon G 15 or 16 in a Nauticam underwater
house. It would cost me 100 $ to rent one of their cameras. And I decided to do so as I can take pictures in RAW and thus edit them in Lightroom or Photoshops Camera RAW to get some of the underwater blueish blur out of the pictures.

Their camera was not available until the afternoon so I had to use my own camera during the first water session. I was shown to my cabin by my personal valet after the meeting and I really liked the cabin.


My cabin
My cabin
My cabin
Going for a swim from my cabin


I changed to my diving suit, t-shirt and shorts. They recommended a wet suit as it is cold. 24 to 25°C in the water and that is fine by me. My private valet gave me a snorkel, cyclops and flippers
and she will come with me on my swim. I told her
that it was not necessary.

We got ready to get in to the water and it was cold to walk down the stairs, but as soon as I was in the water it was very nice.

My Guide was worried that I would not be able to stay in the water for 60 minutes without the wet suit. But this will not be any problem. We swam
towards the shallow water and when we came closer I could see a lot of beautiful fishes.

What a difference from when we did snorkelling in Pattaya. Here it is like swimming in a aquarium with the beautiful corals and all the fishes. We had a weak current against us so we would be able to drift back to Reef Encounter where we will have our lunch after this water session.


My first underwater picture on the Great Barrier Reef
My Guide
Yes, my underwater camera is pretty useless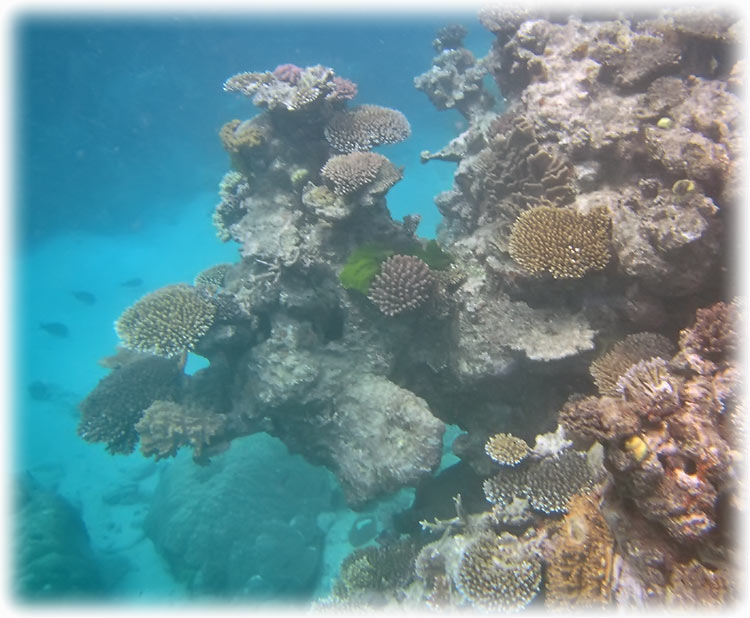 My Guide
Beautiful fishes
My Guide find a very small worm something, and this is obviously very rare to see. So I was lucky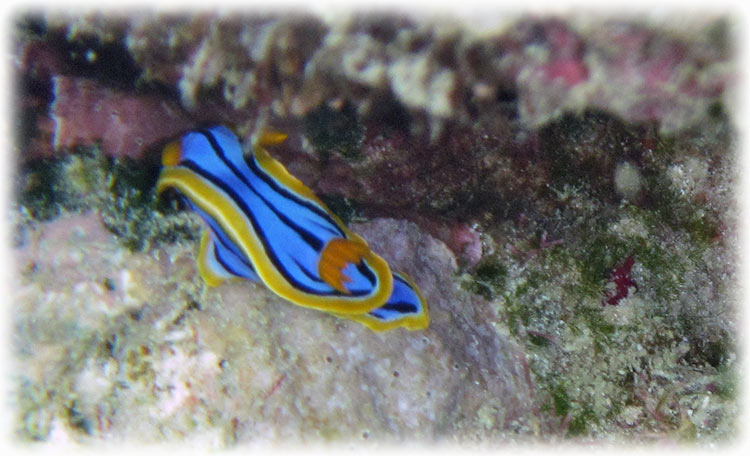 I don't know what it is, just that I had been lucky to see it
I swim pass a few divers on the way back to the boat

I was happy when I was back on board, it had been fantastic. This is what I call snorkelling, not swimming around outside Pattaya getting excited just because you see a yellow or blue fish. There
were so many beautiful fishes plus the very rare worm my Guide showed me.

It was lunch time when we were back on board, but there were like, yeah, many people and I didn't want to sit whit all the people so I skipped lunch.

My personal valet was knocking on my door every 5 minutes asking about the lunch. I told her not to worry, I would come down when the rest of the passengers were ready with their lunch.
- I can make a plate for you and bring to the cabin
- No thanks

I was down a little later and it was still full so I returned to my cabin. At 13:25 I prepared my self for the 13 thirty water session. My personal valet knocked on the door and she told me that the camera was ready. We went down to the saloon to see the Photographer and he demonstrated the camera house. I could not wait to get in to the water trying the new camera.


First swim with my rented camera
It looks like a snake relaxing on a rock
Here we can see that it is something called I GIANT CLAM
Of course, there are difference between the cameras. But I need to practice with the underwater house
And I'm back at the boat

I was back on board and by now I was hungry and I went down to the bar in the saloon as soon as
I had changed clothes. I bought 3 Snickers and I returned to my
cabin. OH! It was good with some energy.

And I'll be darned, it knocked on my door and I refused to answer. It kept on knocking and I sprung out of the chair and I ripped open the door.
-Where is the ducking fir...

I discovered my personal valet and she had made a fruit salad for me. Yeah, that is the spirit we're looking for!

It was time to move the boat and I could hear them running while I was enjoying my fruit salad in
my cabin. We had stopped at 3 thirty in the afternoon and I was ready to get in to the water

This was a new place, but we were not far away from where we had been snorkelling earlier today. I was first in the water and I was soon on the beautiful coral reef with my camera.

I hope I get better pictures this time, it takes a lot of practise to get it good. There are a current moving you around while taking the pictures. And of course, I have to get used to the new camera house.


I'm the first one to get in to the water
Another snake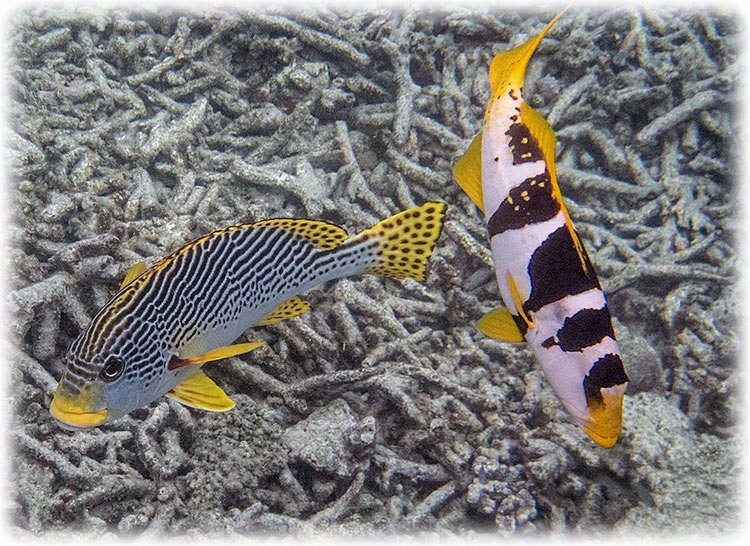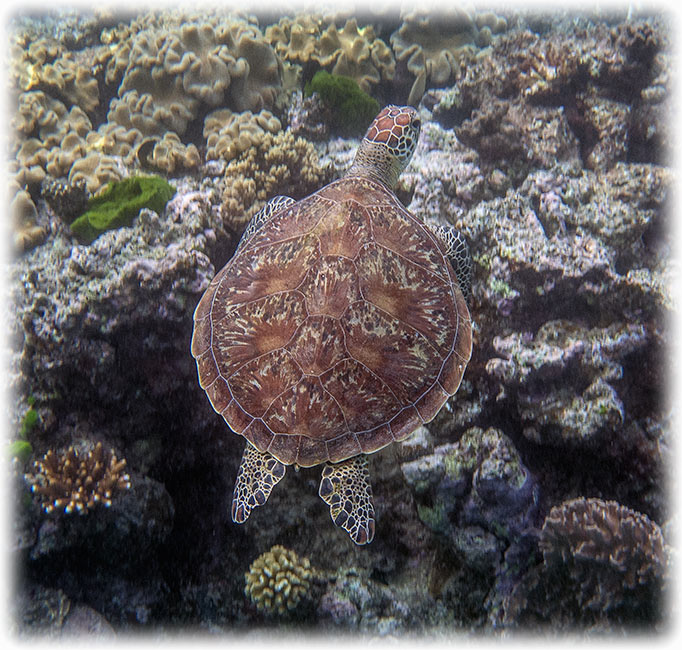 This was the last water session for today and I was very happy with the day. Back on board and it was soon time for dinner. They told me 18:00 so I went down at 7 to dodge all the people. Well, turned out that they had not started the dinner.

My private valet told me that she had prepared my starter. As I was on the "top deck snorkel" I had a 3 course dinner. I sat down and it was an excellent anti pasta or what ever she called it.
She told me that I had a bottle of Champagne including in my dinner. I told her that I only wanted a pot of tea.

I asked her why I was the only one having a starter, and I was sitting alone while the other passengers were looking at me. I felt kind of stupid. She told me that Iw as the only passenger at the "top deck snorkel" I asked what the difference was.

I had the best cabin with 2 extra windows. YEAH!! Exactly the windows I have spent a big part of the afternoon trying to block with pillows and what ever I could find. The Australian couple I met at the VIP table this morning was also on the "top deck snorkel" tour.

But it was touch and go to get on their flight back to Melbourne tomorrow so they didn't stay the night.

Anyway, I was full after the starter, but I had 3 pots of tea while talking with my private valet. Well, taking, I have a bunged up nose so I can't hardly talk.





It had been a perfect day and I can really recommend a trip with Reef Encounter. I had seen so much beautiful stuff here on the Great Barrier Reef and it is a nice boat and a very friendly crew.

They make it ALMOST all the way to 5 stars, I had to drink two Diet Coke today as they don't have Pepsi on board. Otherwise everything have been perfect.

And it was not over, we very sitting at the table when someone gave us the internationally recognised sign for "sharks swimming next to us" and I went out on deck. There were plenty sharks in all sizes swimming and they were feeding them with ice cubes.


Yes, I was wondering if they were crazy. But the shark was really after the ice and they seemed to like it. But it was too dark to take any pictures. Yes, a beautiful day have come to an end and you just need to click HERE to find out what we see tomorrow.


OK, it has come to my knowledge that we have senior citizens visiting my web page. How hard can it
be? So it's not very easy for them to see the blue coloured links to the next page.

Jiffy (also jiff)


noun [in SING.] informal a moment: we'll be back in a jiffy.

ORIGIN late 18th cent.: of unknown origin.

So as you understand, in a jiff pretty much depends on your internet.

So I put a "Next" button here and I hope that there isn't any problem to understand how to use the button. So just CLICK the "Next" button on your left hand side and you will be on the next page in a jiff!
Marunong ka mag-tagalog? Walang problema! Magpunta sa kabilang pahina pindutin ang "NEXT" button sa itaas


Faites vous parlez le français? Pas de problème! Pour arriver à la page suivante faites s'il vous plaît un déclic le bouton "Next" ci-dessus!


Haga usted dice el español? No hay problema! Ver la siguiente página sólo hacer clic el botón "Next" encima!


Farla parla l'italiano? Non problemi! Per vedere la prossima pagina lo scatto per favore giusto Il bottone "Next" sopra


Sprechen sie Deutsch! Kein problem! Wenn Sie die folgende Seite sehen wollen gerade klicken der Knopf "Next" oben!


คุณพูดภาษาไทยได้ไหม ไม่มีปัญหา ถ้าคุณต้องการไปหน้าถัดไป ให้กดปุ่ม "Next" ข้างบนนี้


Вы говорите по-русски? NJET PROBLEMA! Просто нажмите синюю кнопку "Next" с левой стороны и Вы моментально переместитесь на следующую страницу!


E ni Svenskar och inte förstår Engelska så ska ni skämmas. J och Björn, med det menar jag inte att alla mina stavfel ska ältas varje gång vi träffas.


Well, the flag of Skåne, just a BONUS flag.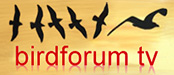 You are visitor no.
To www.aladdin.st since December 2005
Visitors from different countries since 26th of September 2011